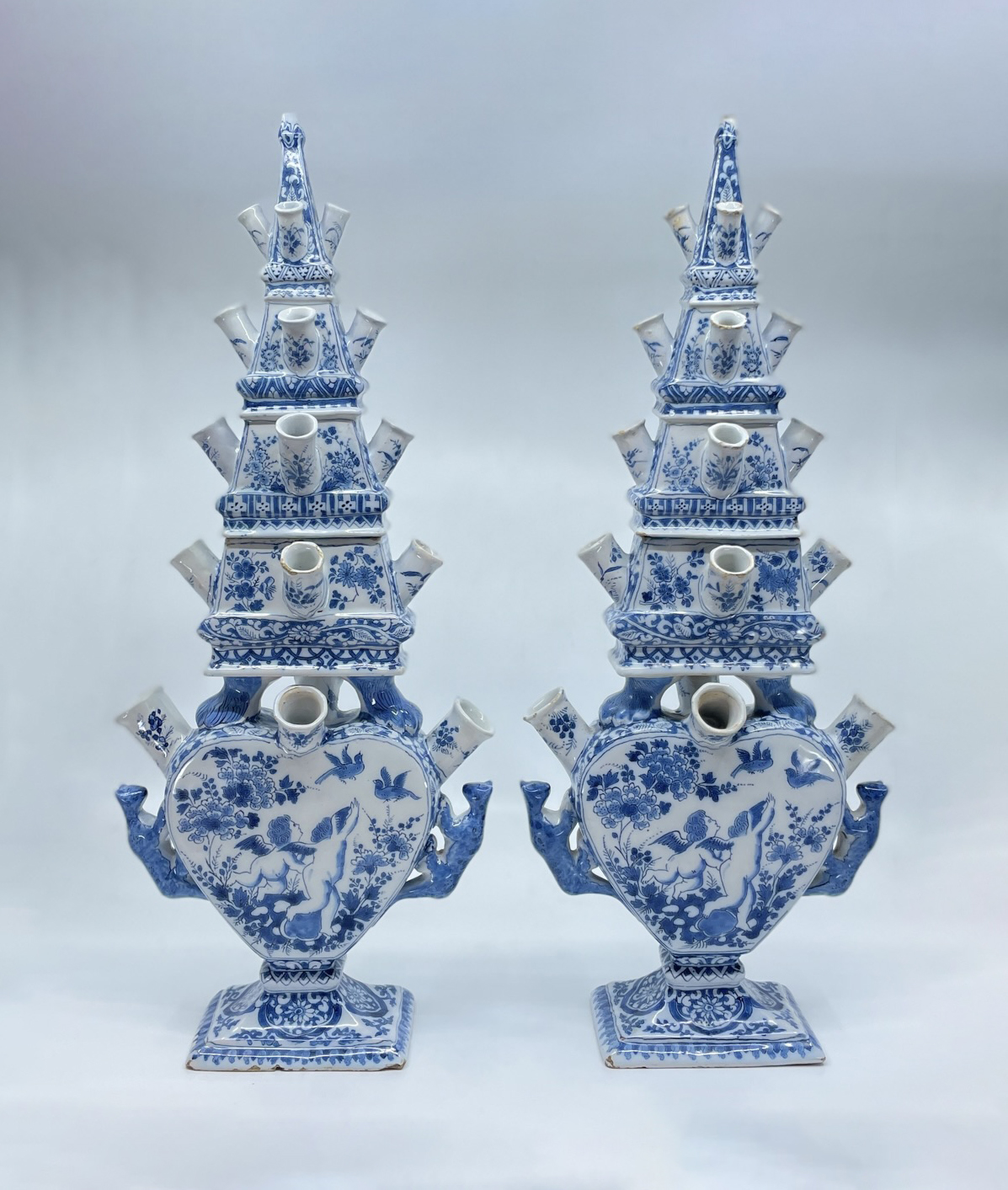 [popup_trigger id="13756″ tag="span"]

[/popup_trigger]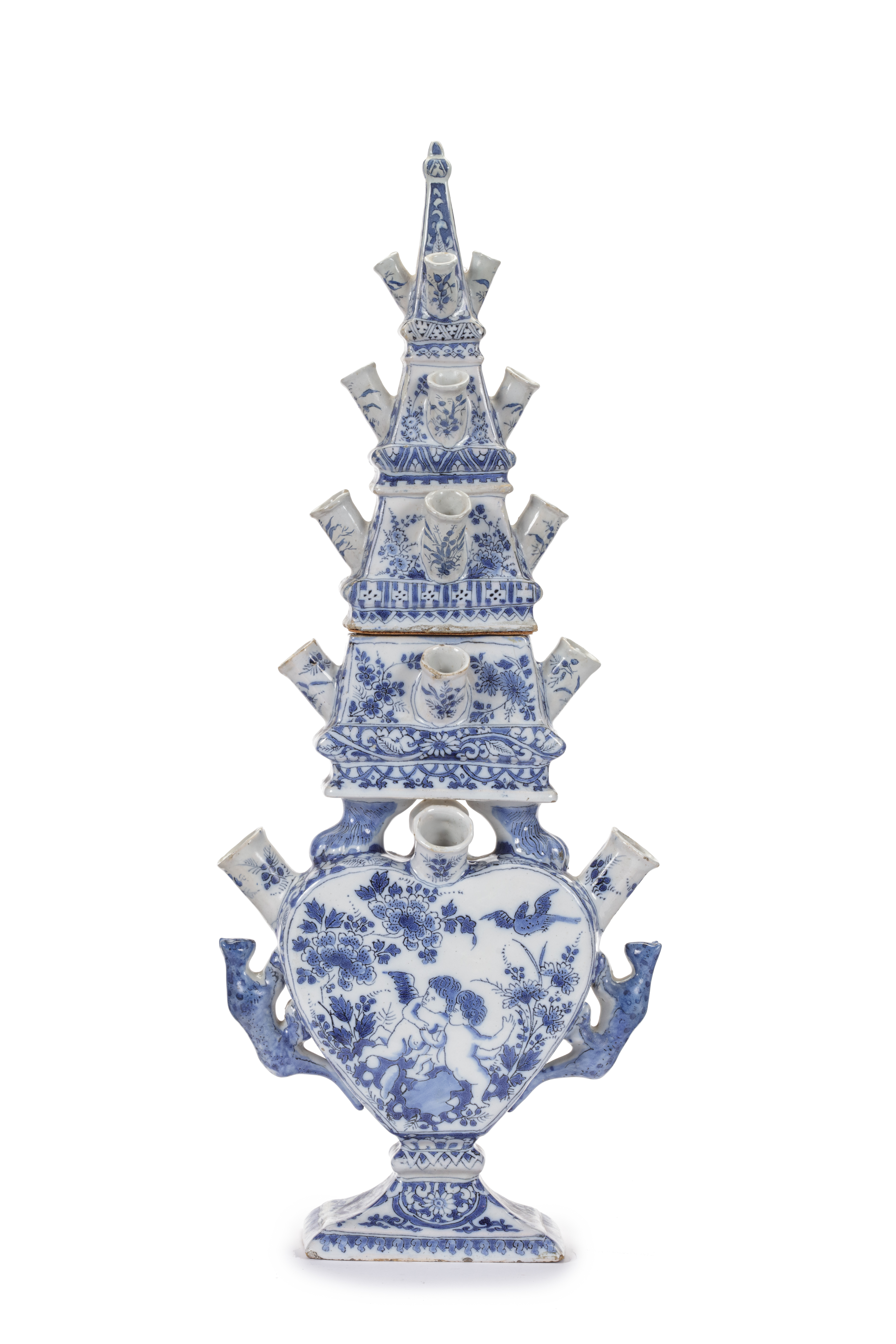 OBJECT
• D2206. Pair of Blue and White Flower Vases
Delft, circa 1690
Both marked AK 3 in blue for Adrianus Kocx, the owner of De Grieksche A (The Greek A) factory from 1686 to 1701
Each comprising two segments, the top formed as an obelisk issuing four spouts, raising above three tiers painted on the front with floral sprigs and the blue-ground sides reserved with floral scrollwork, and each tier issuing four spouts painted with budding sprigs, the whole raised on four blue ground claw feet on the flattened heart-shaped body painted on the front with two putti seated on a stylized rock amidst floral shrubbery and below a bird in flight, the reverse with two putti chasing two birds in flight amidst flowering branches and stylized rock work, the blue ground sides reserved with floral scrollwork affixed with blue salamander or squirrel-like creature handles, and issuing four flaring spouts decorated with budding sprigs, and the whole raised on a knotted rectangular foot painted with blue ground lappets reserved with a flowerhead and scrolls.
DIMENSIONS
Height: 48 cm. (18.9 in.)
PROVENANCE
1) Christie's Amsterdam, November 18th 1992, lot 278;
Swiss Private Collection, Basel
2) Amberes Antwerp, March 17th, 2008;
Dutch Private Collection, The Hague
NOTE
Often flower vases are painted with Asian scenes taken from Kraakwares or European floral motives, such as the goddess Flora. The present flower vase is however painted with putti on the body of the vase, which is sometimes seen on objects produced under Adrianus Kocx. A pair of pyramidal flower vases marked for Adrianus Kocx in the collection of the Fine Arts Museum of San Francisco (inv. no. 55.9.21a-f) also shows putti, as well as a pair of bowl and cover flower holders marked for Adrianus Kocx in the collection of the Kunstmuseum, The Hague (inv. no. 0401074), and a large flower holder marked for Adrianus Kock in Uppark (inv. no. NT/ UPP/C/11[1-4]) shows playing putting inspired by the engravings by Jacques Stella (1596-1657). Putti are nude, sometimes winged figures or infants (usually little boys), who were a beloved theme in the arts, They were especially popular in the Renaissance and served to enliven a composition.
SIMILAR EXAMPLES
Of similar heart-shaped pyramidal model and decoration, but smaller in height (37.1 cm [14.6 in.]) since the vase is comprised of three tiers in contrast to four on the present vase, is a flower vase marked for Adrianus Kocx in the collection of the Mnichovo Hradiste, Czech Republic, (inv. no. 10893). Another smaller heart-shaped vase with salamander handles, but with an obelisk-shaped tier with spouts instead of several tiers (22.6 cm. [8.9 in.] marked for Adrianus Kocx is in the collection of the Kunstgewerbemuseum, Staatliche Musee zu Berlin Preußischer Kulturbesitz (inv. no. 1928,74). This is the only known AK-marked pair of this model.