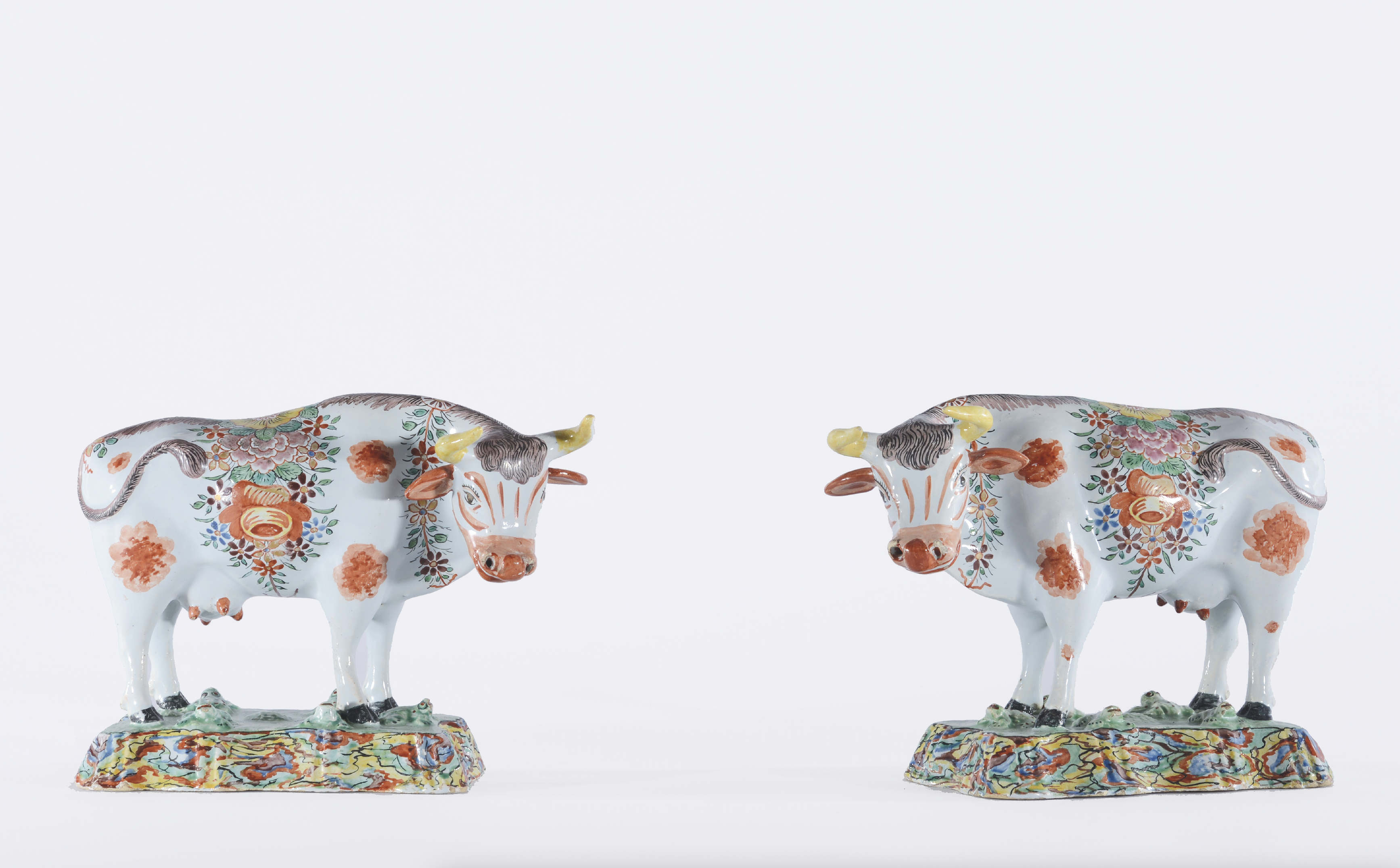 OBJECT
D2126. Pair of 'Petit Feu' Polychrome and Gilded Figures of Cows
Delft, circa 1760
Each with an iron-red-spotted white hide and ears, a manganese forelock and tail, black hooves, a salmon- colored muzzle and yellow horns, wearing garlands of iron-red, manganese, yellow, blue and gilt flowers and green leaves around her neck and back, and modeled affronté, standing foursquare midst frogs on the high rectangular green top, its sides marbleized in iron-red, manganese, green, blue, yellow and black.
Dimensions
Heights: 15.5 cm (6.1 in.); lengths: 21 cm. (8.3 in.)
Note
This pair of figures of cows is entirely decorated with enamel colors. In the petit feu firing, the enamel and gold colors were fired onto the glazed form at a low temperature in a moffeloven, a small kiln. With this new technique, the regular color palette was extended to include pastel pink, soft green, golden yellow, orange, light brown, gold, and silver.
The source of inspiration for this new Delftware style were colorful Japanese ceramics, imported to Europe between 1660 and 1670. It is likely that Jeremias Godtling (1642-1703) pioneered the petit feu firing and its widespread appeal. During his stay in Amsterdam from 1676 until 1678, Godtling must have learned more about painting with enamels, possibly in an emaille- or glass painters workshop. He may have introduced his technique at Het Moriaenshooft (The Moor's Head) factory during the ownership of Jannetje Claesdr van der Straten and her son Rochus Hoppesteyn from 1680 to 1686. After a failed attempt to run his own factory in The Hague, he worked for De Grieksche A (The Greek A) factory in 1693. Here, under Pieter Adriaensz. Kocx (1701 to 1703) and his widow Johanna van der Heul (1703 -1723), the enamel technique was refined to include a bright red, shiny gold, and turquoise-green. Godtling also spread his knowledge of the petit feu palette to De Roos (The Rose) factory.
Enameled Delftware objects became one of the most important products of the Delftware potters after 1710. Delftware factories also borrowed from European sources, such as Meissen porcelain, in addition to the Japanese influence on the petit feu palette. In addition to the shapes, naturalistic flowers, romantic scenes, and harbor view decorations were all inspired by the famous German factory. The demand for these colorful Delftware figural groups and dining objects increased during the Seven Years War (1756 – 1763), when imported goods were scarce. The decline of German imported ceramics played an important role in the success of the Delftware figures, such as these cows.