From October 28-November 1, 2017, TEFAF New York Fall will return to the historic Park Avenue Armory in New York City. Ninetythree dealers from thirteen countries are presenting the finest quality art from across the ages. Amongst them, Aronson Antiquairs brought the absolute highlights of the Dutch traders fame.
Here are three objects to not miss: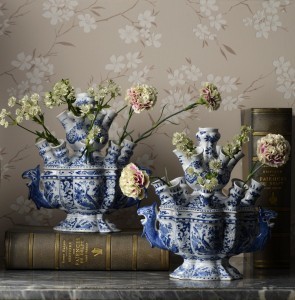 A pair of blue and white bowl and cover flower vases
Delft, circa 1695
Each marked AK in blue for Adrianus Kocx, the owner of De Grieksche A (The Greek A) factory from 1686 to 1701
Flower vases like this pair could have very well been designed for the seventeenth-century royal courts. William and Mary were the greatest patrons of the Delftware industry. They commissioned many beautiful objects from one factory: De Grieksche A factory. Only three other pairs of this model are currently identified, all of which were made by De Grieksche A factory. The Gemeentemuseum in The Hague has long considered their pair as their most prized Delftware possession. The other two pairs are in museum collections in the Czech Republic.
PROVENANCE
A Dutch Noble Collection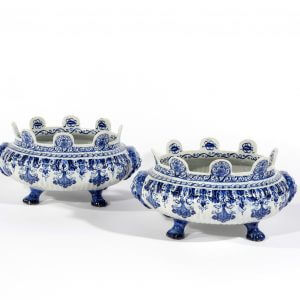 A pair of blue and white fluted oval monteiths
Delft, circa 1730
Each marked CK 3 2 and 14 for Cornelis Koppens, owner of De Metaale Pot (The Metal Pot) factory from 1724 to 1757
Wine glass coolers or monteiths were filled with cool water or ice, and used for chilling wine bottles and cooling or rinsing wine glasses. At the time, the larger houses and castles had ice-cellars dug deep into the ground, in which temperatures stayed low, and ice, harvested from ponds during the winter and packed in straw, could be stored during the warm summer months.
PROVENANCE
An Austrian Private Collection, 2015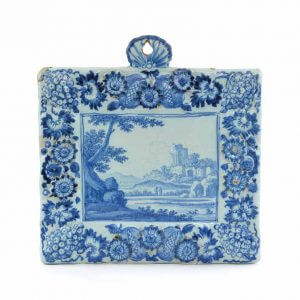 A blue and white rectangular plaque attributed to Frederik Van Frijtom (1632-1702)
Delft, circa 1680
There are about fifty known plaques attributed to Van Frijtom, some of which are signed, but most are not. This plaque is attributed to him based on its rare painting technique that many regard as his 'signature'. The subject of the composition is also similar to other pieces painted by Van Frijtom, with an architectural ruin atop an overgrown hill, and two insignificant figures walking amongst the grandeur of nature.
PROVENANCE
Collection Voûte, NR 59 (paper label), probably Mari Paul Voûte, Jr. (1882–1955), Baarn, The Netherlands, whose collection was sold at Frederik Muller & Cie., Amsterdam, 17th-25th April, 1956; Christie's Amsterdam, 14th November 2000, lot 274; The Joseph M. Morpurgo Collection, Amsterdam