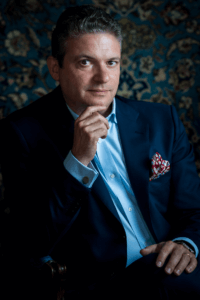 Toen Robert Aronson ontdekte dat er naast het antieke Delfts blauwe beeldje van Queen Mary ook een King William bleek te bestaan, ontplofte hij bijna van opwinding, maar hij zei niets, behalve, zo zacht als hij kon: 'eureka'. In het diepste geheim stuurde hij zijn assistente naar de Franse veiling om deze wederhelft koste wat het kost te bemachtigen. Robert is soms meer een detective dan wat mensen zich voorstellen bij een antiquair in Delfts aardewerk.
Het lukte. De Franse veilingmeester twijfelde even of de casual geklede vrouw serieus was, maar de assistente volbracht haar geheime missie met succes. Robert Aronson kon het koninklijke koppel na decennia van scheiding eindelijk herenigen. Als een echte Sherlock Holmes weet hij: de mooiste aankopen vergen zorgvuldig speurwerk, goede relaties en veel geduld. En dan begint het pas.
Bij elk stuk hoort een geschiedenis van eeuwen die deze verhalenvanger met zijn team stap voor stap ontrafelt. Het Oud-Nederlands in de Delftse archieven stelt hen geregeld voor een uitdaging. Soms, zoals bij William & Mary, blijft een deel van het mysterie bewaard. Het zoete zoeken houdt nooit helemaal op.
Vanuit de hele wereld volgen verzamelaars Roberts queeste: grote musea, vermogende zakenlui of mensen die hun vakantie afzeggen om een object te kunnen kopen. Wanneer Robert binnenkomt, ontspannen ze. De stropdas gaat af, de wijn komt op tafel en gedeelde geestdrift vult de ruimte. Ze praten over mooie objecten, maar vooral over de wereld erachter: wat voor tijd was het, wat betekende een stuk voor de bezitters, welke handen hebben het aangeraakt? Want daarin herkennen de echte liefhebbers elkaar: antiek, dat gaat vooral over het leven.