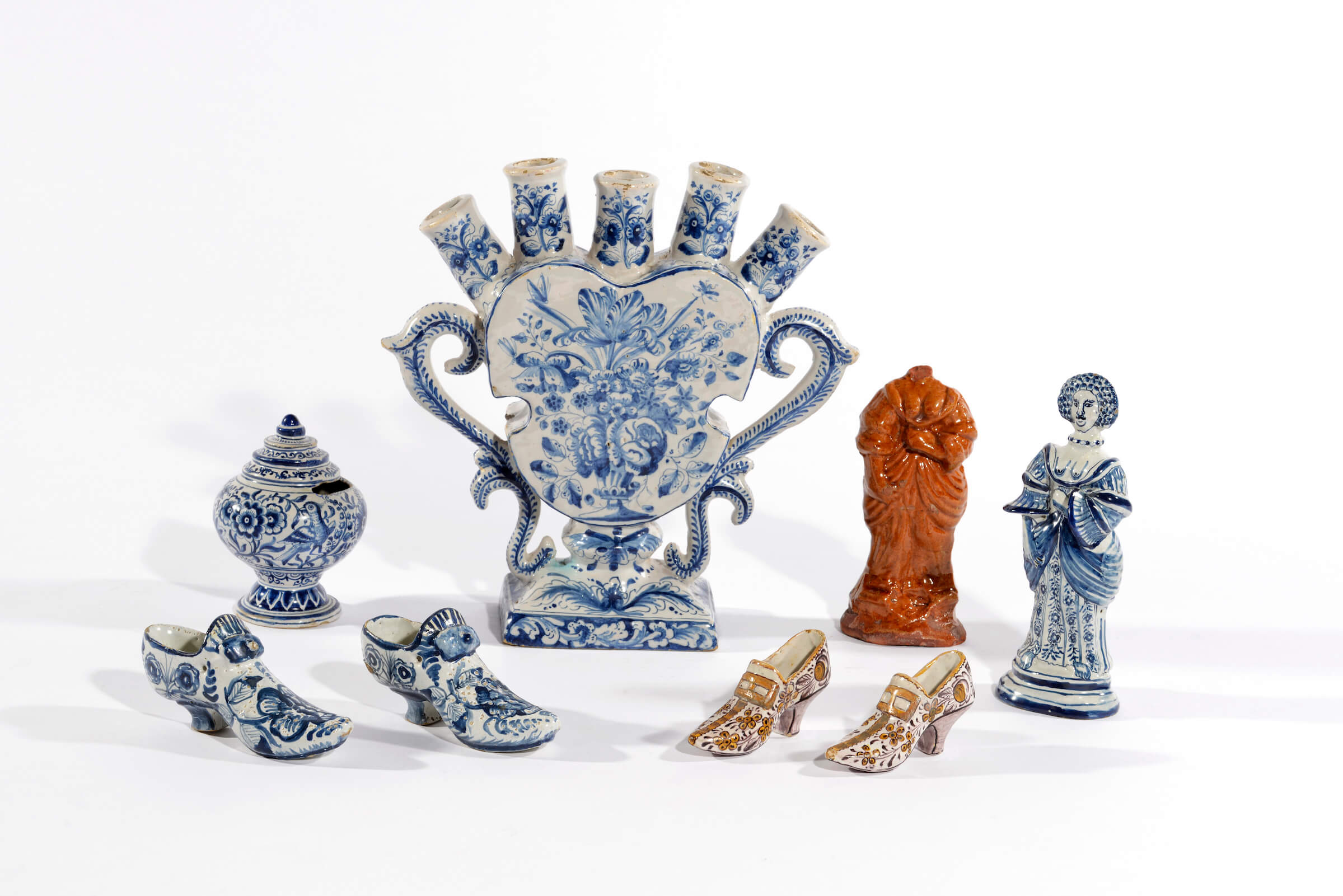 For centuries the technique of making earthenware covered with a clear or colored glaze had been well known throughout the Middle East and Europe, but by the middle of the fifteenth century, during the early years of the Italian Renaissance, it was the Italian potters who developed the highest skills in the use of polychrome decoration on an opaque white tin glaze. By the end of the century this highly refined tin-glazed earthenware, referred to as maiolica, was being exported to the countries of Western Europe, causing a demand in court circles for Italian potters. As early as 1510, Italian potters were in Lyons, France, and in Antwerp, which in the sixteenth century became a major center for pottery in the Italian style. In 1585, the fall of Antwerp when the Netherlands revolted against Spain, resulted in a major migration northward, with a generation of potters settling in Middelburg, Rotterdam, Haarlem, Gouda, Utrecht, Amsterdam and Delft. Shortly after 1600, some potters continued north to Friesland, establishing their businesses with workers recruited from the potteries in the western regions of Holland where the techniques of the earthenware industry were best known.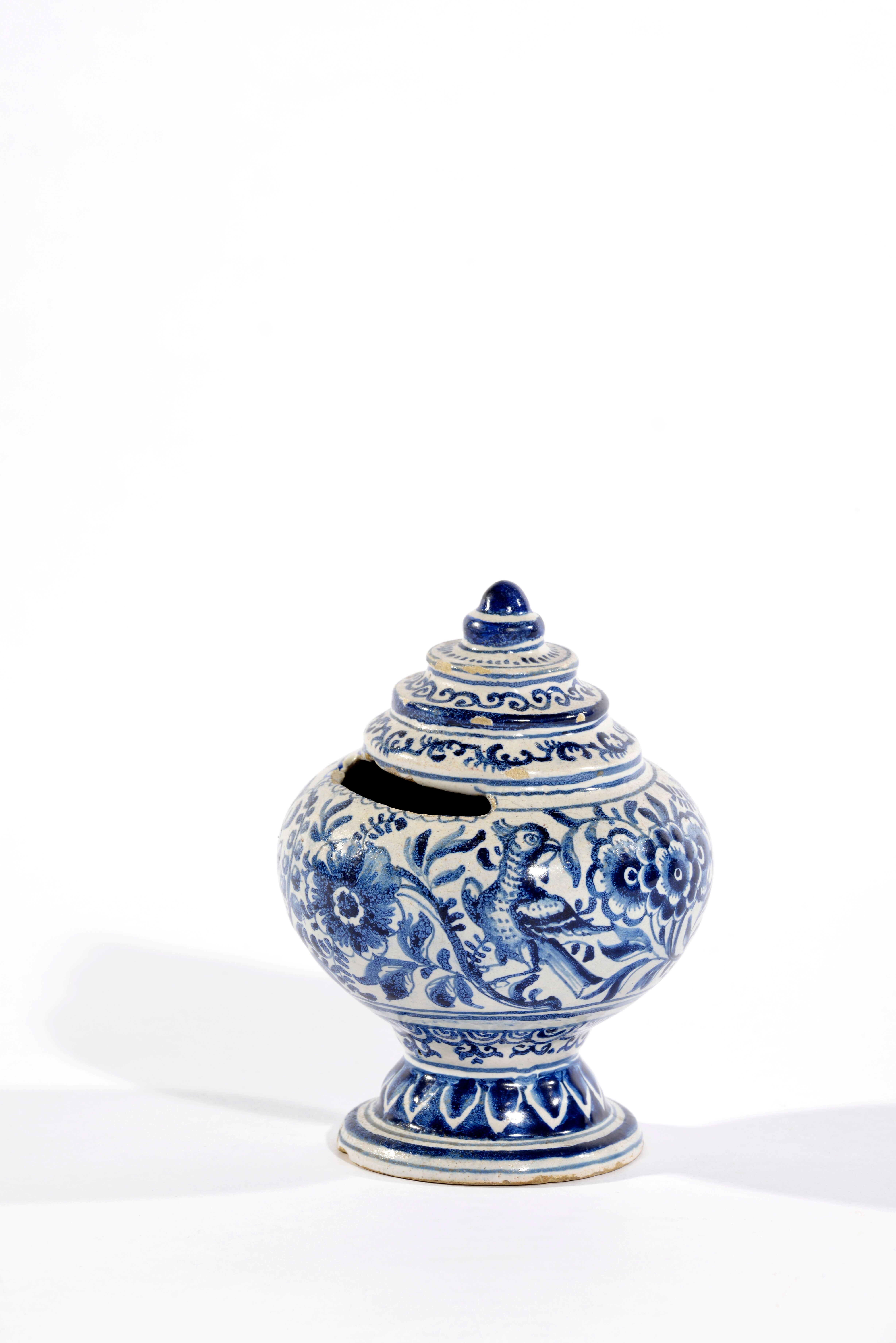 The center of the earthenware industry in Friesland was Harlingen, a town on the coast of the Wadden Sea with a long history of fishing and shipping. There the three largest and most long-lived factories were established. The first factory, Raamstraat / Schritsen, was founded around 1611-1614 and continued in operation until 1803. The second, Kerkbuurt (Church Neighborhood), was founded in 1634, and although it burned down in 1663, it was rebuilt and renamed Buiten de Kerkpoort (Beyond the Church Gate), indicating that it might have been rebuilt in another area of the town. Ironically, in spite of its early misfortune, this factory remained in business longer than the other two, and closed in 1933. This blue and white money box, which is initialled TSF and dated 1772, can be attributed to Pals Karsten (c. 1723-1776) who was employed by the Buiten de Kerkpoort (Beyond the Church Gate) Factory in Harlingen. Karsten was renowned for his tile paintings of floral bouquets or marine scenes within a Louis XIV- or XV-style framework painted in a fluent and seemingly effortless manner – all executed predominantly in a strong blue, and occasionally in a purple or manganese color.
Although until 1750 only few luxury items of earthenware are known from the Frisian factories, the rising prosperity in the second half of the eighteenth century fostered the demand for beautiful pieces, mostly as decorative status symbol. Along with the predominance of well-made large dishes, strainers, tureens and porringers, many such ornamental pieces are attributable to Pals Karsten. The decoration of leaves and flowers, which can also be seen on this money box, is identifiable for Karsten's painting manner: his leaves are almost always lobed and with darkly-filled poined tips beyond the veins. The full blossoms, very three dimensional and lively, are different on each piece, and no two borders are alike.[1] The third factory in Harlingen, Zoutsloot/ Noordijs, began as a tile factory in 1668 and survived until 1910. Although by the middle of the twentieth century the three major factories had closed, Friesian earthenware remained popular, and a new factory, De Harlinger Aardewerk- en Tegelfabriek, was opened in 1973. Its craftsmen continue to create tiles, services and plaques in the longstanding tradition of the area's tin-glazed earthenware.
South of Harlingen, on the bank of Lake IJsselmeer, the town of Makkum was the base for Tichelaar, the tile factory founded in 1699. However, as early as 1572, two brick or tile factories appear on a map of Makkum, one exactly on the spot where the later Tichelaar company operated, suggesting an even earlier history for this factory, perhaps under a different name. Eventually as Royal Tichelaar Makkum, the factory continued to create many objects in the traditional Frisian way, but it is famous also for its constant renewal and its inspiring projects with contemporary artists and designers. Recently, the factory returned to its roots in the production of tiles, specializing in tiles and other ceramics for architecture. An eighteenth-century example of objects made at the Tichelaar factory is this blue and white flower vase, dated circa 1775. The flowers that decorate this vase so abundantly are typical of the work of the master painter Gatse Sytses (ca. 1724-1798), who worked for the Tichelaar Factory in Makkum from 1744 until 1796. More than 285 pieces of his oeuvre are known, ranging from dishes and plates to tiles and special commissions. Another factory in Makkum, The Kingma factory, was not as successful and long-lived. Founded in 1784, after less than fifty years in business, it closed, and part of the inventory was sold to Jelmer Tichelaar in 1824. This pair of polychrome shoes, dated circa 1780, can be attributed to Adam Sijbel (1746-1803). Sijbel was initially employed at the Kingma factory. Bringing with him not only his expertise, but also designs heretofore unknown in Frisia, he rose quickly to become one of the factory's most important painters. After 1788, however, he also worked several times for Tichelaar in Makkum, thus neglecting his first agreement with Kingma.
In addition to tiles, the first products of the Frisian factories were mostly majolica dishes, plates and porringers in a variety of sizes, with a tin-glazed front and a transparent lead-glazed back, revealing the color of the fired clay.[2] Very few of the early majolica pieces have survived, and dated examples are very rare, but the production of majolica dishes continued in Frisia until 1880. Early Frisian majolica, like the contemporary majolica from Haarlem, shows influences from southern Europe in, for instance, its decoration of fruits and grotesque scrollwork. With the introduction of Chinese blue and white porcelain in the Netherlands, a shift in the decoration took place with the increased use of cobalt-blue pigments, although sometimes combined with European designs. In the second half of the seventeenth century, but mostly in the eighteenth and nineteenth centuries, the production was expanded and the repertoire was enlarged to include more luxurious tin-glazed wares and other earthenwares serving solely as ornaments. The decoration became more typically Frisian in character, depicting jumping animals, birds, flowers and landscapes, and biblical texts became popular, along with moralizing sayings. Also at this time, the tinglazed objects, which could well be called 'Frisian Ceramics', were often produced as commissions for special occasions and therefore, lavishly decorated, well executed and frequently dated. Their importance as family heirlooms or historic documents and the suitable reverence attached to them explains why so many of these pieces have survived.[3]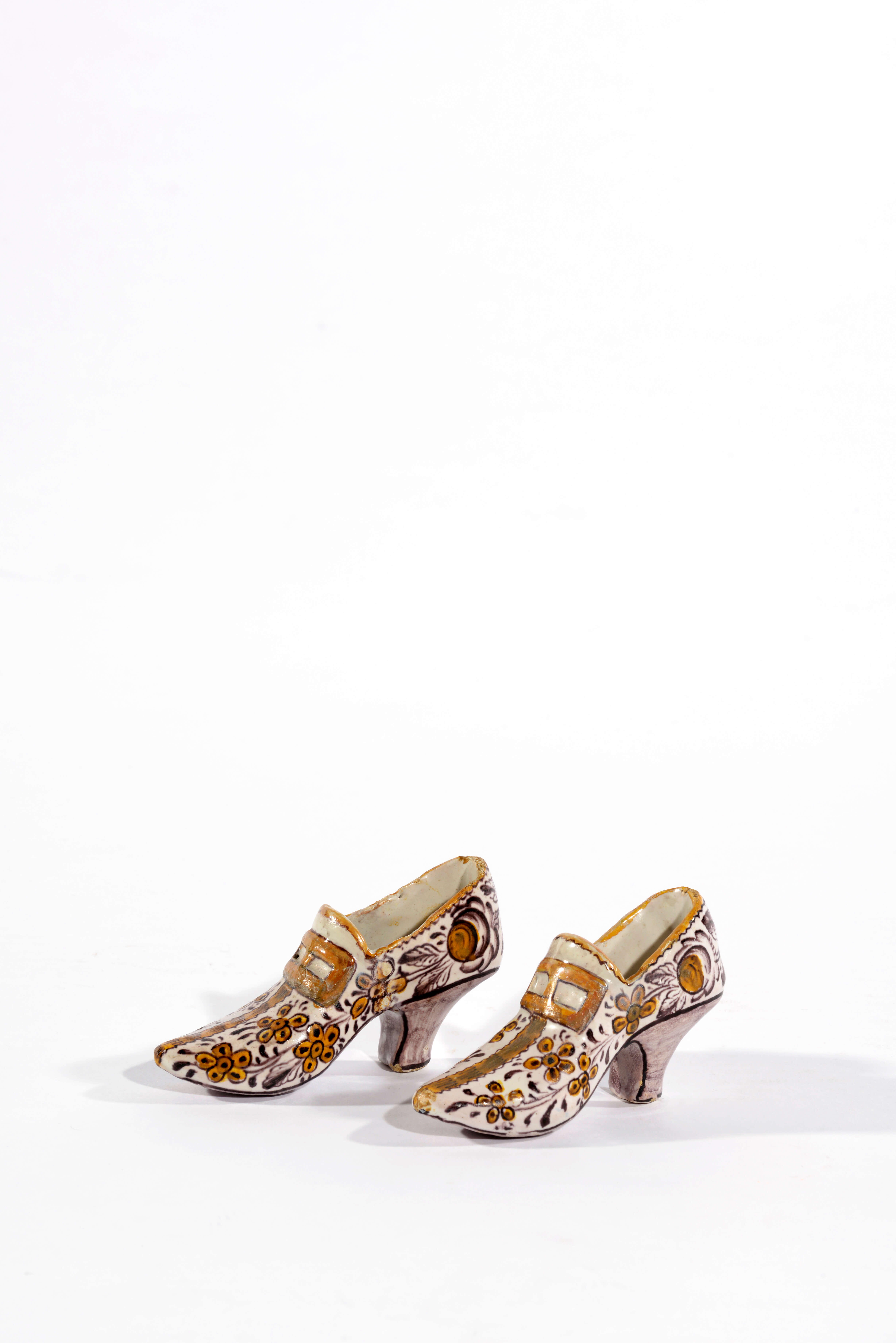 Over the years, Minze van den Akker has managed to assemble all of the above-mentioned types of objects and many more. Although his collection does not include any tiles, the range of about 250 rare majolica dishes and 425 other pieces decorated by different individual painters provides a comprehensive overview of the Frisian products. As a dedicated collector, one of his most notable achievements was the founding in 1992 of a museum of Frisian earthenware: the Harlinger Aardewerk Museum. Based in his home, where the large collection was housed, the museum offered scholars and the interested public an opportunity to see and study the subject in depth. In 2015 the Harlinger Aardewerk Museum closed its doors, and Aronson Antiquairs is proud to present a fine group of interesting objects from this renowned collection of Frisian earthenware.
Notes
[1]  Pluis, J. Fries Aardewerk VI, Harlingen producten 1720 – 1933, 2005, p. 34
[2]  In M. van den Akker, Fries Aardewerk, Majolica, Faience, Kerfsnee, Harlinger Aardewerk Museum, Collectie Minze van den Akker, 2007, p. 9, the author states that "Frisian [majolica] dishes of the 17th century could only be produced in Harlingen."
[3]  Among the typical Frisian earthenware forms mentioned by Van den Akker 2007 (note 2), p. 10, are small cream bowls on feet, small colanders, composed with kettles, triangular, heart-shaped or crescent-shaped trays to place beneath so-called 'kraantjeskannen' (samovars), large fish drainers, strainers and 'vuurklokken' ('fire bells' to place over the glowing coals in the hearth at night).