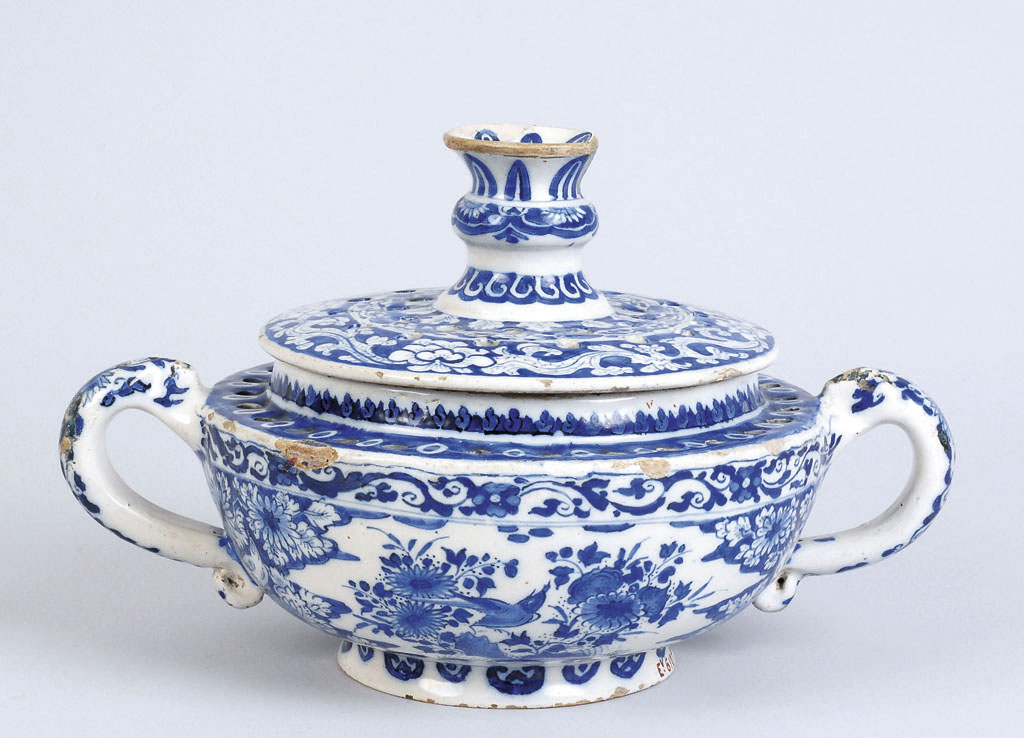 Fragrant Blue; The Scent of Floral Delft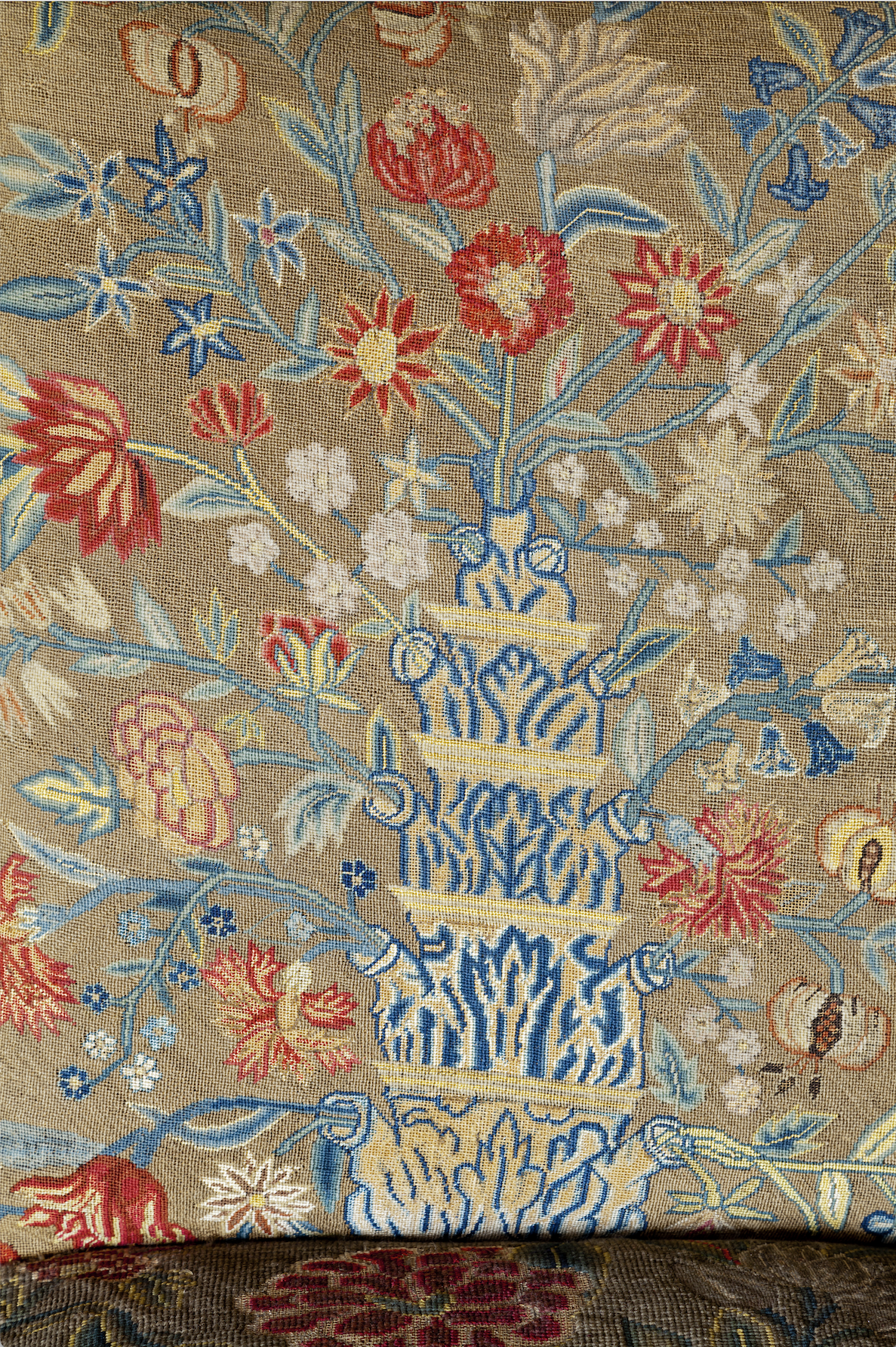 Blue and white vases with spouts filled with multi-colored flowers are a stunning visual sensation. Perhaps due to their exclusive ownership and the short-lived nature of flowers, only a few depictions exist of how these vases were used in the late seventeenth century. An important visual source for their use is seen on two embroidered patterns of flower-filled Delftware vases on chair covers: one in the collection of Doddington Hall, Lincolnshire and one in Croft Castle, Herefordshire (fig. 1). From these embroideries it is clear that the spouts were filled with a diverse variety of flowers – not just tulips – and that each spout could hold multiple flower stems. In the exhibition Koninklijk Blauw (Royal Blue) held in 2020 at the Kunstmuseum Den Haag to celebrate Queen Mary's Delftware, a flower pyramid made by Royal Tichelaar was filled with silk flowers. The display gave an impression of the visual abundance of vases with spouts in use and shows the strength of their design (fig. 2). What is missing however, is the additional sensory experience of the fresh floral scents emitted from the flowers in these types of vases.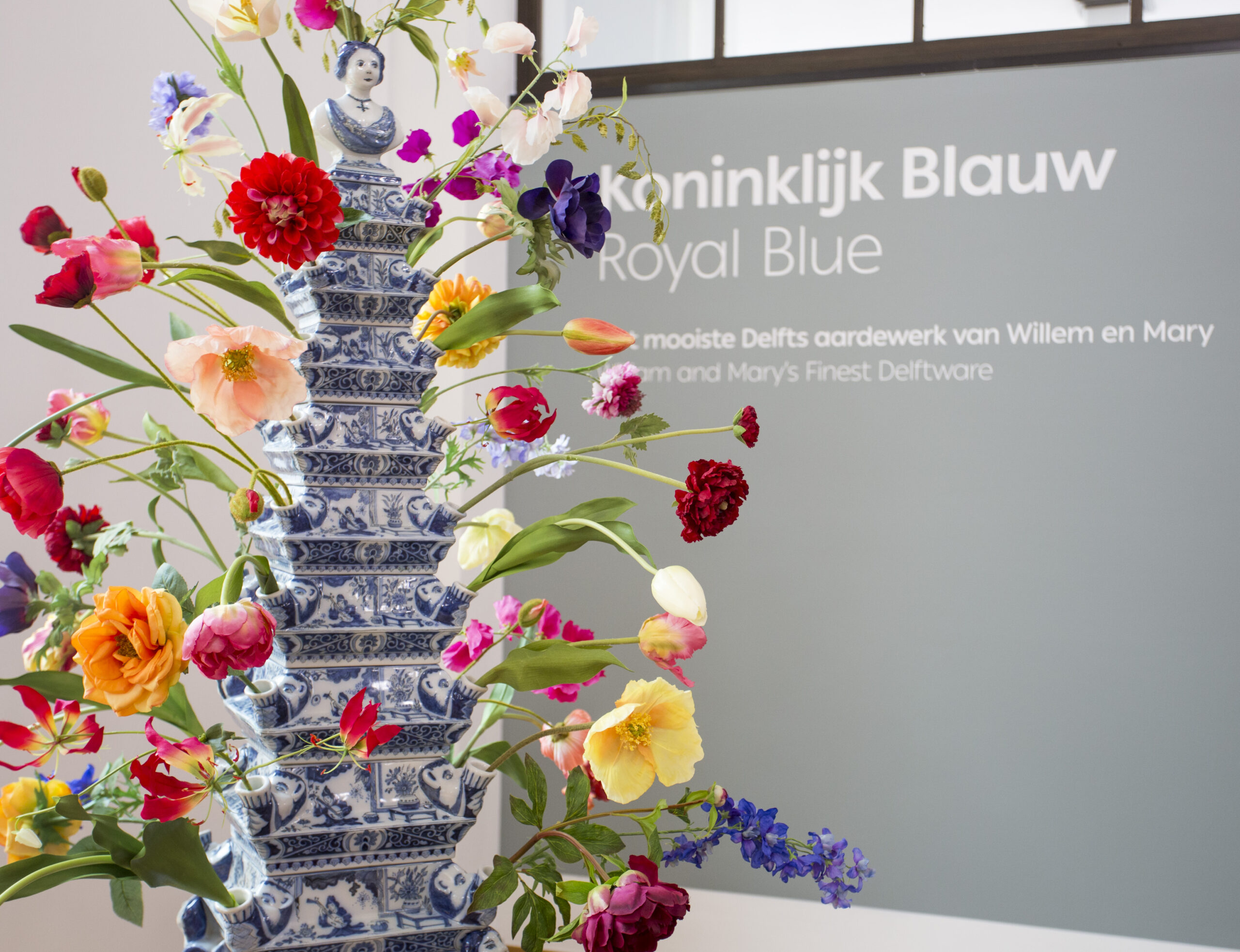 Historically flowers and scents are closely connected. In early modern European prints of allegories of the five senses, Smell (Odoratus) is represented as a lady arranging a bouquet of flowers (fig. 3). The connection between flowers and scents can also be found in words. Marion van Aken-Fehmers, former curator of the Kunstmuseum Den Haag, discovered an important source of Chinese porcelains filled with flowers in the interior. In a 1654-dated poem dedicated to country house Ockenburg near Amsterdam, writer Jacob Westerbaen (1599- 1670) mentions how flower bouquets are a 'jewel' of pots in the fireplace (in the summer) and of bottle vases arranged (on brackets) along the wall. One of the words Westerbaen uses for a small bouquet of flowers is ruyckeren, which translates to 'fragrants':
'Wie spreeckt van ruyckeren,
van tuyltjes en bouquetten
Tot fraeyheyd en cieraed van
haerden en buffetten,
Van potten in de schouw,
van fleschjes aen de wand,
Van Indisch aerde-werck met
bloempjes velerhand
op 't aerdigst opgeschickt, …'
CITED FROM: M.S. VAN AKEN-FEHMERS,
DUTCH DELFTWARE. HISTORY OF A NATIONAL PRODUCT, VOLUME II, KUNSTMUSEUM THE HAGUE, 2001, P. 48.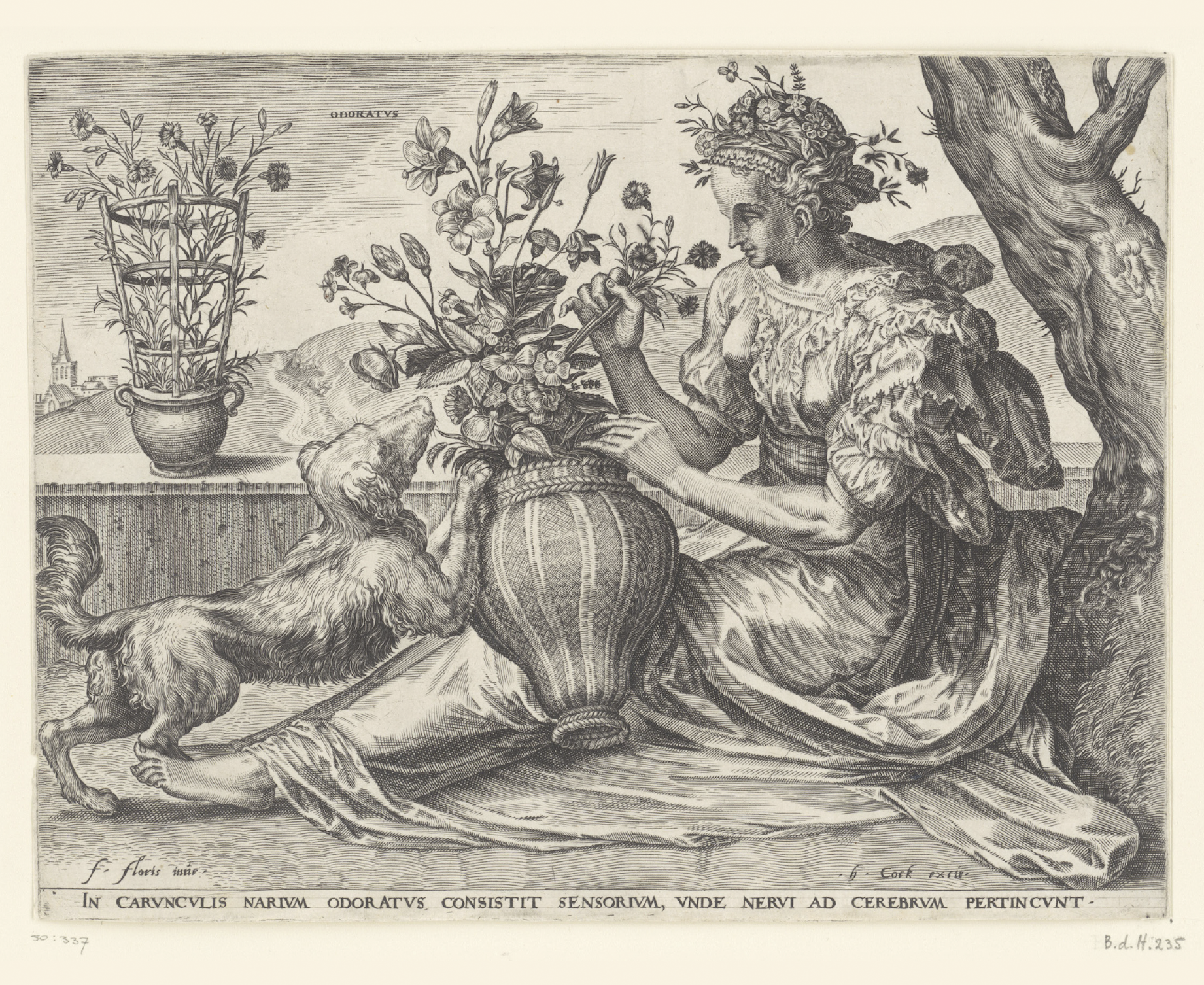 Fragrant flowers used in Delftware vases with spouts could include for example orange blossoms, lilies, lily of the valley, peonies, tuberoses and tulips. Some of these species, such as tulips, had a stronger scent in the past than they currently do. Renske Ek, garden curator of Palace Het Loo in Apeldoorn, in 2013 initiated an exhibition of seventeenth-century fragrant flowers: Flower Palace Het Loo, fragrant flowers at court. It included the Delftware flower vases excavated from the palace gardens, as well as 'scent stations' to smell fragrances of flowers, plants and spices. Multi-sensory art experiences seem on the rise. The Mauritshuis' exhibition Fleeting – scents in colour (2021) captivates its visitors by reviving scents connected to seventeenth-century paintings. A parfume set was produced to accompany the exhibition, and it allows the smells of a Grocer's shop or the Amsterdam canals to be experienced from home.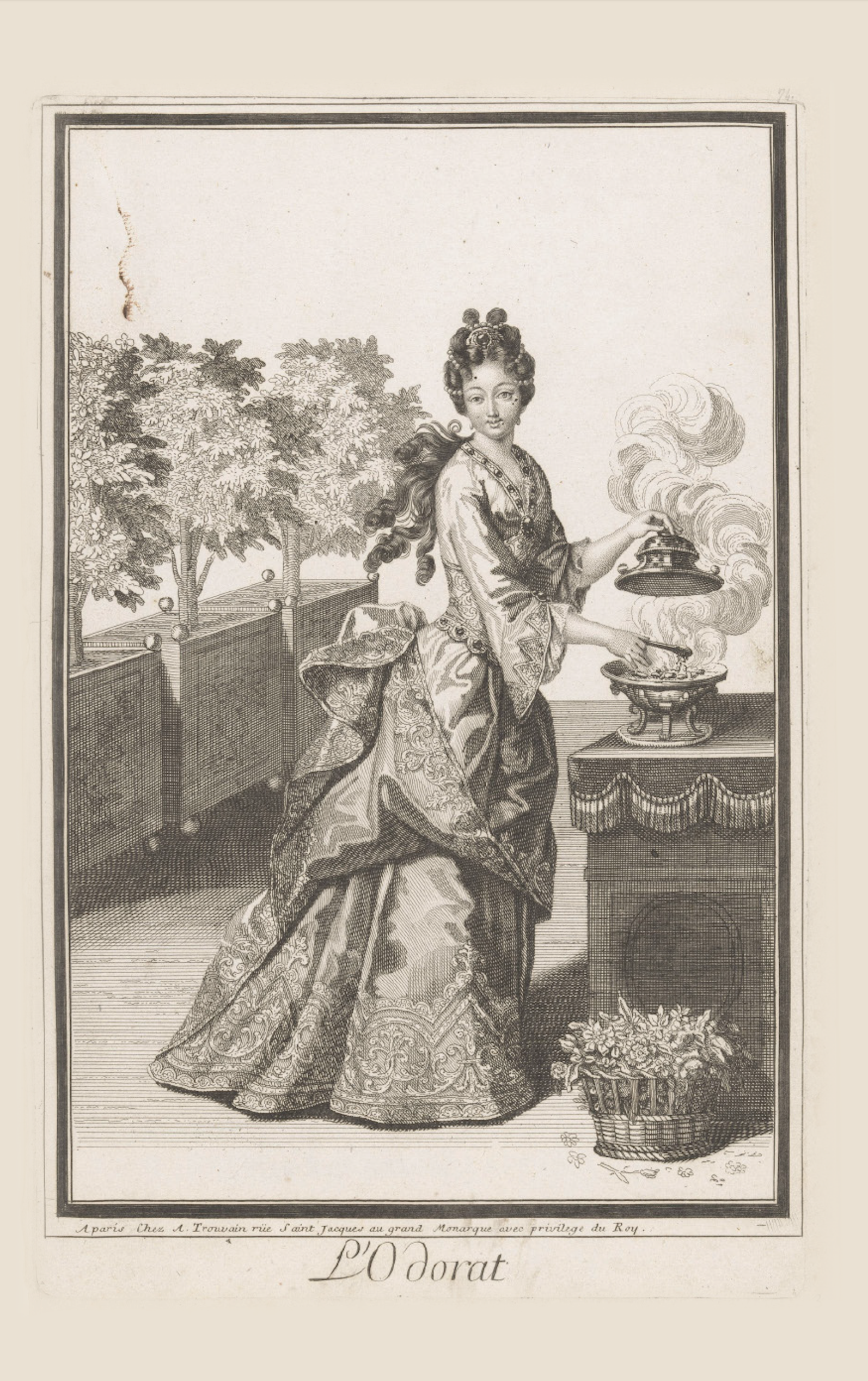 In the seventeenth century the sense of smell could be an important part of experiencing a garden. In the garden of the famous Trianon de Porcelaine (1671-1687), built on the grounds of Versailles by France's King Louis XIV for Madame de Montespan, was a 'cabinet de parfums' to indulge in concentrated floral scents and a flower garden where the air was 'parfumed' by orange and jasmine trees as if it was 'the daily residence of spring' (Félibien 1689, p. 333). But how to bring the fragrant garden indoors? Ways to captivate the fleeting scent of fresh flowers were drying flower petals or making incense pastilles that would give off their smell when heated. A pot pierced with little holes (a potpourri) would allow the concentrated scent to filter in a room (figs. 4-5). Probably inspired by French silver examples, the Delft factory De Metaale Pot produced earthenware potpourris of various shapes (fig. 6).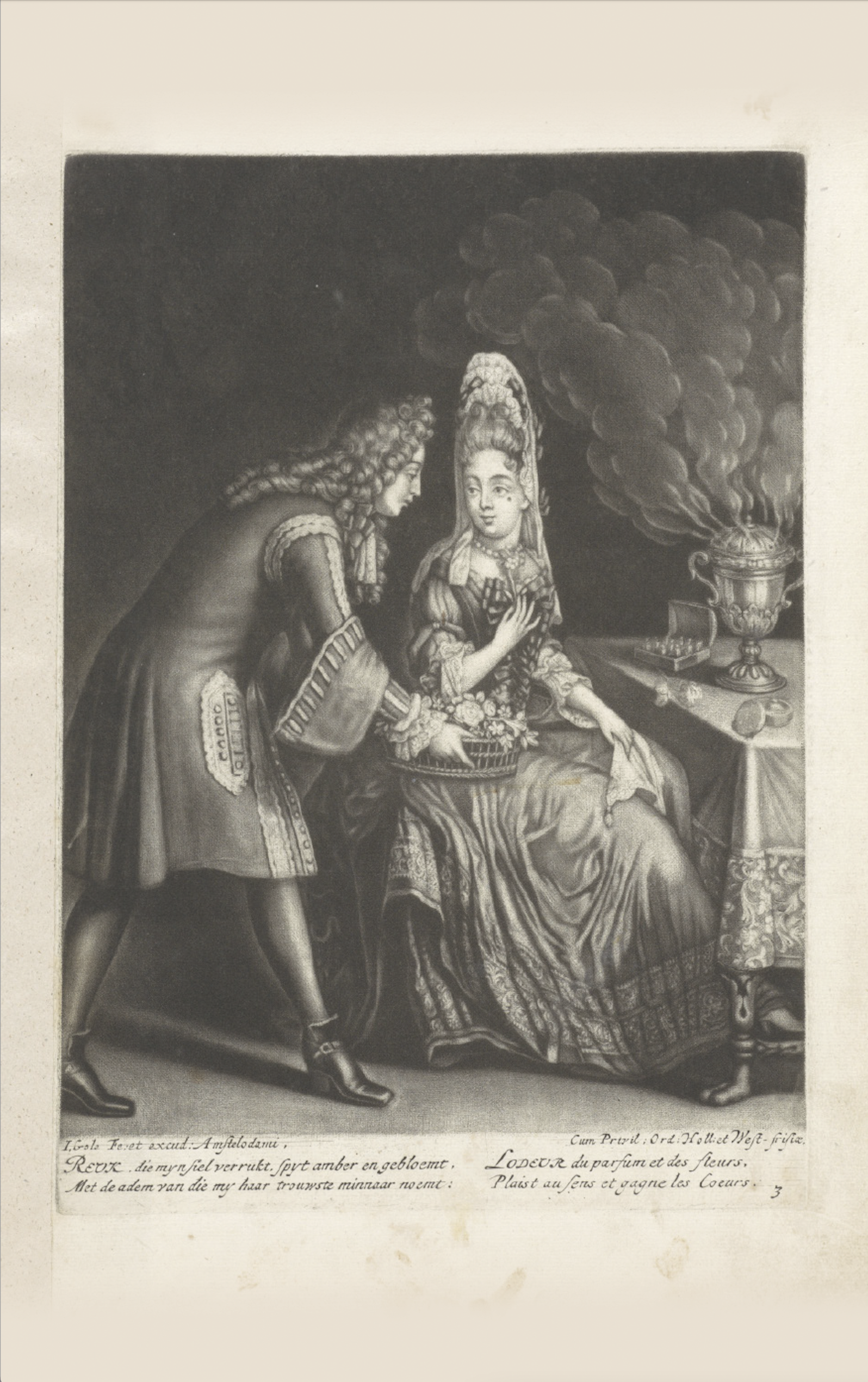 Although the earthenware versions seem to follow the design of metal pots, due to the more fragile material it seems more likely they were used for dried floral petals instead of heated pastilles. The Delft factories are renowned for adapting their product assortment to the latest fashionable trends and customer demands. When in the eighteenth century the heavily scented hyacinths gained popularity, various Delft potteries started to produce miniature garden pots with saucers to grow a single hyacinth bulb. In a similar clever, commercial way the Dutch wellness brand Rituals in 2019 collaborated with the Rijksmuseum to create a series of hand lotions and room fragrances inspired by Delftware with the scent of tulips. It can only make one dream of the next thing… a parfume with an imaginary scent of flower-filled Delft vases: fragrant blue.
Text by:
Suzanne M.R. Lambooy, curator applied arts, Kunstmuseum, The Hague