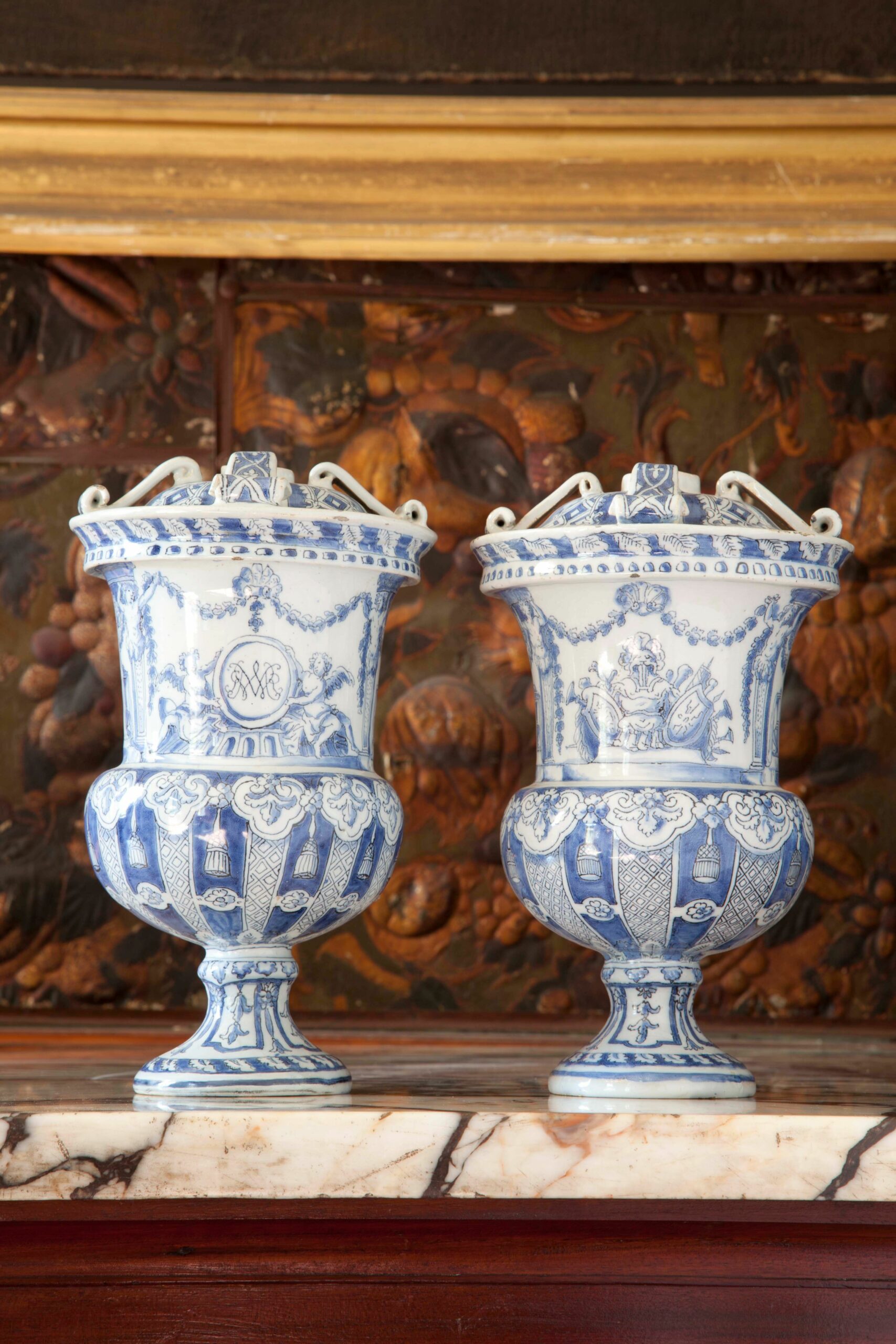 Diplomacy, Politics and Warfare on Delftware at Dyrham Park
In the 1690s, English courtiers ordered elaborate Delft flower vases and garden pots for display in their palaces and gardens filled with costly exotics as visual evidence of their loyalty to the new Dutch monarchs William III and Queen Mary II. Their inspiration was Hampton Court Palace, and in particular the pavilion, known as the Water Gallery, beside the River Thames, where Queen Mary's innovative taste was on show. As a result, some of the finest examples of Dutch Delft are found in aristocratic British country houses, ordered through agents or family members travelling or working in the Netherlands.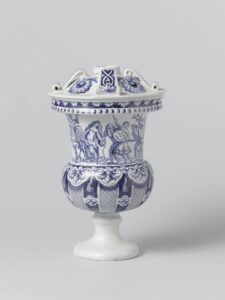 At Dyrham Park, in Gloucestershire (National Trust), the home of William Blathwayt (1649-1717), there is a treasure trove of rare Delft, some clearly made for William and Mary. Blathwayt was not an aristocrat but a high-ranking bureaucrat astute in business matters, who having learnt Dutch as a lowly diplomat in the Hague, became acting secretary of state to William III. Blathwayt's annual visits with the Dutch monarch coincided with refurbishing his own estate in the fashionable Anglo-Dutch taste. While he may have acquired some of the pottery on these visits, other items were perhaps perquisites from William, or perhaps Queen Anne, after Mary's death; 85 items of Delft are listed in the 1703 and 1710 inventories, of which 33 survive.
Among the survivors is this pair of unmarked urns attributed to 'The Greek A' factory, under the proprietorship of Adrianus Kocx, in Delft, circa 1689–94. The urns may have been among the 'little neat curious Things' commissioned by Queen Mary for the Water Gallery as described by Daniel Defoe. In the shape of the celebrated Medici urn, they have attached covers with a single narrow necked opening surrounded by four ornamental S-shaped straps. The decorative scheme is after designs of Daniel Marot, executed in cobalt blue and 'trekked' or outlined with manganese black for greater definition.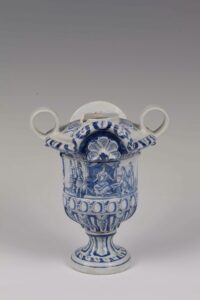 One side has two cherubs holding a medallion with the joint royal cipher 'WMRR' for Wilhelmus Maria Rex Regina beneath a scallop shellsupporting a laurel swag flanked by male herms, and the reverse side a Roman military trophy. In between the herms are fountains cascading over vases issuing from scallop shells. A similarly shaped, unmarked urn, in the Rijksmuseum, has a figural frieze depicting a triumphal adventus of a Roman emperor, in a chariot drawn by captives led by mounted musicians, perhaps emblematic of the military triumphs of William III: such scenes were typically paired with a profectio, a scene recording the emperor's departure for battle. The Rijksmuseum urn was formerly in England, in the collection at Panshanger Park, Hertfordshire, perhaps acquired by William Cowper, 1st Earl Cowper (1665–1723), who was the first Lord High Chancellor of Great Britain to Queen Anne and possibly also a perquisite.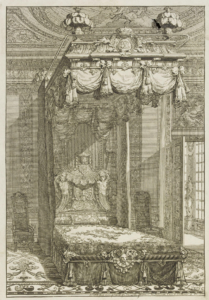 A third Marotesque urn at Dyrham, of different shape and with the 'AK' mark, depicts a Roman queen seated under a canopy of state attended by female servants and Roman soldiers, a coronation or enthronement scene and the reverse has a military encampment with Roman generals heading to battle. The subject may allude to William's frequent absences on military campaigns against France in Flanders, which left Mary to reign alone. Mary may be portrayed as Boudicca (Boadicea), an ancient British Queen, who led a revolt against the Romans, while Mary and William fought against the French Catholics.
It is unlikely that these four urns were used for cut-flowers or as perfume burners. Their shape resembles the finials mounted on the corner of bed canopies, typically made of wood and covered in fabric to match the bed hangings. The fashion was to attach ostrich plumes, coloured ensuite with the hangings, as seen in designs by Marot published in 1703, but also in images of Mary's State Mourning-bed in 1695. These extraordinary Delft urns united in decoration and military theme may have ornamented the 'magnificent' bed in the Water Gallery, or appeared elsewhere, perhaps even on a canopy of state suspended above a throne.
After Mary's death, these urns or finials appear to have been presented to her loyal courtiers whose families then treasured them for centuries.
Just as Delft pottery promoted the art and culture of the Netherlands in Britain in the 1690s, Aronson Antiquairs have continued the tradition of Dutch diplomacy through art, benefitting collectors, museums and enthusiasts around the world.
Text by:
Mrs. Patricia Ferguson, Hon. Adviser on Ceramics to the National Trust