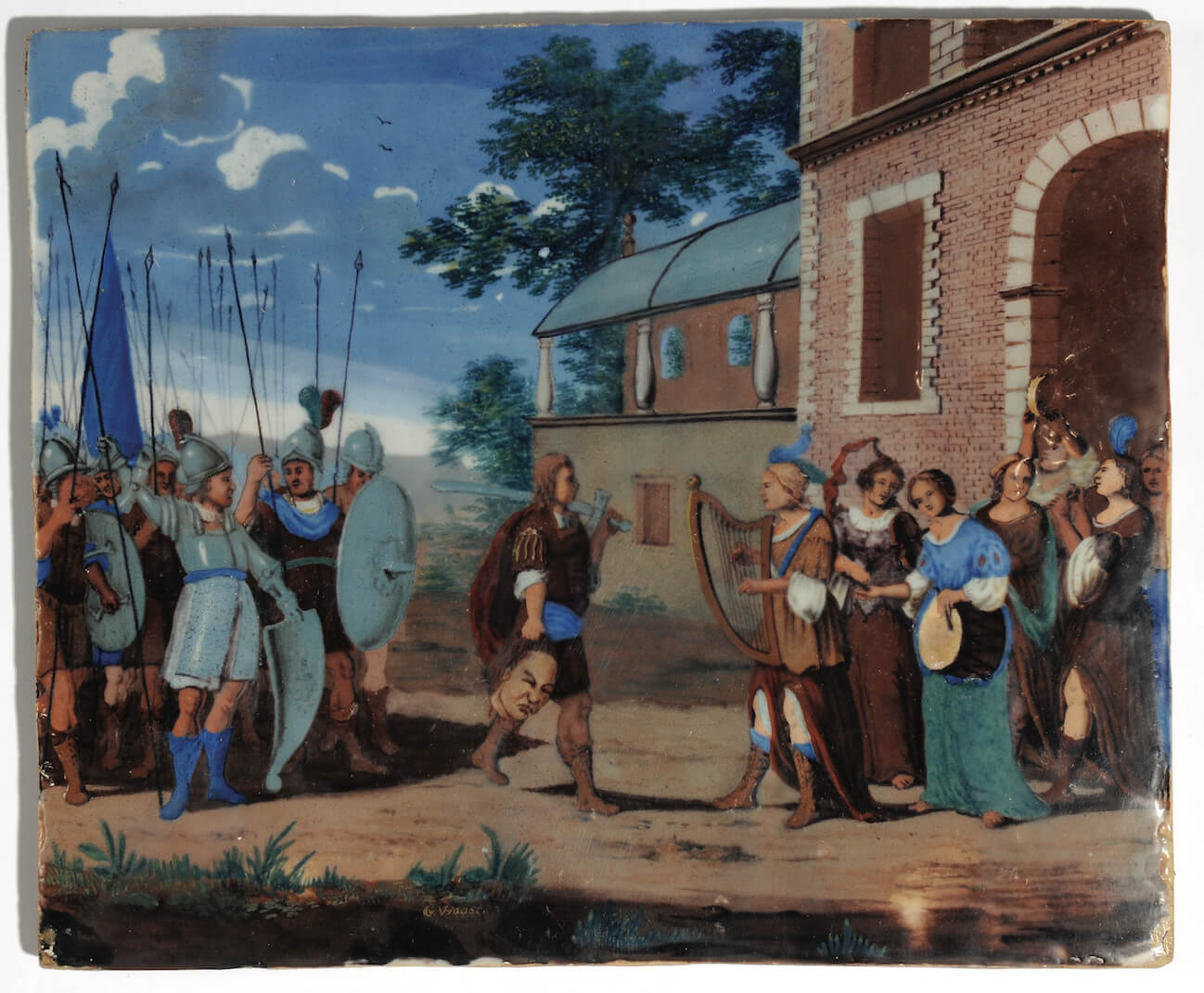 The Characteristic Works by G. Verhaast
The individual potters, painters and decorators of Dutch Delftware have largely remained anonymous as the makers' marks inscribed on objects typically refer to the factory owners. There are a few rare exceptions, for example Frederik van Frijtom, who sometimes signed his work with his name or initials. Another known painter is a man with the surname Verhaast, who occasionally signed his plaques with (a part of) his name: G. Verhaast or G.VHaast. The plaques attributed to Verhaast have a characteristic palette of blue, green, turquoise, grey, tan, brown and flesh tones that are rather unusual in comparison with other polychrome Delft plaques.
The expansive range of colors was an extraordinary technical feat, and initially aroused many uncertainties about the maker of such objects. The objects were first attributed to the Delft painter Johannes Vermeer, for their range of colors, particular subjects and the manner of painting.[1] The discovery of examples bearing the full name of Verhaast changed the scholarship, although there is still some discussion to which Verhaast the signatures belong to.
In 1689, a painter at Rochus Hoppesteyn's factory Het Jonge Moriaanshooft (The Young Moor's Head), was named Verhaast, who later in 1700 became a painter's assistant at De Witte Ster (The White Star) factory while Dirck Witsenburgh was in charge. It is possible that at some point, he worked independently at home because factories rarely allowed potters to sign their work. While the practice was rare in Holland, it was common in German faience factories, especially those in Frankfurt-am-Main and Neurenberg, where individual workers were referred to as Hausmaler (home painters). In Delft, this was only possible with official permission from the syndics of the guild, who issued a strict observance of their rules and regulations. One such rule denied employees to work on their own at home, however there was an exception that allowed no more than six people from one factory to work independently. There must have been reasons for permitting a person to work at home, for instance, persons with physical handicaps that prevented their mobility; the holders of technical secrets, who ran the risk of others stealing these secrets at the factories; or artists, who either could not, or did not wish to work in these busy places.[2] Judging from the unusual appearance of the plaques assigned to Verhaast, it is indeed highly plausible that he wished to keep such an extraordinary technique secret to the other pottery painters.
However, Verhaast is known to have a grandson named Gijsbert Verhaast (1724-1780), who was a jeweler and enameler of watch dials, and from both the technical and artistic standpoint, it seems far more probable that these plaques were the mid eighteenth-century work of the younger Verhaast. He likely had a greater acquaintance with and understanding of the use of oil paints and enamels on copper, canvas and glass, to which these plaques show an affinity.[3] In this light, it is more probable that the objects were painted by this younger Verhaast.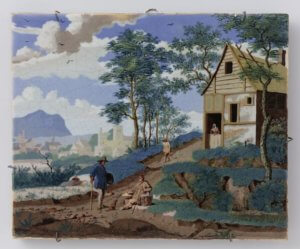 Verhaast's oeuvre is not large and plaques by his hand are very rare. Further, he did not sign every piece, but a comparison of the unusual and highly individual stylistic characteristics and the depicted subjects enables us to attribute several other plaques to him with certainty. Only two other signed Verhaast plaques are known (both signed G. Verhaast). The first, a landscape with figures in front of a house, is in the collection of the Rijksmuseum in Amsterdam (inv. no. BK-NM-12400-199). A second one, a genre scene of figures in an interior, is in the Musées royaux d'Art et d'Histoire in Brussels (inv. no. Ev. 294). Further unsigned examples are known, for example a landscape with figures in the Musée national de Céramique in Sèvres (inv. no. MNC 9675) and another in a private collection.
The plaques are often painted with pastoral or biblical scenes with southern-European color palettes and Italianate landscapes and buildings. The rectangular biblical plaque, which is signed G.VHaast, showcases the Italianate style with the depiction of a building with columns and an arched roof. The scene on this plaque is taken from the story of David and Goliath, as found in Samuel I, Chapter 17. It shows the moment when David brought the Philistine's head to Jerusalem. As is typical of Verhaast, the dominant color is orange-yellow, with an exceptionally large part dominated by a blue and white sky.[4]
Verhaast's oeuvre is unlike most of the other eighteenth century Delft plaques. However, similarities exist between his work and other mediums; he used a style similar to glass painters in the handling of color, and oil painters. Verhaast was an unusual and enigmatic figure in the history of Dutch Delftware, and there are still many unanswered questions about his remarkable technique and the painter itself, making it a most interesting and curious subject.
[1]  A. Vecht, Frederik van Frytom 1632-1702, Amsterdam 1968, p. 24.
[2]  Vecht (note 1) pp. 23-24.
[3] Aronson, Dutch Delftware, Plaques: A Blueprint of Delft, Amsterdam, 2008-2009, p. 17.
[4] H.-P. Fourest, Delftware, London 1980, p. 58.