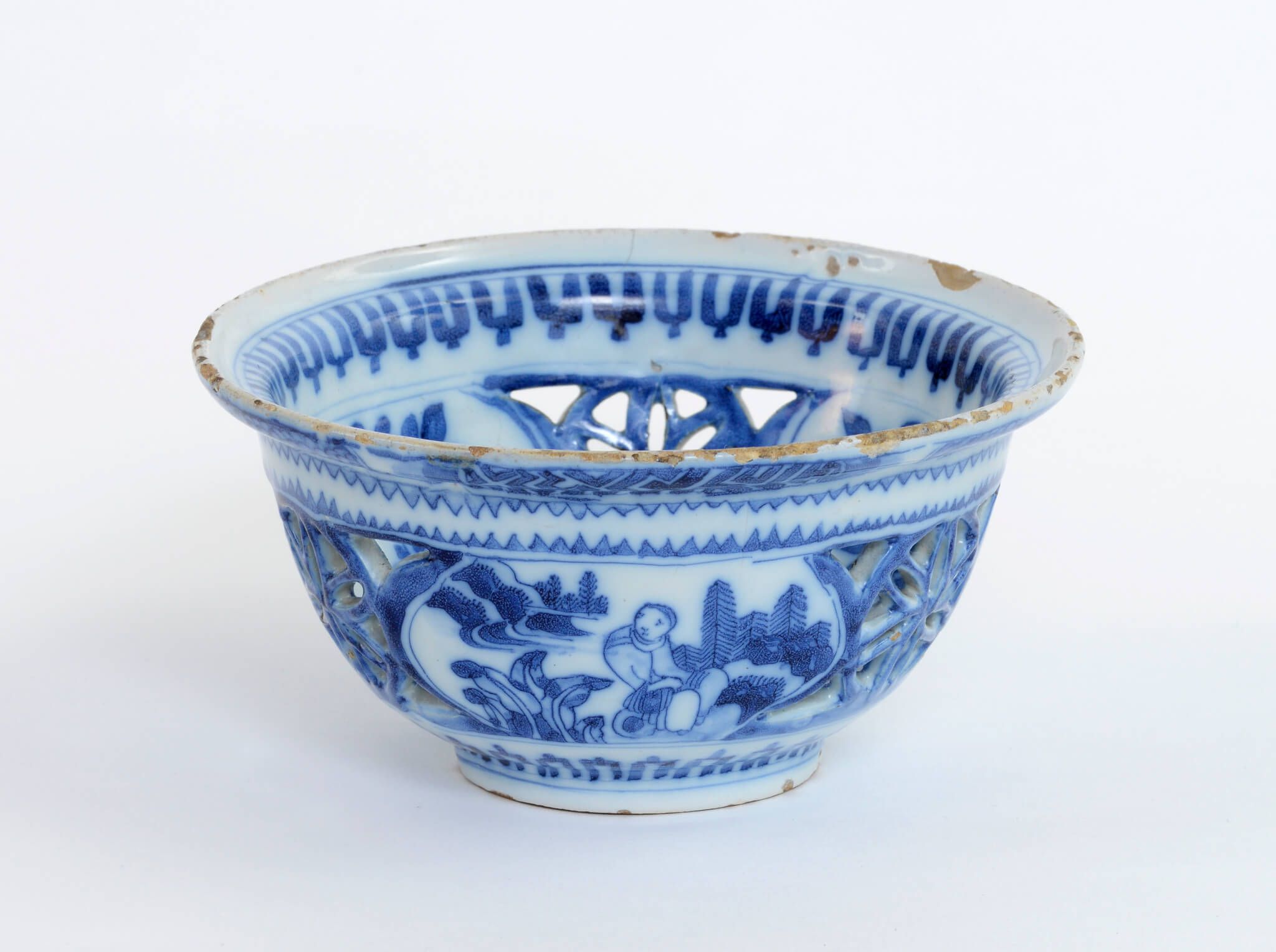 Blue and White Small Bowl
Every month we present a special object from the Aronson Antiquairs' collection. This month we would like to show you one of the hidden gems of this year's collection: a blue and white small bowl. This early bowl, made around 1670, is painted around the exterior with three medallions decorated with chinoiserie scenes of men seated in a landscape of shrubbery and rocks. These medallions are alternated by interstices pierced with a flowerhead in a roundel. 
Early Dutch Delftware bowls are rare, and a bowl with pierced openwork of this early date is even more uncommon. The pierced openwork of the bowl was probably inspired on blue and white transitional Linglong or Guigong porcelain, also called Chinese devil's work. These Chinese wares were decorated with fine openwork carving. It was generally limited to small objects such as cups, brush pots, bowls and covered jars. Chinese bowls of this type, with sides partly or completely pierced, are mentioned in the VOC records of 1643-1646 as 'doorluchtige' (translucent) bowls, but were also made before that time in the Wanli period. In contrast to Delftware bowls with pierced openwork, small Chinese bowls are stile quite common in collections.
The bowl can be attributed to a group of faience that is decorated with chinoiserie scenes of figures seated in a landscape of rock work and trees and was manufactured between 1660 and 1680. Although the majority of these objects consists of chargers and jars, there are also a few bowls in this group. A smaller bowl decorated with a continuous scene of a man seated in a landscape is in the Gemeentemuseum, The Hague (inv. no. OC(D)3-1994) and illustrated in Van Aken- Fehmers 1999, p. 234, no. 79, and another bowl with several chinoiserie scenes in a private collection in The Hague is illustrated on p. 235. 
Chinoiserie is a term used to describe Western art, ceramics, furniture, and architecture designed to evoke Chinese motifs and techniques. Two factors had a significant impact on the development of the fashion for chinoiserie in Europe. The first one was the developing trade with the Orient and the importation of Chinese porcelain. There was a wide variety of shapes and designs imported to Europe, with popular figures as the goddess Guanyin and the eight immortals. The popularity of these exotic wares prompted Delft potters to adapt Chinese designs into their repertoire. The second stimulus in the evolution of chinoiserie design was the publication of books written by travelers and missionaries, such as the Dutchman Johann Nieuhoff, whose book, An Embassy from the East-India Company of the United Provinces to the Grand Tartar Cham Emperor of China, was one of the most influential. The prints in these books gave the Delft potters a new source of inspiration.
Besides the rarity of this early bowl with pierced openwork, it also has a beautiful provenance. The bowl was housed in a Belgian private collection before 1913 and thence by descent in the family. 
Blue and White Small Bowl
Delft, circa 1670
Painted around the exterior with three medallions decorated with different chinoiserie scenes of a man seated in a landscape with shrubbery and rocks, alternated by interstices pierced with a flowerhead in a roundel, all beneath two dentil bands, the cupped rim with three scale-work panels alternated by fretwork panels, the interior painted in the center with a bird and a flitting insect all in a roundel, and the sides with three medallions decorated with a fruiting plant motif.
Diameter: 16 cm. (6.3 in.)
Provenance: A Belgian Private Collection, before 1913 and thence by family descent
Price: € 6.500 (appr. export US$ 7,200)