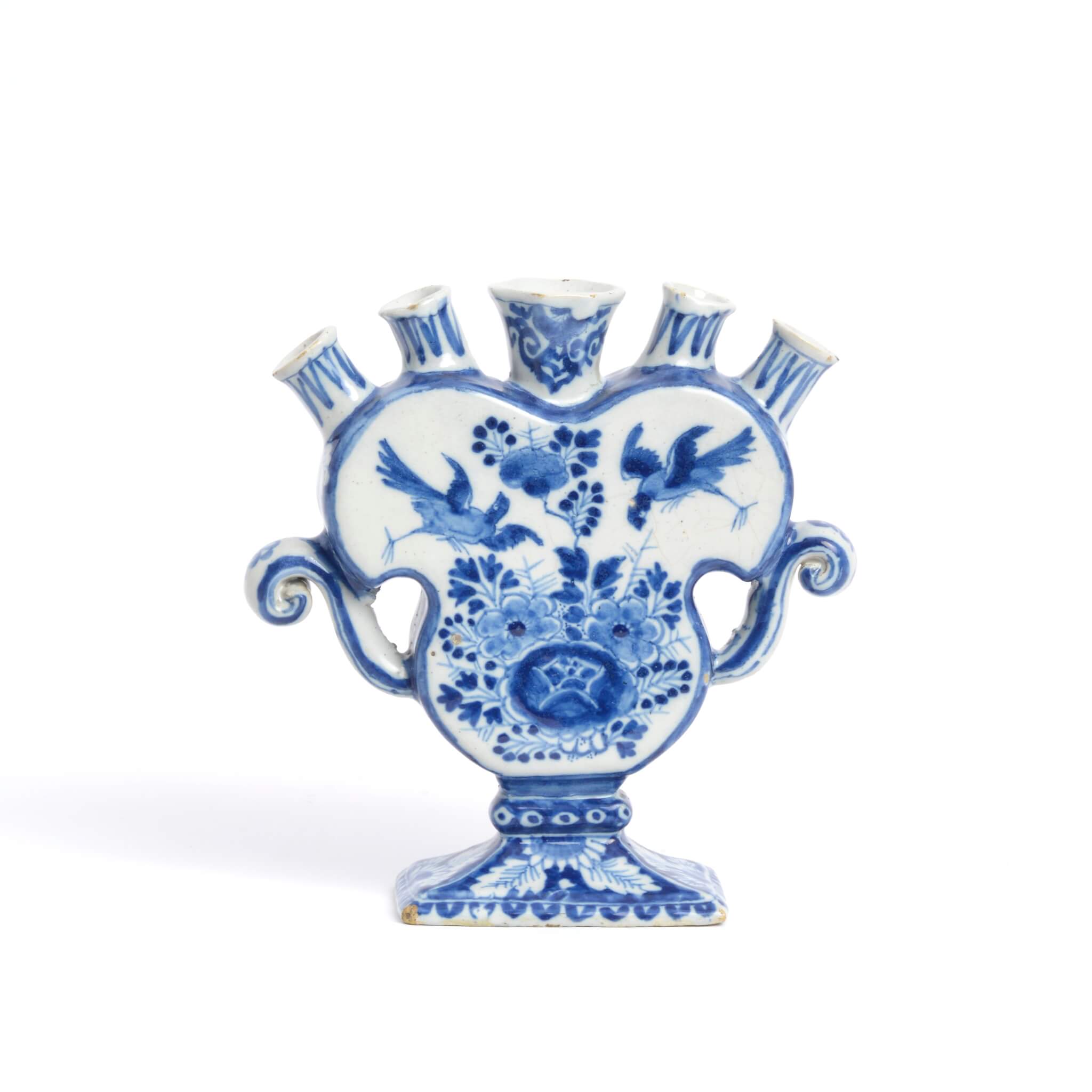 Blue and White Flower Vase
Every month we present a special object from the Aronson Antiquairs' collection. This month we would like to show you this blue and white flower vase, from circa 1710. Quintel vases have five spouts and were amongst the earliest examples of spouted vases. The heart-shaped model with five spouts, such as the present one, followed the early quintel vase. This model was probably intended to be seen from one side because of the flat shape. The decorative vase may have been displayed on a mantelpiece, or on a piece of furniture.
It was in the late seventeenth century, under the patronage of Queen Mary II, who was as passionate about Chinese blue and white porcelain and its local counterpart, Dutch Delftware, as she was about her gardens, that the Delft factories developed their technical skills and virtuosity in the production of all sorts of 'vases with spouts' to display flowers. Inspired by Queen Mary, it also became fashionable in aristocratic circles to decorate their residences with vases full of flowers. For instance, large vases were used to decorate the fireplace in the summer, and smaller vases were placed on the table during a festive meal.
Although the vases in the seventeenth and eighteenth centuries were filled with all varieties of cut flowers, there has been much misunderstanding about this. In the mid-nineteenth century, when collectors and art historians rediscovered Delft earthenware, they must have thought that the vases were intended to be filled with hyacinth bulbs or flowers, as they came to be known as 'bouquetiers à Jacinthes'. Not long thereafter, however, a more familiar name came into fashion, which is still used today: 'tulip vase' or 'tulipière', ascribed to these vases on the revised supposition that they were intended specifically to hold the precious and popular tulips.
Blue and White Flower Vase
Delft, circa 1710
The spade-shaped body painted on the front with a peacock in flight above a profusion of flowering plants on which another exotic bird is perched, the reverse painted with two birds in flight aside of a flowering plant, the sides with S-scroll handles decorated with continuous scrolls, the knopped ankle above a blue-ground flaring rectangular foot with a decoration of demi-chrysanthemum blossoms and leaves, repeated on the top and sides issuing five octagonal spouts, the larger central spout painted with foliate devices and the four flanking spouts with a border of icicle devices.
Height: 16.2 cm. (6.4 in.)
Price: € 14.500 (appr. GBP£ 12,750 or export US$ 15'500)