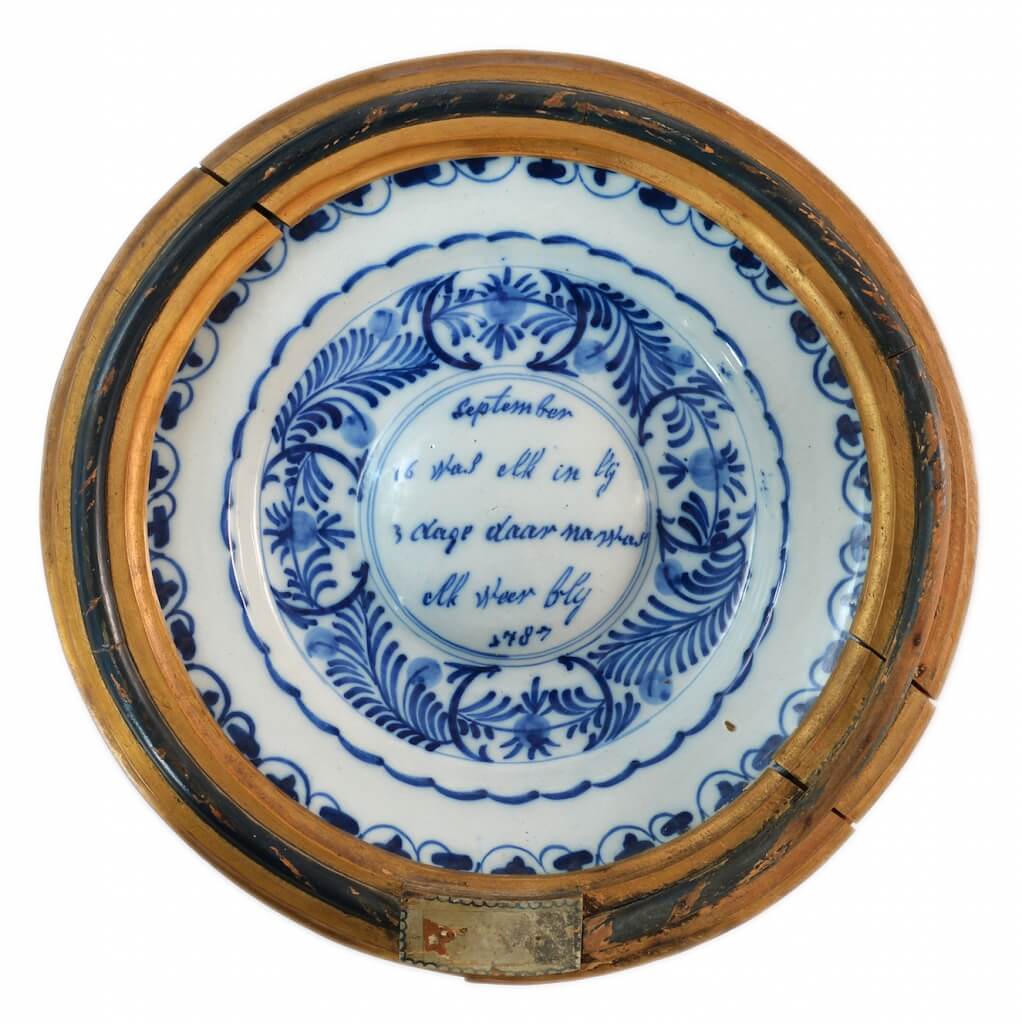 On September 17, 1787, the United States Constitution was signed in Philadelphia. However, Holland was simultaneously undergoing a great deal of tumult with the Prussian invasion. This blue and white charger, dated September 16, 1787 is a poignant reminder of the event. The text on the charger reads
"September 16 was elk in lij, 3 dage daar na was elk weer blij 1787"
("September 16 everyone was suffering, three days later everyone was happy again 1787"). The words underline the historical importance of the charger more than its role as a decorative piece of Delftware.
In September and October of 1787, the Prussian military invaded Holland to restore the Orange stadtholderate in the Dutch republic against the rise of the democratic Patriot movement. The invasion was first spurred after Stadholder William V hesitatingly signed the 'Declaratoir' on May 26, 1786. The document was a declaration of war against the Patriots, a civilian group with no say in the government of their country nor their city.
Stadholder William V was subsequently fired by the State of Holland as Captain General of their troops in 1786. He lost a great deal of his power and retreated to the city of Nijmegen. When his wife, Wilhelmina of Prussia, was on her way from Nijmegen to The Hague – where she intended to request her husband to be allowed to return to –  on June 28, 1787, she was arrested. The Orangist plans became clear with this arrest. As a result, there was a major resistance amongst the Patriot regents and the bourgeoisie, both of whom were supported by France.
However, King Frederick William II of Prussia, Wilhelmina's brother, sought vengeance for his sister's humiliating arrest and decided to ally William V and stop the Patriot's rebellion. He ordered a Prussian army of 20,000 men to invade Nijmegen, resulting in the Orange Restoration that brought William V back into power, and causing many Patriots to flee to France.
The timeline of events makes clear the importance of the date inscribed on the charger. After the King Frederick William II sent an army of 20,000 men to Nijmegen, 9,000 Prussian and 6,000 Stadtholderly troops arrived in Utrecht. The commander in Utrecht was ordered to leave the city and to transfer his troops to Holland on the nights of September 15 on September 16. This caused many citizens to flee in panic, and Utrecht fell without resistance into the hands of Prussian troops, after which looting followed. Three days later, on September 20th, William V arrived in The Hague and the Orange restoration was once again intact.
Blue and White Charger
Delft, dated 1786
Painted in the center with the inscription "September 16 was elk in lij, 3 dage daar na was elk weer blij 1787" ("September 16 everyone was suffering, three days later everyone was happy again 1787") within a wide flowering vine border between concentric lines and a scalloped line, the rim with a lappet border.
Diameter: 34.4 cm. (13 2/5 in.); including wooden mount 42.6 cm. (16 1/2 in.).