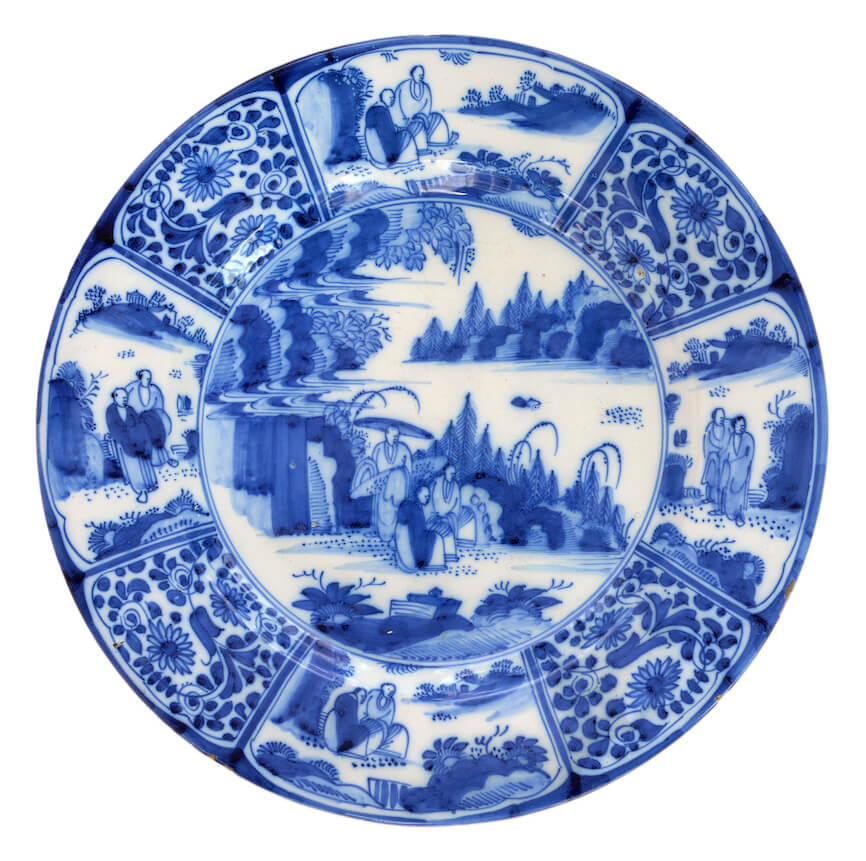 Every month we present a special object from the Aronson Antiquairs' collection. This month we would like to show you this blue and white charger from circa 1670.
The importation of Chinese porcelain was halted after civil unrest in China during approximately forty years, starting from 1644. This opened up a great opportunity for Delft potters, whose faithful reproductions of Chinese porcelain wares had a ready market. This charger is inspired on both Chinese Wanli Kraak dishes and the so-called transitional wares. Kraakporselein (Kraak-porcelain) were the first pieces of Chinese porcelain to reach the Netherlands. The name Kraak is possibly derived from the Portuguese ships that were called caraccas on which the Chinese wares were shipped to the Netherlands.
The paneled border, which was characteristic for the Chinese Kraakwares, is imitated on this Delft charger. However, the decoration in the panels, and in the convex of the charger are more similar to the transitional style. The Chinese transitional wares were no longer divided into panels, but the entire area was covered with a continuous scene that often consisted of landscapes with animals or figures either conversing or in a moment of spirited action. The Delftware painters adapted this scenery for their own decorations of figural subjects, often in a landscape of rock work and pine trees. Since the decoration on the present charger is freer and shows clearly the Delft interpretation (because it is composed in a way that is not Chinese, but semi-Chinese), it is a perfect example of Chinoiserie. This style originated in the seventeenth century and quickly became a dominant fashion throughout Europe, enduring through the first half of the eighteenth century.
Blue and White Charger
Delft, circa 1670
Painted in the center with a Chinese man standing beside two seated men in a landscape of trees and rocks, the cavetto and rim with a wide border of eight fan-shaped panels, four with a Chinese man seated or standing in a similar landscape alternating with four panels centering two sun owers within a scrolling leafy stem, all within a slightly scalloped line at the edge, and the footrim pierced with two holes for suspension.
Diameter: 38.9 cm. (15.3 in.)
Price: € 6.000 (appr. GBP£ 5,250 or export US$ 7'500)