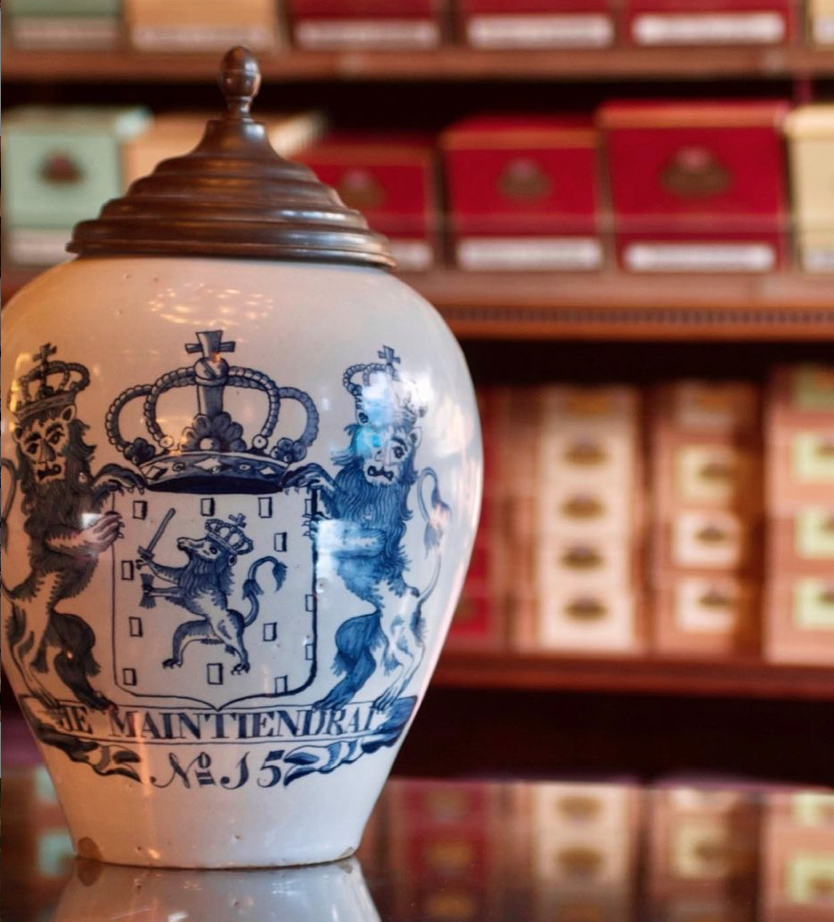 Blue and White Armorial Tobacco Jar
Every month we present a special object from the Aronson Antiquairs' collection. This month we would like to show you this extraordinary blue and white armorial tobacco jar!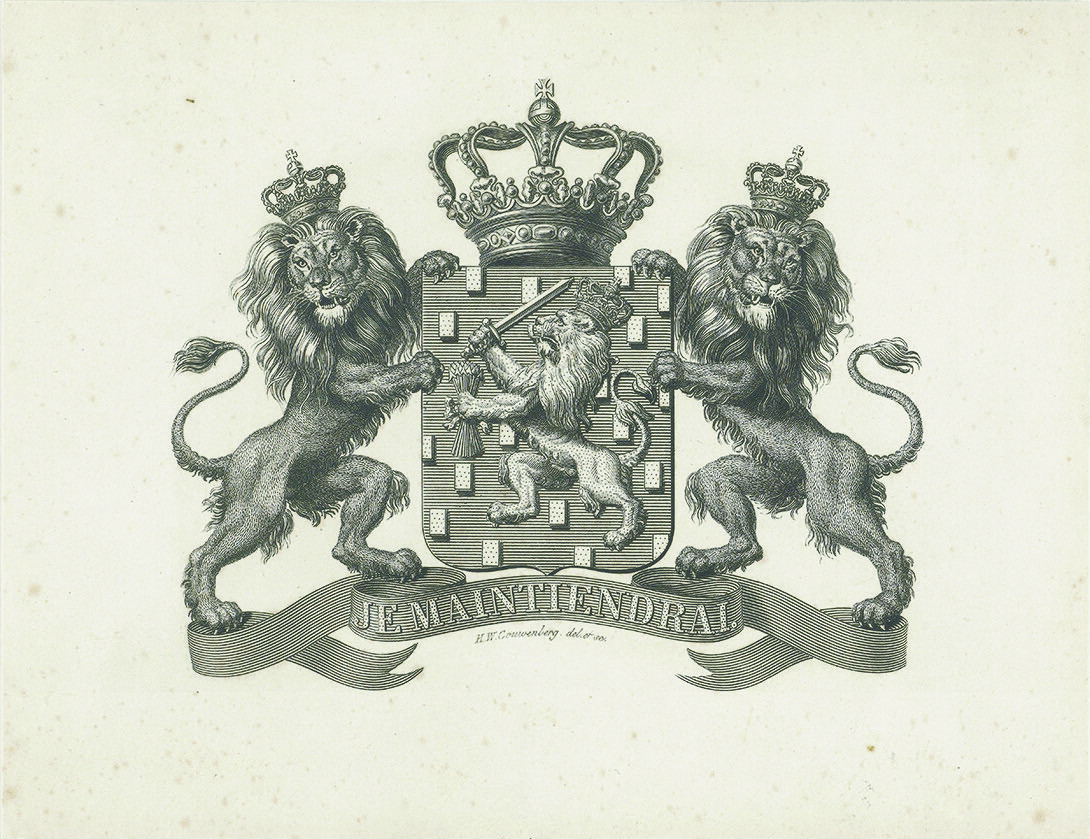 This tobacco jar is painted with the coat of arms of the Dutch Republic. It shows a lion holding a sword and arrows. In 1578, during the Eighty Years' War, the States General ordered this new great seal representing the lion, the sword and the 17 arrows combined. This seal stayed in use until 1795. The arrows originally presented the seventeen provinces in the low countries. However, only seven provinces remained free from Spain. The sword symbolizes the determination to defend their liberty of the Dutch, and the coronet their sovereignty. During the revolution, the Napoleonic years and the restoration the coats of arms was replaced by a 'Maiden of Freedom' and the French Imperial Eagle. It was not until 1813, when the French were forced out of the Netherlands and the son of the last Stadholder, William I was proclaimed 'Sovereign Prince, that the old lion with the sword and arrows made his second reappearance, now with a Royal crown upon his head.
This tobacco jar is part of the wide assortiment that the Delft potters offered their clients. These so-called 'wapengoet' or 'armorial wares', which were often commissioned for special occasions. Made in Spanish lustreware and Italian maiolica since the fifteenth century, these objects have a long and storied history. The style was adopted in the Netherlands by the middle of the sixteenth century, with coats of arms appearing on tiles, plates, and dishes. These brightly colored pieces bear the coats of arms of cities, such as the Hanze cities at the IJssel river, grown wealthy by trade, and other important cities as Amsterdam and Haarlem. Based on the variety and multitude of Delft armorial wares, they were highly in vogue the seventeenth and eighteenth century in both the Netherlands and abroad.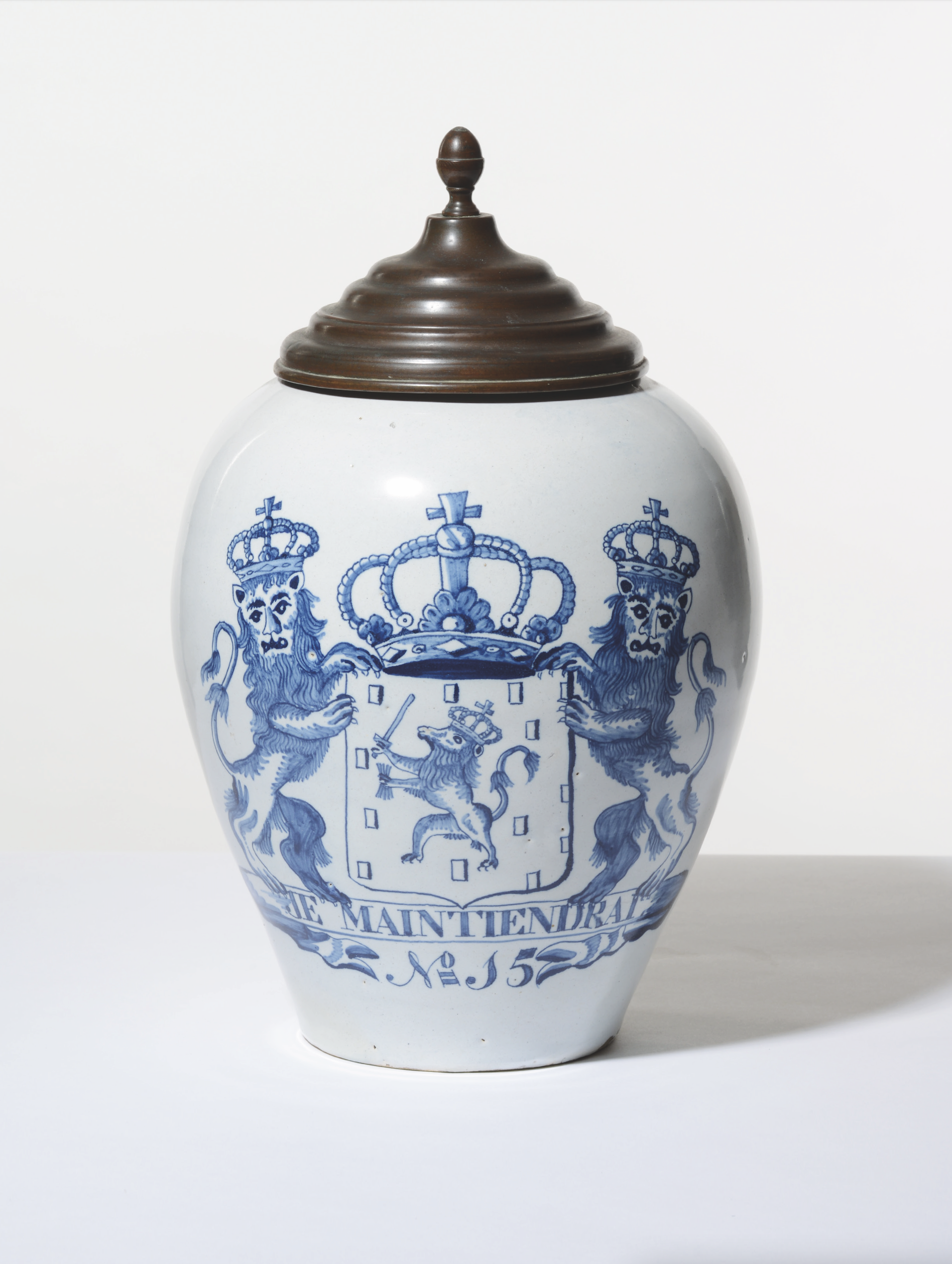 Blue and White Armorial Tobacco Jar
Delft, circa 1815
Marked with three bells in blue for De Drie Klokken (The Three Bells) factory
Painted on the front with the Dutch royal coat of arms beneath a coronet, as depicted after 1815 between crowned lion supporters, on a banderole inscribed with the motto JE MAINTIENDRAI above No 15; with a later patinated brass cover.
Height: 27 cm. (10.6 in.); overall: 35 cm. (13.8 in.)
Price: € 6.500 (export $ 7,200)