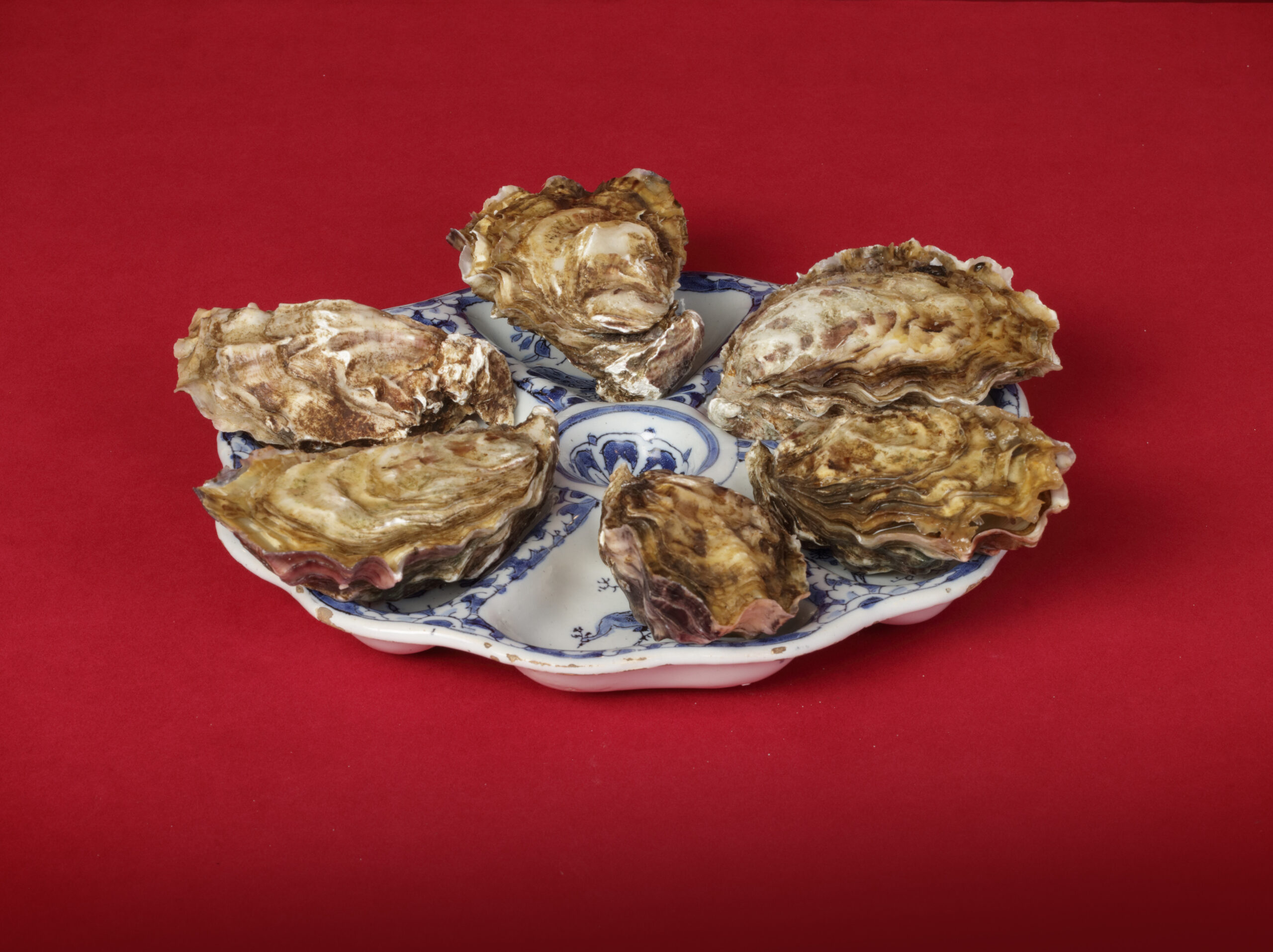 Blue and White Oyster Dish
Every month we present a special object from the Aronson Antiquairs' collection. This month we would like to show this blue and white oyster dish from circa 1695. The dish is marked for Adrianus Kocx, the owner of De Grieksche A (The Greek A) factory from 1686 to 1701 and is painted with a Tudor Rose.
Traditionally this sort of dishes were ascribed as spice or sweetmeat dishes. Although somewhat similar in shape, the current dish is an oyster dish.
Already in Roman times, oysters were eaten. Oysters have a long tradition in the culinary history of the Netherlands. In the seventeenth century a lot of fish was eaten, even at breakfast (the economy was partly based on fishing), and there was also a large consumption of mussels and oysters. Unlike today, oysters were not associated with wealth and luxury in those days. It was only later that oysters were considered a delicacy when scarcity arose. With the intensification of fishing in the nineteenth century, wild oyster beds began to disappear.
In 1612 the first Dutch/Flemish printed cookbook 'Koocboec oft Familieren Keukenboec' by Antonius Magirus was published. In his cookbook he addressed an elitist and conservative audience: especially ladies of the lower nobility and the well- to-do bourgeois. With his recipes he wanted them to prepare tasty dishes in a (relatively) economical way for their guests, but first and foremost for their husbands. Magirus started his cookbook with what should be available at home. He advised to be foresight and always have enough food in stock in case an unexpected guest came along. In his opinion, one of the foods that should not be missed were oysters pickled in various ways. In a separate chapter he explains how to cook or stew the oysters and provides several recipes.
The preservation of foodstuffs, especially fish and oysters, was no easy task in the seventeenth century. Culinary authors therefore paid a lot of attention to this, for example the French cook François Pierre La Varenne, who in his cookbook 'Le Cuisinier François,' published in 1651, described a dozen recipes with oysters.
Oysters are often depicted in seventeenth-century still lifes and genre paintings. Since oysters were known as an aphrodisiac, the shells often bear an erotic meaning.
We acknowledge with thanks the help of Mr. Matijn Wijn of Oestercompagnie for making us aware that this dish model was intended for oysters.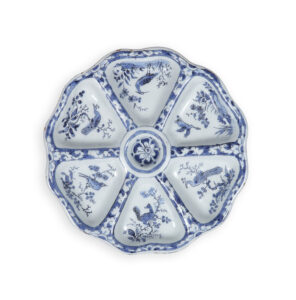 Blue and White Oyster Dish
Delft, circa 1695
Marked AK in blue for Adrianus Kocx, the owner of De Grieksche A (The Greek A) factory from 1686 to 1701
The central circular well painted with a Tudor Rose and encircled by six heart-shaped compartments, one painted with a bird perched on a branch amidst shrubbery, two painted with a peacock perched on a flowering branch, one painted with a crane standing amidst floral shrubbery, one painted with a duck in flight above pierced rock work and floral benches and one with a squirrel in a budding branch, all bordered on their blue-ground upper edges reserved with scroll devices and demi flowerheads.
Diameter: 18.5 cm. (7.3 in.)
Price: € 6.500  (appr. export US$ 6,000)