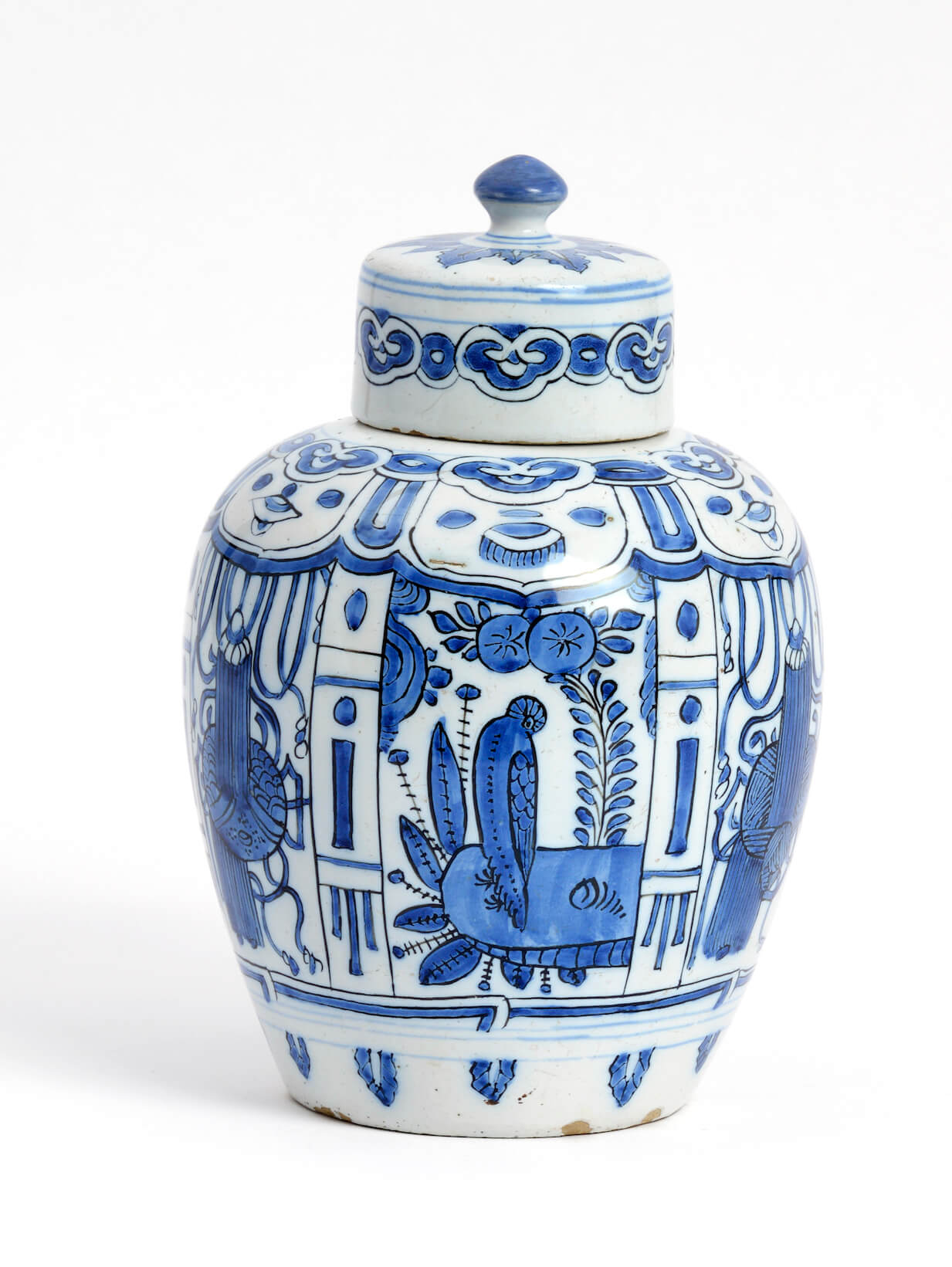 Blue and White Kraak-Style Ovoid Jar
Every month we present you a special object from the Aronson Antiquairs' collection. This month, we would like to show you this blue and white kraak-style ovoid jar from circa 1700.
From approximately 1605 to 1635, the VOC mostly imported Chinese porcelain known as 'Kraakporselein' (Kraak-porcelain) to Holland, a name that possibly derived from the Portuguese ships called 'caraccas'. One characteristic of the early imports are the foliated rims on the plates and dishes, which were typically made in molds. Further, the pieces were lightweight due to the thin walls of the vessels. This was advantageous because the Chinese export tax was based on the object's weight. The decoration, always in underglaze cobalt blue, is characteristically divided into alternating wide and narrow panels, which contain Buddhist and/or Daoist symbols. The central panel often shows landscapes or riverscapes with deer, birds and large flowering plants.
Before the importation of Chinese porcelain, the Dutch used locally made earthenware or majolica. Both the technique and the decorative style of majolica were strongly influenced by potters from Antwerp, who in turn borrowed from Italian models. The demand for majolica decreased with the arrival of Chinese porcelain in the early seventeenth century, which had a number of superior traits to the Dutch ceramic in composition and function. Majolica plates and dishes were covered with a lead glaze on the back, while the front was covered with a layer of tin-oxide glaze that turned opaque white after ring. Conversely, Chinese porcelain had a clear color, and a smooth and shiny finish. Porcelain was also made from a specially sourced clay body and was red at a high temperature. This produced an extremely strong and compact finished product. Unlike majolica, Chinese porcelain could withstand hot liquids because of its higher firing temperature. The limited color scheme of blue and white, unlike the colorful majolica, did not seem to deter interested collectors. Chinese porcelain was more costly than crystal and was also considered more valuable due to its exotic and far away origin.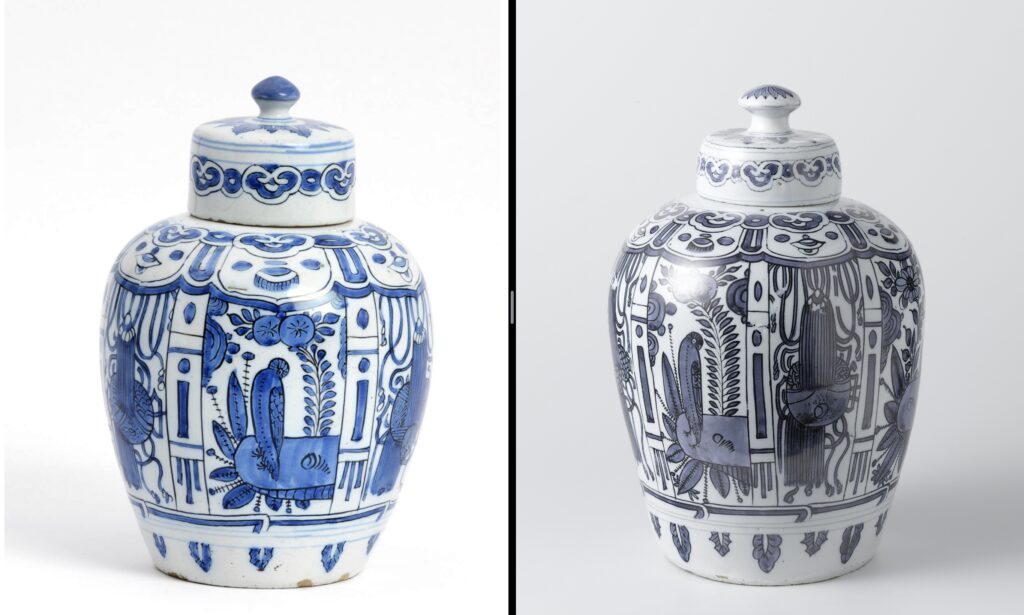 Dutch potters could not produce real porcelain because they did not have access to the indispensable kaolin (China bone). It was not until 1709 that the European potters discovered how to produce porcelain. Instead, the potters had to invent news ways to revitalize their business. A group of potters began to imitate Chinese porcelain. Although it was impossible to create a perfect imitation of the exotic objects (due to a lack of specific raw materials), the potters – after overcoming several technical complications – successfully improved the majolica to more clearly reflect Chinese porcelain. This development took place around 1620, with potteries in Haarlem and Delft as the leading innovators. It was in those cities that Hollandts porceleyn (or Delffse porceleyne) was first produced, as the new pottery was somewhat misleadingly called.
Throughout the seventeenth century, Delft potters created faithful imitations of the Chinese Kraak-porcelain from the Wanli period (1573-1620) for table use and for decorative purposes. The paneled border, which was characteristic for the Chinese Kraakwares is precisely imitated on Delft plates. The center is often decorated with urns of flowers, fruits and precious objects, animals such as peacocks, water birds or deer, or with a Chinese scene. While seventeenth-century Delft plates and dishes in the Kraak style are common, vases and jars in that genre are remarkably rare. The shape of this jar derives from Kangxi porcelain, rather than Chinese Kraak porcelain.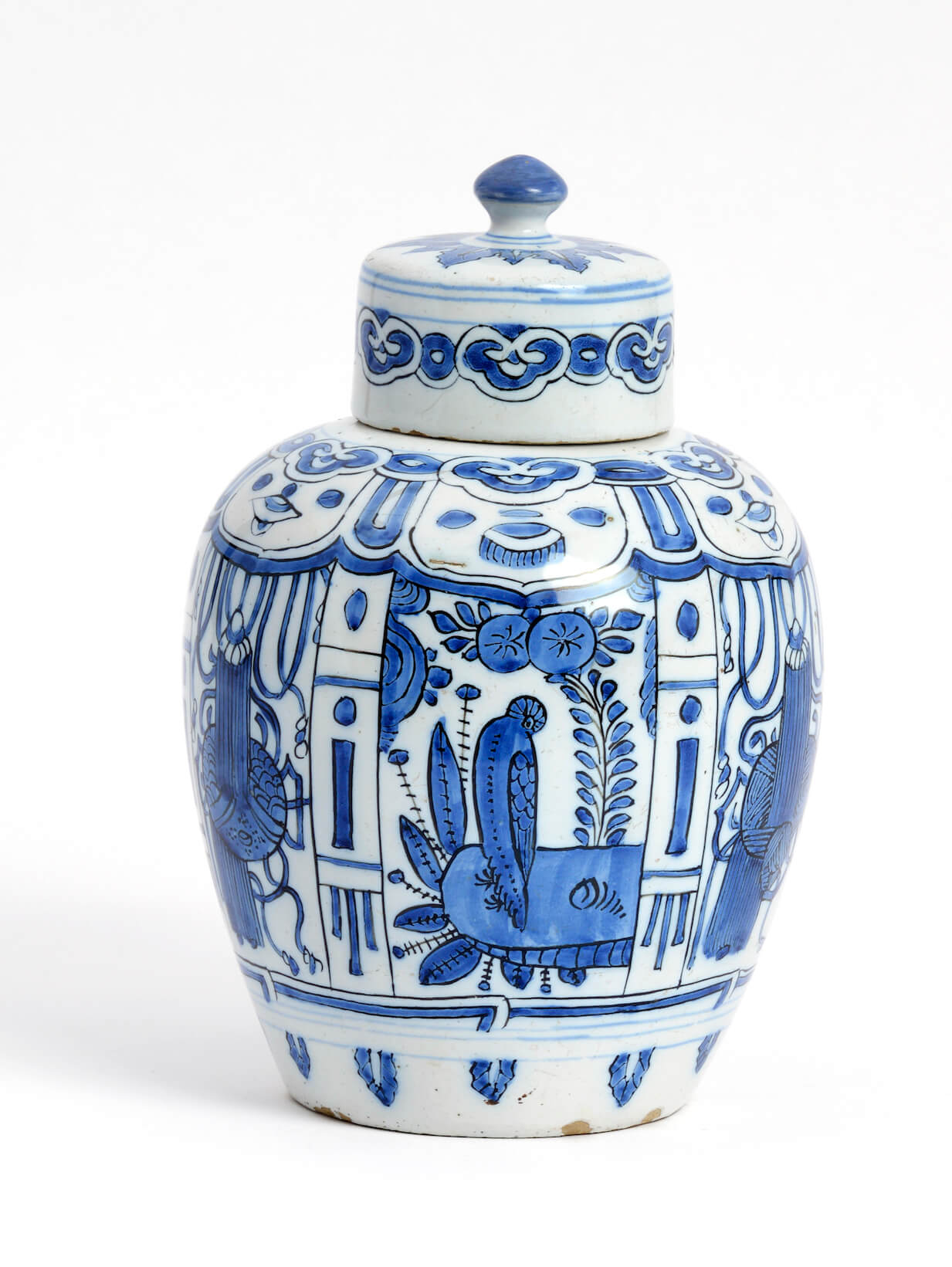 Blue and White Kraak-Style Ovoid Jar with Cover
Delft, circa 1700
Painted all around the ovoid body with six large panels with either a bird and fruit plants, or a lantern, tassel and ribbons, or a flowering plant, separated by narrow panels with dot and stripe motifs, the shoulder decorated with a lappet border with dot motifs below a ruyi-head and circle border, repeated on the sides of the cover and on the top with a circular petal border surmounted by a knop.
Heights: 24 cm. (9.4 in.)
Provenance: The Gaston de Ramaix Collection, Château de Grune, Belgium; hence by descent
Price: € 5.800 (appr. US$ 6,500)