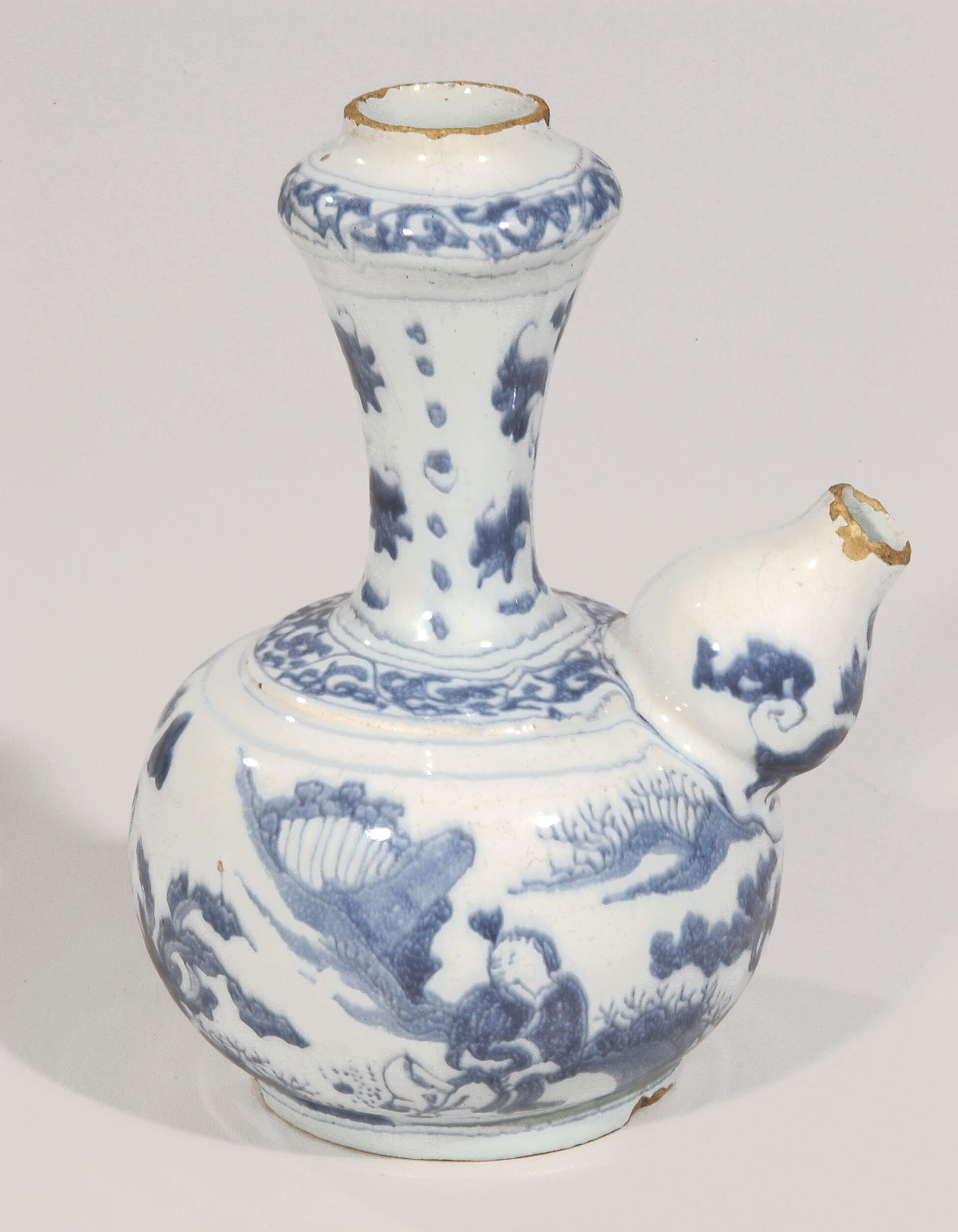 Blue and White Chinoiserie Kendi
Every month we present a special object from the Aronson Antiquairs' collection. This month we would like to show you a wonderful blue and white Kendi. Kendis were drinking vessels made in China for export to south-east Asian markets such as Malaysia, Indonesia and the Philippines. They were designed to hold liquids, the shape protecting the contents against dust and other contaminants or flies. Kendis were considered very hygienic, since users could drink from the flow when pouring the liquid, without touching the spout with their mouth. They were not used in China or Japan. The name is possibly derived from the Malaysian kundikâ, which is the name of the bottle used to carry water in Hindu and Buddhist rituals in India.[1] 
Although these vessels were initially made for the markets in South-East Asia, and the Middle East, they also reached Europe. Porcelain specialized merchants approached the large VOC ships by so-called junks (ancient Chinese sailing ships), and brought a selection of the porcelain. Since the VOC also bought porcelain and other ceramics for the inter-Asian trade, they had a much larger variety of wares than the objects that actually reached the Netherlands. Once the VOC directors realized that the Dutch especially liked the strange and curious objects, besides the plates, dishes and bowls, they even explicitly ordered their merchant to be on the look out for unusual items.
Of course, in Delft they picked up this desire for the extraordinary, with as result that the Delft potters began making kendis in their own material: Dutch Delftware. The Grieksche A (The Greek A) Factory introduced the kendi in Delftware around 1680 and an example is in the collection of Musées Royaux d'Art et d'Histoire, Brussels (inv. Ev 108). This SVE marked piece is decorated with Chinese inspired figures and stylized tulips or foliage. There are several kendis known in the shape of little spouted jugs, but they were also produced in the shape of animals, such as frogs or elephants. For example, the Museum for Kunsthandwerk in Frankfurt owns a lovely frog-shaped kendi (inv. 12234). With their explicit use and exotic shape, they are a very rare group of Dutch Delftware.
Blue and White Chinoiserie Kendi
Delft, 1690
Painted with five Oriental figures seated or strolling in a continuous landscape beneath a scroll border around the shoulder repeated below the rim, the spout and neck with foliate devices.
Height: 14.3 cm. (5 5/8 in.)
Provenance: The Dr. Günther Grethe Collection, Hamburg
Price: Sold
[1]  Vinhais, L. and Welsh, J, Kraak Porcelain, Londen, 2008, p. 180.