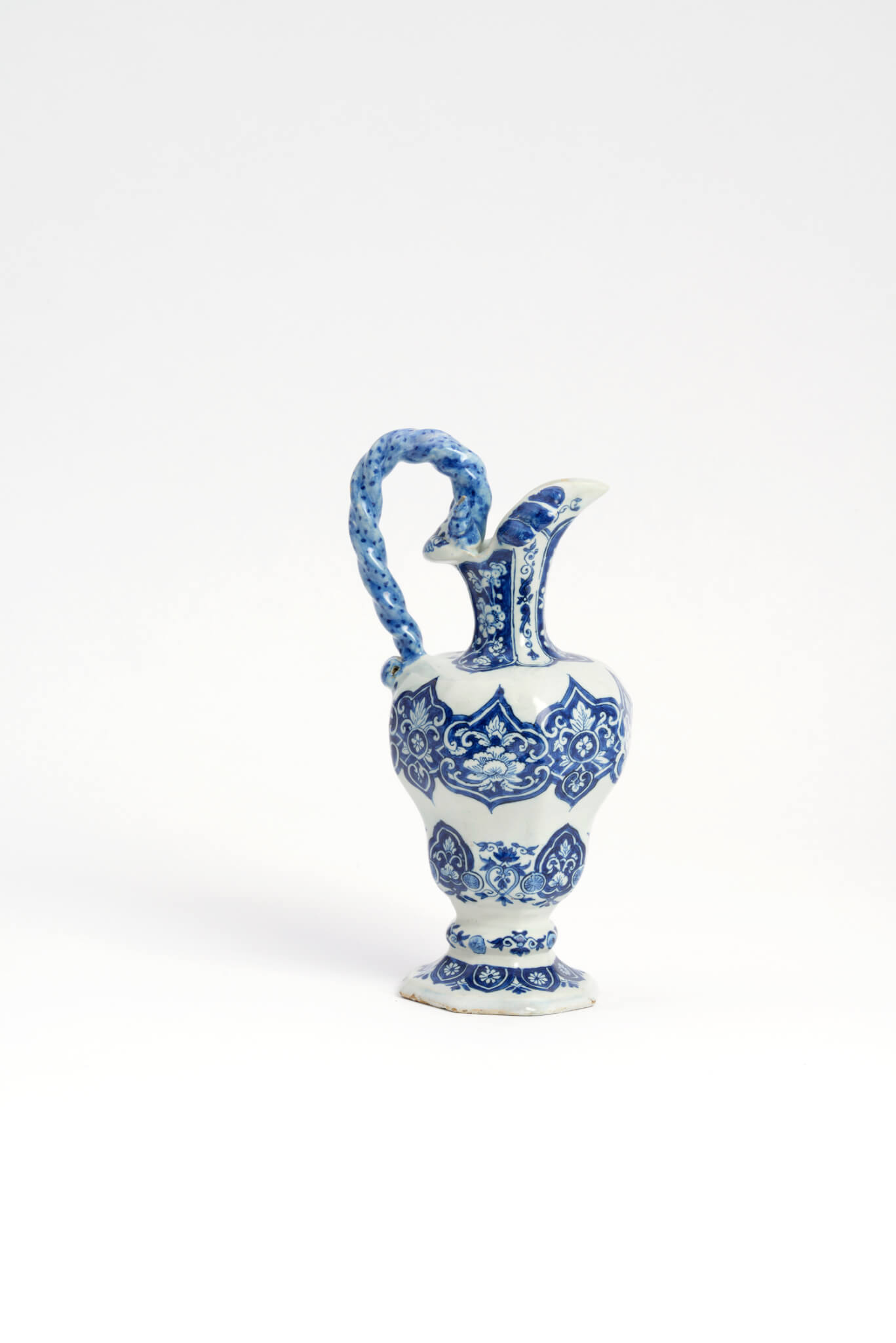 Every month we present you a special object from the Aronson Antiquairs' collection. This month, we would like to show you this blue and white ewer from circa 1690.
This ewer forms an interesting link between Italian maiolica, Nevers faience and Dutch Delftware. Although the shape was already known in the Netherlands in silver or pewter in the early 17th century, it is thought that the Delft potters adopted the shape from Nevers faience models, which in turn had borrowed their inspiration from Italy.
Italian faience examples of this shape, with additional grotesque masks on the body beneath the handle, have been excavated in Holland. The twisted handles and chinoiserie decoration, which can be seen also on examples from Nevers, show a closer resemblance to the Delft versions. The Nevers prototypes for these ewers are thought to have had an ecclesiastical use. The Delft ewers of this type, however, seem to have had a secular, decorative function, and some even have a royal connection. In the garden of Palace Het Loo in Apeldoorn, adjacent to the cellar dairy of Queen Mary II (1662-1694), fragments of a ewer with a similar handle and top of the neck have been excavated.
Blue and White Ewer
Delft, circa 1690
Painted on the octagonal baluster-form body with a floral-patterned blue ground lappet border above another band consisting of blue lappets intersected with floral scrollwork, the knotted ankle with floral scroll devices above the octagonal foot decorated with a band of blue ground lappets reserved with flower heads, the flaring octagonal neck with four floral-patterned blue panels interrupted by white panels decorated with scroll devices beneath the fringed spout and affixed at the back with a dotted light blue rope-twist handle.
Height: 22.3 cm. (8.8 in.)
Provenance:
The A. Bisset Collection and bearing the original collector's label;
Exhibited in "La faïence française de 1525 à 1820" Musée des Arts Décoratifs, Paris, 1932, no. 233.
Price: € 5.800 (appr. US$ 6'300 or GBP£ 5,300)