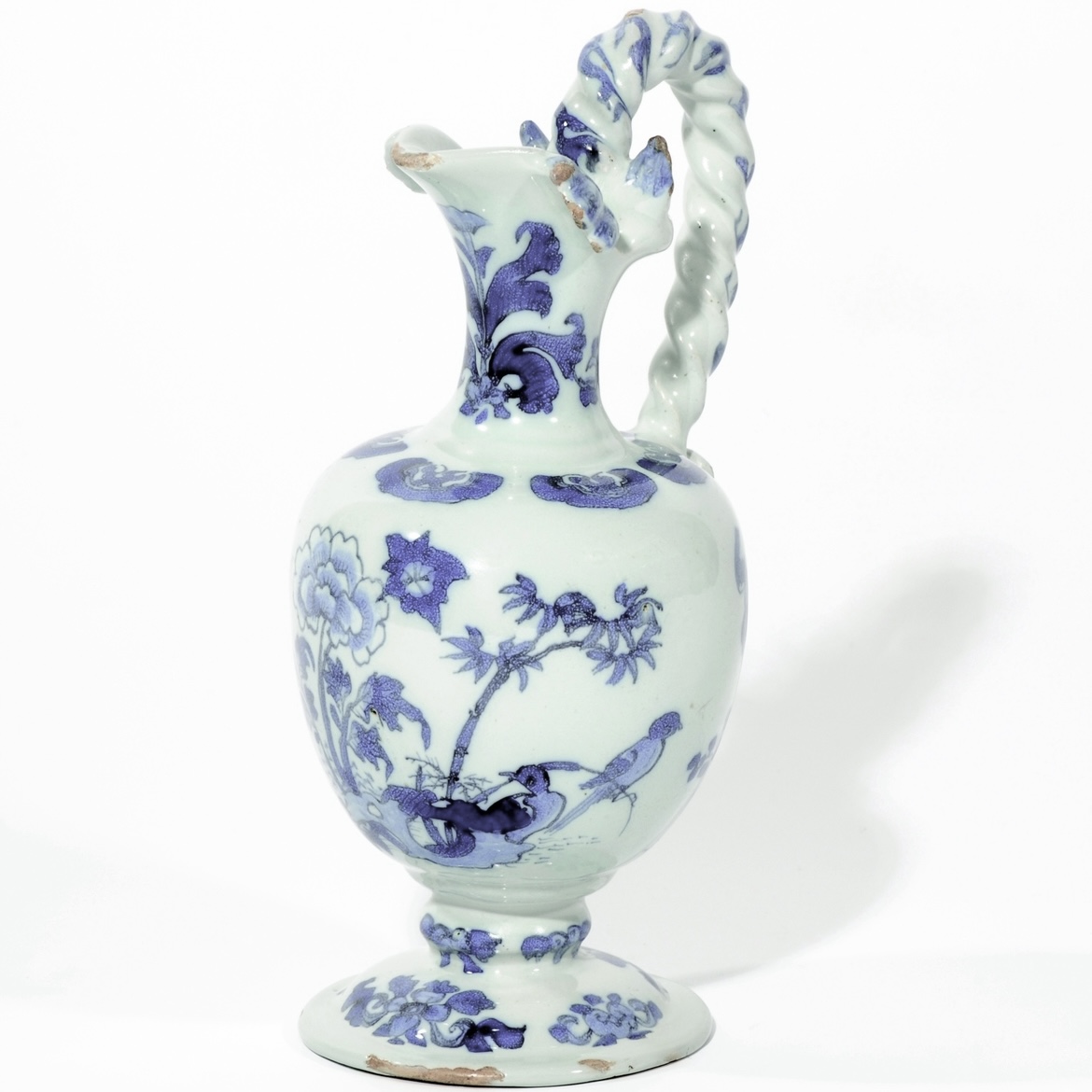 Blue and White Delftware Ewer
Every month we present a special object from the Aronson Antiquairs' collection. This month a rare and interestingly modelled ewer by Lambertus Cleffius!
Unlike his contemporaries, whose production is characterized by horror vacui, Lambertus Cleffius preferred spare decoration, as can be seen on this ewer. Although the shape was already known in the Netherlands in silver or pewter in the early seventeenth century, it is thought that the Delft potters adopted the shape from Nevers faience models, which in turn had borrowed their inspiration from Italy.
Italian faience examples of this shape, with additional grotesque masks on the body beneath the handle, have been excavated in Holland. The twisted handles and chinoiserie decoration, which can be seen also on Nevers, show a closer resemblance to the Delft versions. Trading between Delft and French ceramic centers did exist as early as 1665, when Willem Cleffius, the father of Lambertus, together with Wouter van Eenhoorn, tried to collect payments due from the brothers Révérand, French dealers who had bought Delftware.
The Nevers prototypes for these ewers, referred to as aiguières religieuses, are thought to have had a similar ecclesiastical use. The Delft ewers of this type, however, seem to have had a secular, decorative function, and some even have a royal connection. In the garden of Palace Het Loo in Apeldoorn, adjacent to the cellar dairy of Queen Mary II (1662-1694), fragments of a ewer with a similar handle and top of the neck have been excavated.
D1029. Blue and White Bottle Ewer
Delft, circa 1685
Marked LC and X in blue for Lambertus Cleffius, the owner of De Metaale Pot (The Metal Pot) factory from 1679 to 1691, and with a molded numeral VI
The ovoid body painted on the front with a bird perched on a blade of grass arching over a rock amidst peonies and bamboo, and on the sides with a bird either similarly perched on a grass amidst chrysanthemums, or flitting above a flowering prunus branch, all beneath a border of six ruyi-heads on the shoulder, the flaring cylindrical neck with a foliate device beneath the fringed spout and affixed at the back with a rope-twist handle, and the domed foot with two floral sprigs alternating with two ruyi-head devices issuing scrolls.
Dimensions
Height: 20.6 cm. (8 1/8 in.)
Price: € 6.500 (export $ 7,000)
(Link to this pair Delftware ewer in our webshop)