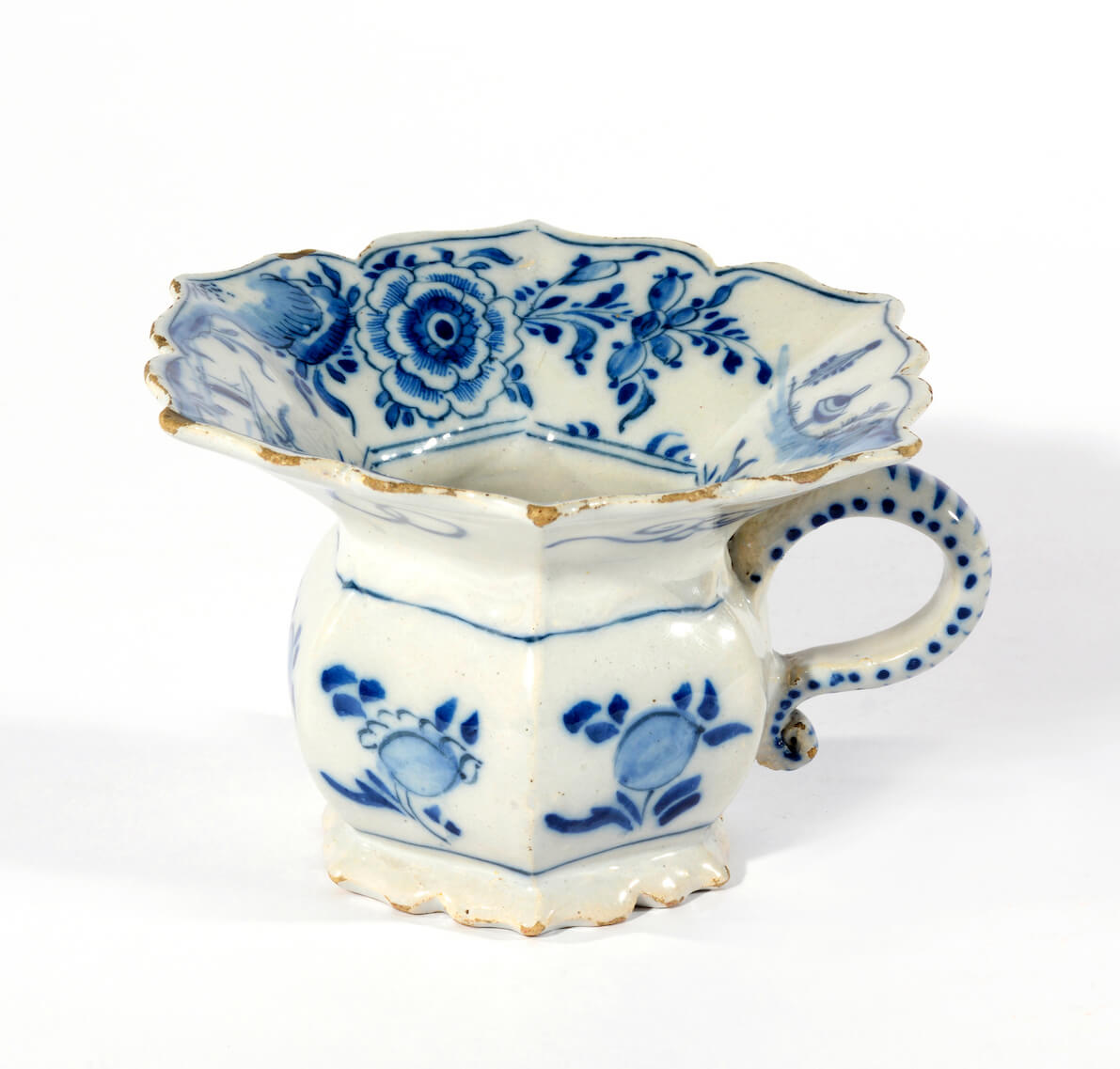 Every month we present a special object from the Aronson Antiquairs' collection. This month we would like to show you this beautiful blue and white cuspidor, which was made in the city of Delft around 1740. The word 'cuspidor' (kwispedoor) comes from the same word in Portuguese: cuspidouro, meaning 'place for spitting' and has its origins in Latin. The word conspuere comes from the prefix com- and spuere, meaning 'to spit'.
Already in the seventeenth century the 'cuspidor' has been competing with the spittoon, which is a less elegant version of the cuspidor. The vessel and its function seem to have been introduced to the Netherlands by the Dutch East India Company (Vereenigde Oostindische Compagnie or VOC), and according to Van Dam 1991, p. 88, who illustrates on p. 89, no. 42, a cuspidor dated 1747, with the increased availability and use of tobacco for smoking or chewing, "in the course of the seventeenth century the cuspidor or spittoon came to be used in Europeˮ as a receptacle for the spitting of the tobacco juice, hence the generous rim to provide the user with a greater "chance of hitting the target.ˮ Van Aken-Fehmers, p. 129, no.91, however, makes a distinction between cuspidors and spittoons, citing that the usually round spittoons have a dished rim and a handle, as opposed to the round cuspidors, which have a flared rim and do not always have a handle. Seventeenth-century estate inventories from the city of Delft as well as listings of the wares available from the Delft potteries initially mention only spittoons with no mention of cuspidors. The first appearance of cuspidors is on price lists of 1724, where they are listed beside spittoons, and were available in several sizes and versions.
Blue and White Cuspidor
Delft, circa 1740
The hexagonal body painted on five sides with a stylized floral sprig, the sixth side affixed with a dashed and dotted loop handle, and the flaring rim painted on the underside with three whorl devices alternating with two 8-shaped devices, and on the top with a scene of a lady standing and looking back toward a table set with plants and papers amidst tall flowering plants within the scalloped and barbed edge, its form echoed on the footrim.
Height: 8.5 cm. (3 3/8 in.)