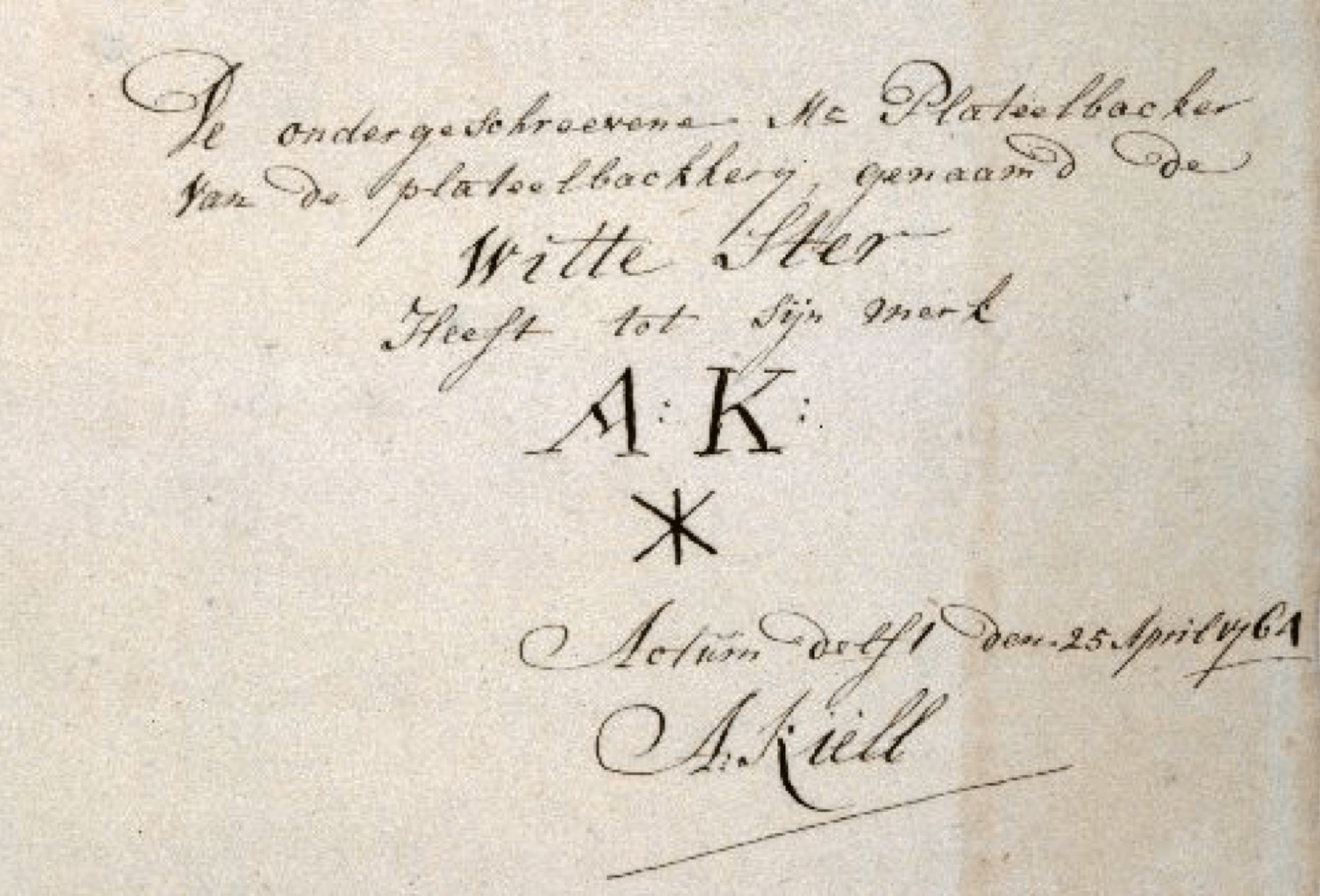 In the second half of the eighteenth century, De Witte Starre (The White Star) factory changed hands several times. One owner, Albertus Kiell, made an indelible mark on the Delftware industry during his lengthy period of employment.
Kiell was born to Johannes Albertusz Kiell and Magdalena Catharina van Breugel in the village of Den Briel on June 25, 1730. He later moved to Delft with his wife Wilhelmina Jansdr van der Velden, with whom he had two children: Jan Gerard (November 1757) and Maria (April 1760).1 On May 21, 1763, after the death of Wilhemina, he remarried Johanna Cornelia van der Swet and had three children: Cornelis Johannes (May 1764), Johanna Magdalena (March 1767) and Johanna Albertina (January 1772). 2
In November 1761, Albertus and Wilhelmina purchased De Witte Starre (The White Star) factory from the Van den Berg family. Wilhelmina presumably died soon after, since the factory was registered entirely to Albertus at its transfer.3 He purchased the premises for 10,500 florins (against valuation of pottery, materials and tools).4 In 1762, Albertus registered as a shop owner.5 He remained the owner for ten years, before the execution sale of De Witte Starre was ordered at the end of 1772, at the request of Jacoba de Bergh.6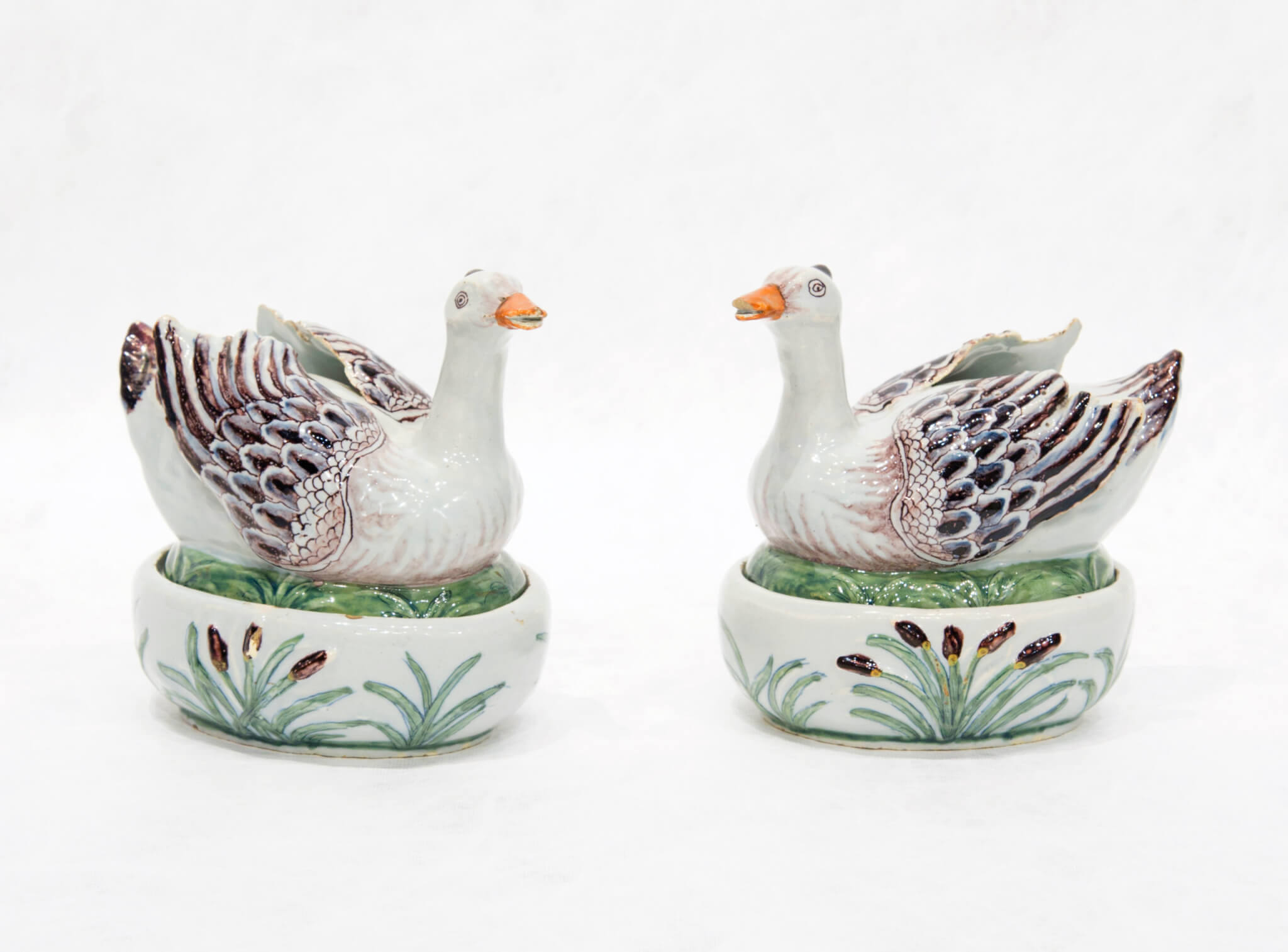 De Witte Starre and its adjoining house provided a splendid shelter for its owner. In 1772, when the building was occupied by Albertus Kiell, his home was described as spacious and modern, with an adjoining front house. The grounds also had a cottage with several rooms, a kitchen and cellar.7 The business premises of the factory included a very large and sufficient kiln, a tin kiln, a wood shed, an earth house and attics. In these spaces, besides the Delftware objects, the usual tools were found: turning wheels and plates, molds, saggars, shop shelves and counters.8
During the ownership of Kiell, the factory displayed great artistry and skill. Kiell specialized in the very fashionable trompe l'oeil figures. Destined for the table, these naturalistic tureens and serving dishes were a functional aspect of Dutch dining culture. Influenced by the 'à la Française' dining style that swept through Europe during the middle of the eighteenth century, guests would serve themselves from the platters, bowls and tureens that were symmetrically arranged on the table and placed within reach of the guests. Each course provided an opportunity to display and use a variety of tablewares. With this new fashion, the range of tablewares expanded quickly and complete services with matching decoration were produced. The potteries in Delft quickly accommodated the new taste of the nobility and the wealthy bourgeoisie for adorning their tables with brightly colored table wares, such as butter tubs and tureens of various sizes and shapes. Amongst them were true-to-life vessels, such as these zoomorphic tureens. This pair of polychrome oval duck tureens, from circa 1770 are marked for Albertus Kiell. The covers of the tureens are modeled as a duck with slightly extended manganese-delineated wings and an upswept tail.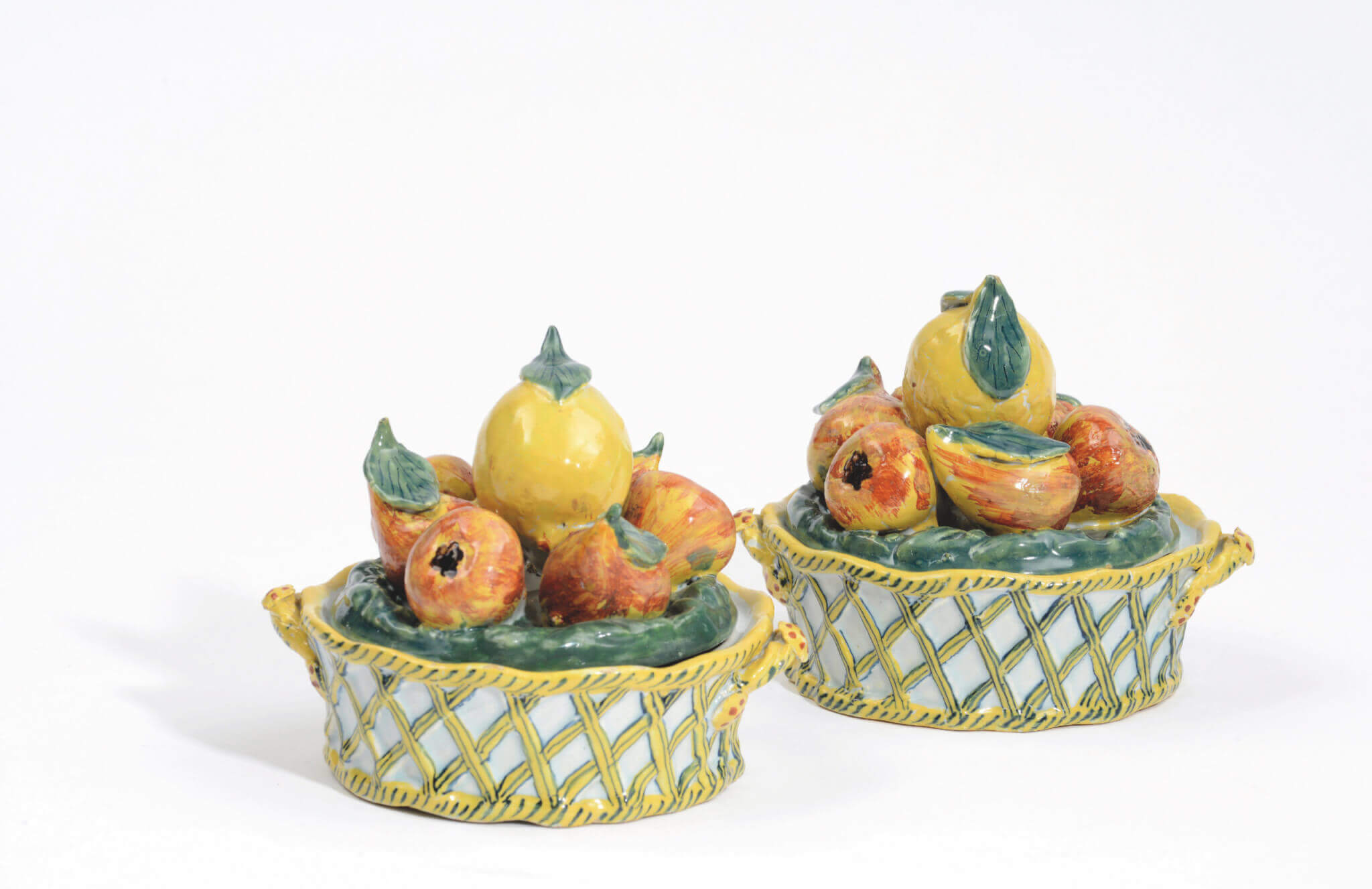 Very elegant butter tubs designed as goats are also known to have been produced under Kiell's ownership. Also exemplary of his extraordinary trompe l'oeil output are these polychrome fruit basket tureens, from circa 1770. The covers of these tureens are modeled as a central yellow lemon surmounting a ring of apples and pears decorated in shades of yellow and iron-red with green leaves. Dinner wares cleverly imitated nature in the form of fruits and vegetables. Further, the table itself would be adorned with real flowers or fruits. A pair of tureens like the present one, formed as a wickerwork basket with a stack of pears, would fit accordingly on the dinner table.
Not to be confused with Adrianus Kocx, Albertus Kiell's mark is composed of his combined initials accompanied by a star. As Helbig mentions, the star sign was attributed to De Witte Ster factory.9 In fact, although the registration took place in 1764, the star was used as the pottery mark before 1700.
These objects from De Witte Starre factory during the ownership of Albertus Kiell are a testimony to the skill and the great sense of naturalism of the Delft potters in the second half of the eighteenth century.
1 Stadsarchief Delft, DTB dopen, inv. No 14.15, fol. 8; Stadsarchief Delft, DTB dopen inv. no. 14.15, fol. 26
2 Stadsarchief Delft, DTB dopen, inv. No 14.61, fol. 195v; Stadsarchief Delft, DTB dopen inv. no. 14.15, fol. 74v; Stadsarchief Delft, DTB dopen, inv. no. 14.15, fol. 118v
3 M.S. van Aken-Fehmers, L.A. Schledorn, T.M. Eliëns, Delfts aardewerk. Geschiedenis van een nationaal product, Volume II, Zwolle/Den Haag (Gemeentemuseum) 2001,p. 94
4 W. Hoekstra-Klein, Geschiedenis van de Delftse Plateelbakkerijen, De Witte Starre, 1660-1803, Vol. 14, Delft 2007, p. 42
5 Hoekstra-Klein 2007 (note 4), p. 38
6 Van Aken-Fehmers 2001 (note 3), p. 94
7 Van Aken-Fehmers 2001 (note 3), p. 246
8 Van Aken-Fehmers 2001 (note 3), p. 246
9 J. Helbig, Faïences Hollandaises, XVIIe- XVIIIe-début XIXe s., Volumes I and II, Musées Royaux d'Art et d'Histoire, Brussels (no date), p. 235