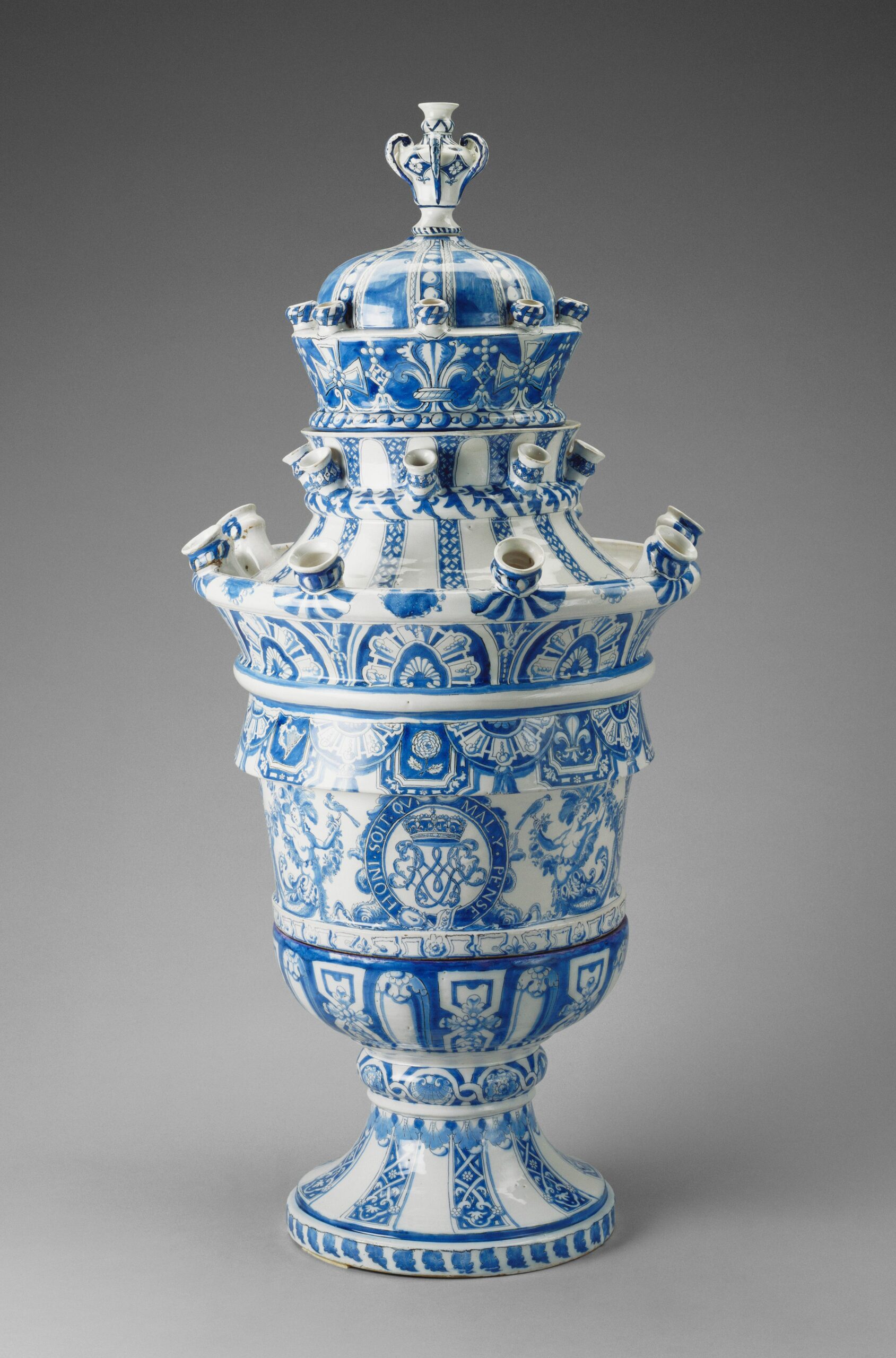 A Passion and a Fashion; Queen Mary II's Delftware at Hampton Court Palace
During her brief five years as joint British monarch with her husband William of Orange, Queen Mary II furthered the collecting habit that she had enjoyed in Holland following their marriage. Described by a contemporary writer as 'China Mania', Mary had amassed a collection of over 750 Chinese, Japanese and Delftware ceramic items and, more importantly, through her patronage of the 'Greek A' factory in Delft (under the proprietorship of Adrianus Kocx) saw the introduction of a European design to the 'flower pagodas' that adorned royal palaces and country houses all over Britain.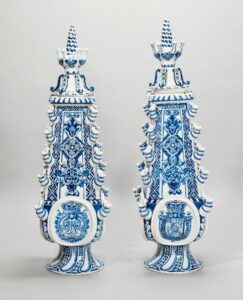 During the baroque re-modelling of Hampton Court Palace by Sir Christopher Wren in 1689, Mary had taken refuge in the Tudor Water Gallery and it was here that she flourished and fully indulged her passions including ceramics, embroidery, gardening, and the ornamental dairy, where much of her Delftware would have been displayed.
It cannot be certain how extensive her collection of Delftware was but a warrant of 1695, a year after her death, records a payment; 'I do certify…that there is due to Adrienus Koex of Delft for Dutch China or ware sent to her late Majesty the sume of Thirteen Hundred Gilders 3 Styvers of English Money £122 14s 09d'.
Included in this commission are three pairs of flower vases plus three ewers, also from the 'Greek A' factory, which can still be seen at Hampton Court Palace today. The bulk of Mary's porcelain collection was dispersed after her death but these Delft vases have remained at Hampton Court where they were originally displayed in the Water Gallery and then moved into the main palace when the gallery was demolished in 1700.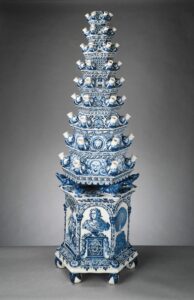 The importance of the flower vases is their departure from the earlier Chinese influenced decorative style, to a European baroque design. This was almost certainly due to the direct involvement of French architect and designer, Daniel Marot, who was behind much of the rebuilding work and furnishings of Hampton Court. They carry the motifs and emblems so familiar in Marot's work but also the royal cyphers, 'Honi soit quI mal y pense' and William's motto, 'Je Maintiendrai'. On the base of the nine-tier pair of vases, there is a bust of William on one of the facets and, on another side, is a cherub riding a stork; the stork being a symbol of The Hague.
The passion for collecting and displaying extravagant items of Delftware, particularly costly tiered flower vases, diminished withthedeathofMaryin1694. These vases, probably direct royal commissions, are a legacy to a short lived but glorious fashion.
Text by:
Mr. Christopher Stevens, Former Superintendent of the Royal Collection, Hampton Court Palace (1998-2020)