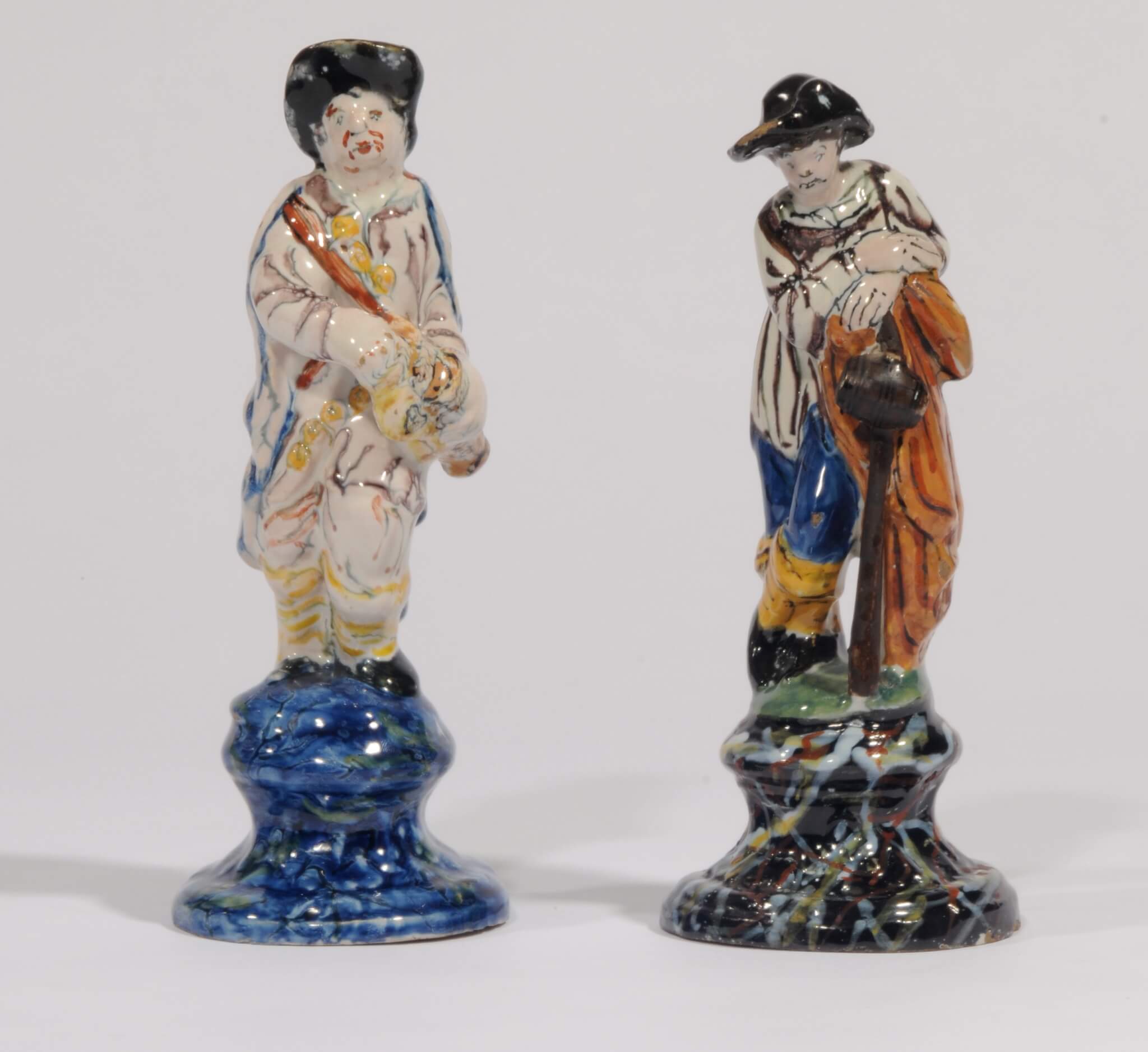 OBJECT
D9026. Two Polychrome Figures of a Hurdy-Gurdy Player and a Shepherd
Delft, circa 1710
Each a man wearing a black hat and shoes, the musician also wearing a green-mottled black hat, an iron-red-collared cloak with its folds delineated in blue, a manganese-striped coat with large yellow buttons, white breeches and yellow-striped stockings, modeled playing a tan hardy-gurdy suspended from an iron-red strap across his right shoulder, and standing on a waisted circular base with a blue ground marbleized in yellow and black and lightly molded around the center with a band of leaves; the shepherd also wearing a manganese-delineated tunic with a green collar, blue breeches and yellow stockings, a yellow knapsack on his back, and modeled leaning on his terracotta-colored cloak draped over a brown staff affixed with a small brown keg, and standing crosslegged on a green mound above an identical base, but with a black ground marbleized in iron-red, white, green and yellow.
Heights: 17.2 and 16.5 cm. (6.8 and 6.5 in.)
Provenance:
The shepherd from the collection of V….., The Hague, sold at Frederik Muller & Cie in Amsterdam on November 26, 1919, lot 345;
Both from the collection of G. Ephis, France, numbers DEL 095 and DEL097, respectively;
Aronson Antiquairs, Amsterdam, 2000;
A distinguished Manhattan Collector
Note:
The figure of the shepherd leaning on his staff was modeled after a bronze figure dating from circa 1580 to 1600 by Giovanni da Bologna (1529-1608, called Giambologna), a sculptor of Flemish origin, who worked in Florence for the Medici. In turn, the bronze is probably modeled after the 2nd -century Roman life-size marble statue of A Shepherd Resting in the Galleria Colonna, Rome, illustrated by C. Avery, Giambologna, The Complete Sculpture, Oxford, 1987, p. 47, ils. 42-43. The principal bronze-caster of Giambologna's sculptures was Antonio Susini (active 1572 – 1624), and it is recorded that in 1601 four silver figures, including the Peasant Resting on His Staff, were lent from the Uffizi Gallery in Florence to Susan, probably to be reproduced in bronze.
As to the function of the bronze figures, Avery (op. cit., p. 47) mentions: "Such figurines, in precious metal of in gilt bronze, were attached as finials to the ebony cabinets inlaid with pietre dure, which were popular in those days." Many Giambologna figures were disseminated throughout Europe as diplomatic gifts of the Medici. In the exhibition catalogue, Giambologna 1529-1608, Sculptor to the Medici (Edinburgh, London, Vienna, 1978, p. 59), A. Radcliffe states: "… much interest was taken in Giambologna's work in the Netherlands and his statuettes must have figured in many collections, as we can see from their presence in numerous paintings of interiors," of which 'The Picture Gallery of Cornelis van der Gheest' by Willem van Haecht, of 1628, in the Rubens House in Antwerp is a prominent example.
In Holland, these Giambologna-inspired models were produced simultaneously in Delftware and red stoneware. On the highly refined biscuit body of the stoneware figures the details and folds, not obscured by glaze, are very crisp and show their affinity to the bronze counterparts.