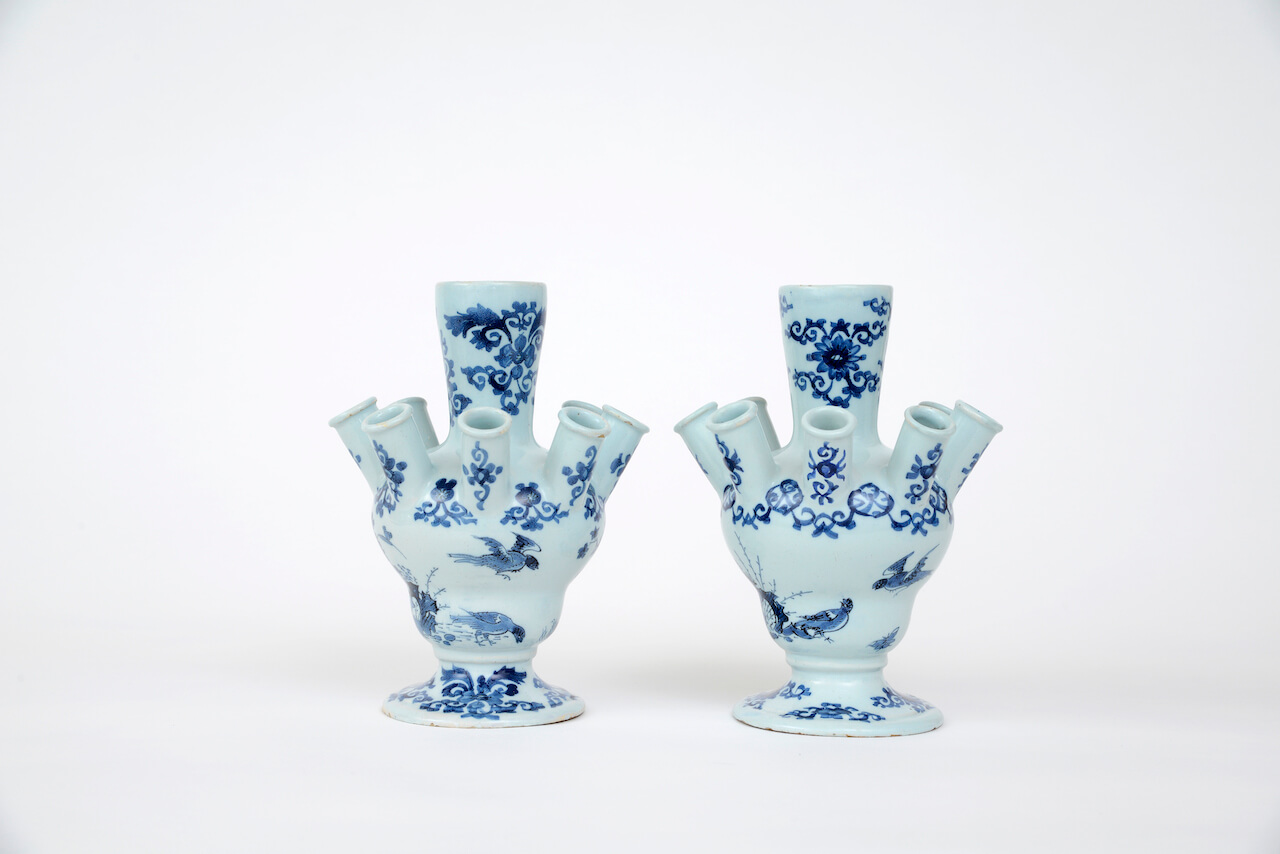 [popup_trigger id="13756″ tag="span"]

[/popup_trigger]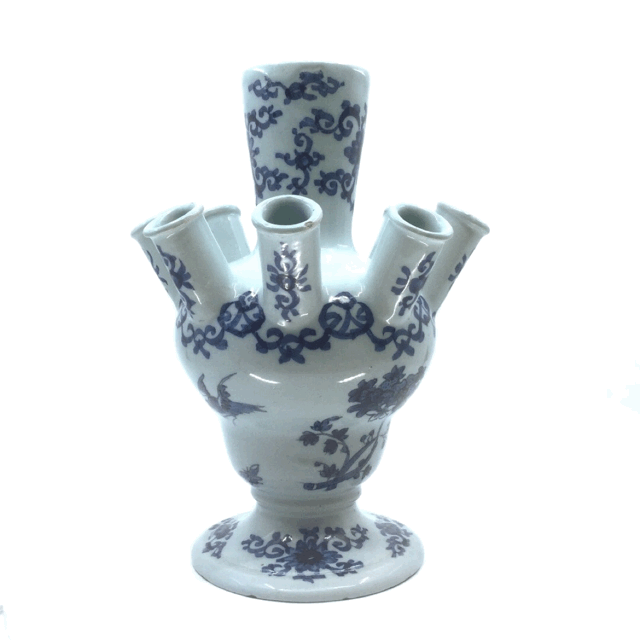 OBJECT
•D1905. Pair of Blue and White Early Flower Vases
Delft, circa 1680
Each marked LC in blue for Lambertus Cleffius, the owner of De Metaale Pot (The Metal Pot) factory from 1679 to 1691
Each painted around the lower half of the slightly exaggerated pear-shaped body with a continuous chinoiserie landscape scene of a bird flying and another bird seated near rock work amidst flowering shrubbery below a flowering vine border interrupted on the shoulder by eight spouts, each decorated with a blossom and foliate scrolls and surrounding a central spout flowering scroll motifs, the flaring foot with a border of blossoms and foliate scrolls.
Heights: 20.1 cm. (7.9 in.)
Note: It was in the late seventeenth century, under the patronage of Queen Mary II, who was as passionate about Chinese blue and white porcelain and its local counterpart, Dutch Delftware, as she was about her gardens, that the Delft factories developed their technical skills and virtuosity in the production of all sorts of 'vases with spouts' to display flowers. Inspired by Queen Mary, it also became fashionable in aristocratic circles to decorate their residences with vases full of flowers. For instance, large vases were used to decorate the fireplace in the summer, and smaller vases were placed on the table during a festive meal. Although the vases in the seventeenth and eighteenth centuries were filled with all varieties of cut flowers, there has been much misunderstanding about this. In the mid-nineteenth century, when collectors and art historians rediscovered Delft earthenware, they must have thought that the vases were intended to be filled with hyacinth bulbs or flowers, as they came to be known as 'bouquetiers à Jacinthes'. Not long thereafter, however, a more familiar name came into fashion, which is still used today: 'tulip vase' or 'tulipière', ascribed to these vases on the revised supposition that they were intended specifically to hold the precious and popular tulips.
Flower vases both for Queen Mary and the aristocratic clientele in both Holland and Great Britain were made in the city of Delft. Around the year 1700 there were over thirty potteries in operation in Delft, of which at least five produced vases with holes and spouts, as their makers' marks indicate. Among them, De Metaale Pot (The Metal Pot) together with De Grieksche A (The Greek A) factory, created the largest output of flower vases. Over a period of sixty years, from 1680 to 1740, they sold a multitude of different types of vases with spouts and holes. Besides the present pair, only two other flower vases marked for Lambertus Cleffius are known. However, the inventory drawn up upon Lambertus Cleffius' death in 1691, shows that his product range included a particularly varied assortment of bloemflessen (flower bottles) and bloempotten met oren en tuiten (flower pots with handles and spouts).
Lambertus Cleffius was a prominent figure in the Delftware world. He started working with his father Willem, who on January 6, 1670, had purchased De Metaale Pot (The Metal Pot) factory from the directors of the Dutch East India Company, the maritime company that transformed the former brewery into their chamber. The factory was located on the Lange Geer and included a house, a courtyard, a warehouse and sheds. After Lambertus' marriage in 1672, he became a shareholder of the company. Lambertus may have handled the day to day operations of the factory, while his father oversaw the business. Lambertus was registered as a plateelbakker (pottery master) at the Guild of Saint Luke since 1667. According to Havard, the ceramic he created in order to obtain the title of master only took three days to complete. When his father died in 1679, he became the sole owner of the company.
Since both Lambertus and his father Willem had shares in several Delftware factories, they had built a veritable empire and had considerable influence in the industry. Their strong alliance likely discouraged competition, thus furthering their control in the Delftware industry. In fact, the Cleffius family may have purchased supply jointly amongst their factories to lower their cost. Quickly, father and son developed an international and prominent clientele. In the 1680s, the Cleffius' were commissioned to create a large dinner service for Wenzel Ferdinand, Prince Lobkowicz of Bilina (1656-1697).
Lambertus Cleffius became such an unavoidable figure that in 1684, he was asked to represent a delegation sent to England to negotiate the end of the embargo on Dutch ceramics. Since the third Anglo-Dutch war (1672-1674), the importation of Dutch pottery to the English territory was forbidden. He also unconsciously revolutionized a change in the Delftware industry; the appearance of the maker's mark on the reverse of ceramic objects. The mark of Lambertus Cleffius is composed of his interlaced initials, L.C. Unlike his contemporaries, whose production is characterized by horror vacui, Lambertus Cleffius preferred spare decoration, as can be seen on this pair of flower vases. Cleffius is also known for his use of a fine line known as a trek.
Similar examples: Although several types of vases with spouts are known, this model seems to be unique. Besides the present pair, only two other flower vases marked for Lambertus Cleffius are known to date. A large baluster-shaped flower holder decorated with a continuous chinoiserie scene is illustrated in Van Aken-Fehmers 2007, p. 158, no. 4.03. Another flower holder, marked for Lambertus Cleffius and modeled in a more Western style as a baluster-shaped vase with handles and chinoiserie decoration, in the Princessehof Museum in Leeuwarden (inv. no. BP 1999-0006) is illustrated in Van Aken-Fehmers 2007, p. 163, no. 4.07.