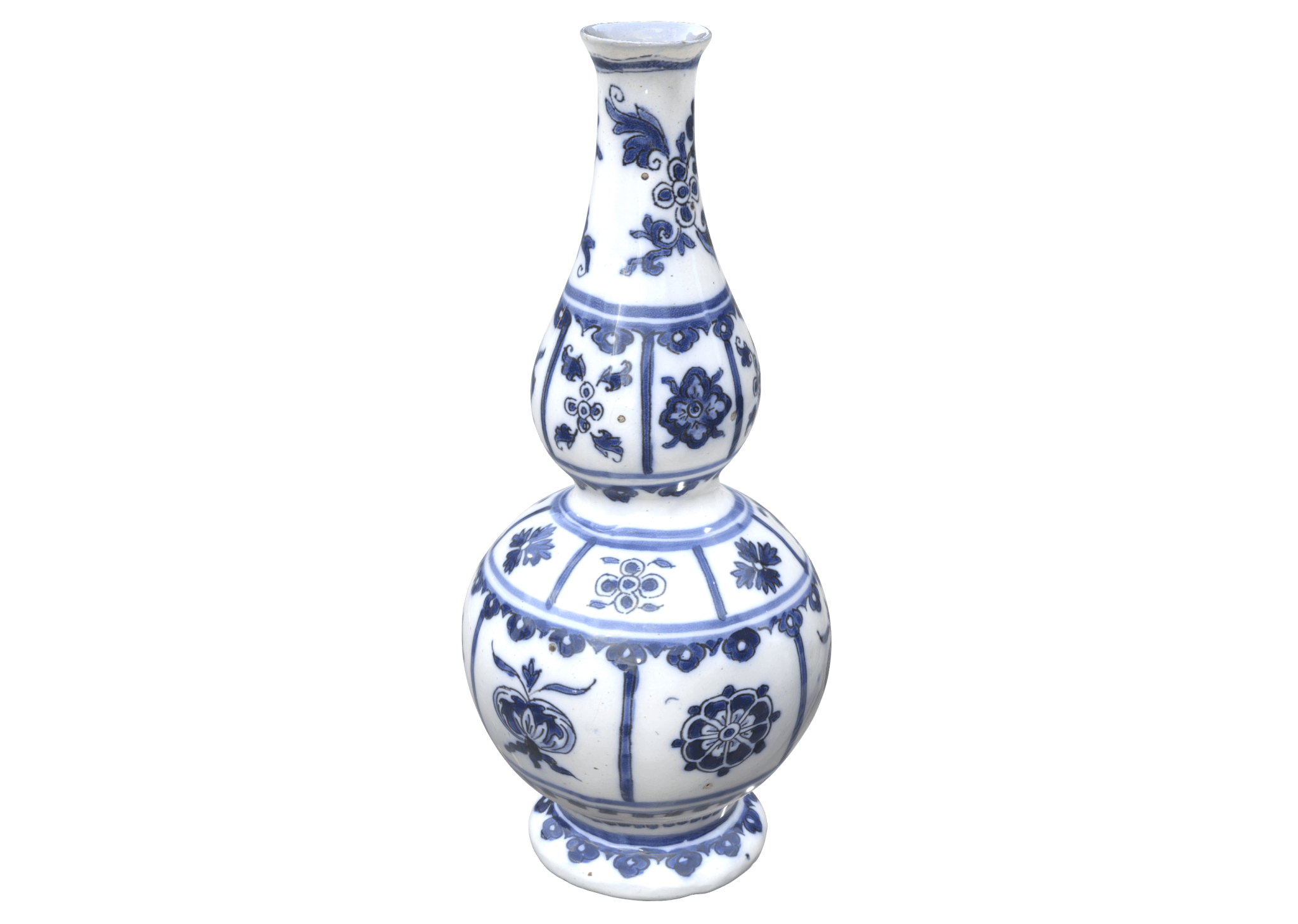 [popup_trigger id="13756″ tag="span"]

[/popup_trigger]
OBJECT
•D8822. Blue and White Double-Gourd-Shaped Small Vase
Delft, circa 1700
Marked LVE in blue for Lambertus van Eenhoorn, the owner of De Metaale Pot (The Metal Pot) factory from 1691 to 1721, and with molded number VIII
The spherical lower body painted with three 'Tudor Rose' blossoms alternating with three pomegranates within panels bordered with bands of dentil devices and trefoils repeated as a border around the flaring foot and enclosing the six panels of alternating floral motifs on the baluster-form upper body, the shoulder of the lower body with six panels of alternating blos- soms and the tall neck with two floral sprigs.
Dimensions
Height: 22 cm. (8.7 in.)
Note
The decoration of this vase shows the Tudor rose, which is the traditional floral heraldic emblem of England. Its name and origins come from the House of Tudor, which united the House of Lancaster and the House of York. The Tudor rose consists of five white inner petals, representing the House of York, and five red outer petals to represent the House of Lancaster. The Tudor rose has been used as a symbol of the English monarchy since the time of Tudor king Henry VII and therefore also became the heraldic emblem of William and Mary's reign. Many Delftware objects that bear this emblem are marked for De Grieksche A (The Greek A) and De Metaale Pot (The Metal Pot) factory. Since these factories were considered the most famous and prestigious Delftware factories, it was only logical that they would function as the purveyor of the court.