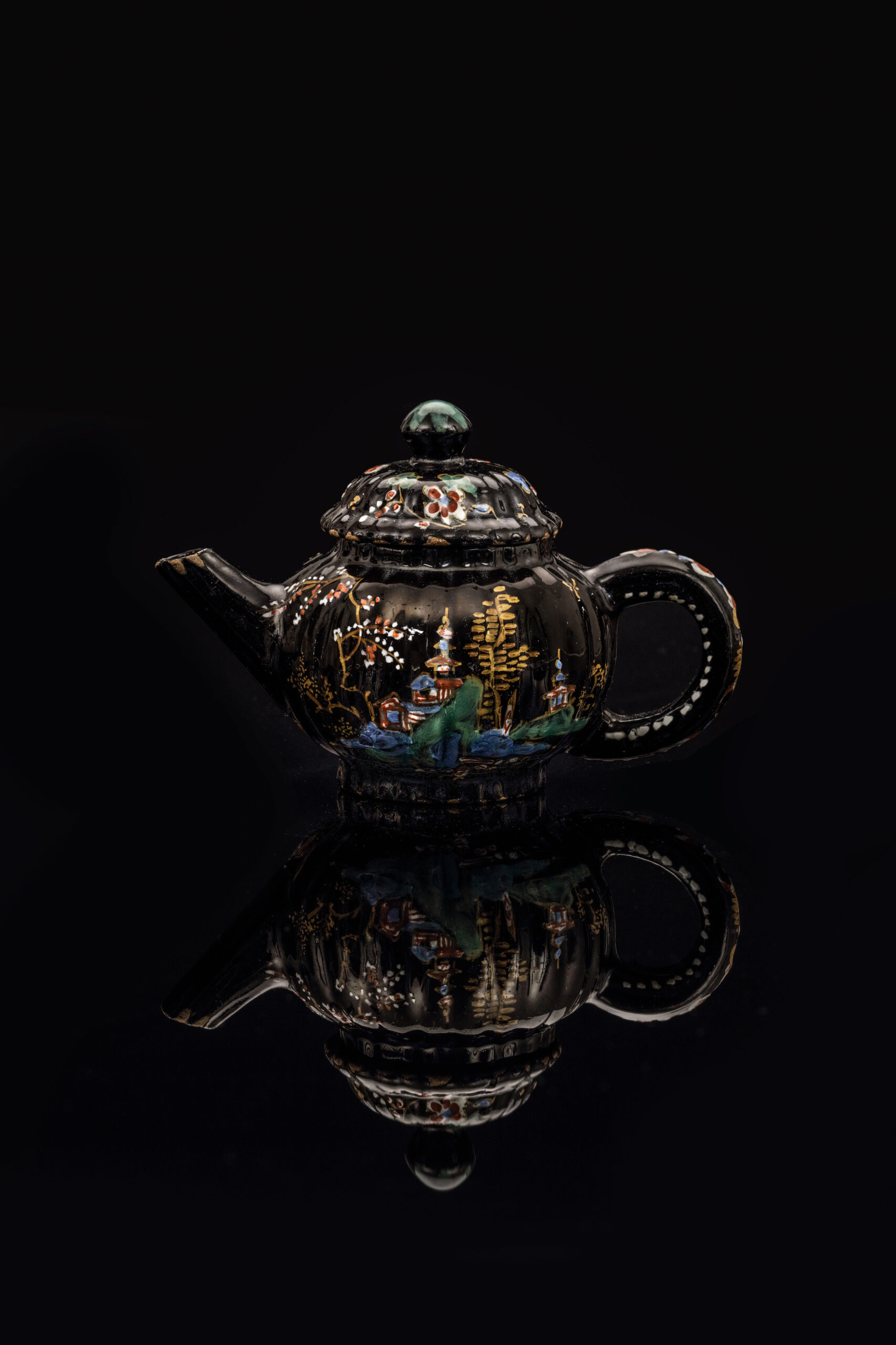 OBJECT
•D2390. Black Delftware Teapot and Cover
Delft, circa 1710
Marked LVE 5 0 in yellow for Lambertus van Eenhoorn, the owner of De Metaale Pot (The Metal Pot) factory from 1691 until 1721, or his widow Margaretha Teckmann until 1724
The black glazed spherical reeded body decorated on one side with a polychrome pagoda with on the right a yellow-gold branch, partly behind green rock work and a blue waterfall, rising from the rocks on the right side a flowering and budding prunus branch, on the other side right from the short black sprout, another flowering and budding prunus branch, next to a polychrome pagoda on one side enclosed by a green rock on the waterside, a yellow-gold tree and a smaller pagoda next to the black and white dotted handle, the cover decorated with two budding and flowering prunus branches alternating with an ensemble of small, yellow- gold, blue, white and iron-red flowers emerging from foliage, the green- striped conical knop, the interior also glazed black.
Dimensions
Length 11.3 cm. (4.5 in.); height 7.8 cm. (3 in.)
Provenance
Kunstzalen A. Vecht, Amsterdam;
Collection M.P. Voûte, Baarn;
Kunstzalen A. Vecht, Amsterdam, before April 1956;
Collection Aronson Antiquairs, 1999;
Private Dutch Collection, 2023.
Literature
Described in CINOA Exhibition Catalogue Art dealer and collector, Amsterdams Historisch Museum, Amsterdam 1970, p. 77, no. 227 and illustrated on p.287
Similar examples
With less than 70 known Black decorated Delftware objects, this type of wares is considered the rarest and most refined objects produced by the ceramics
factories in the city of Delft. Another larger (14 cm. / 5.5 in. high) teapot, with a similar type of decoration and also marked for Lambertus van Eenhoorn is in the collection of the Victoria & Albert Museum in London (inv. 128-1887)