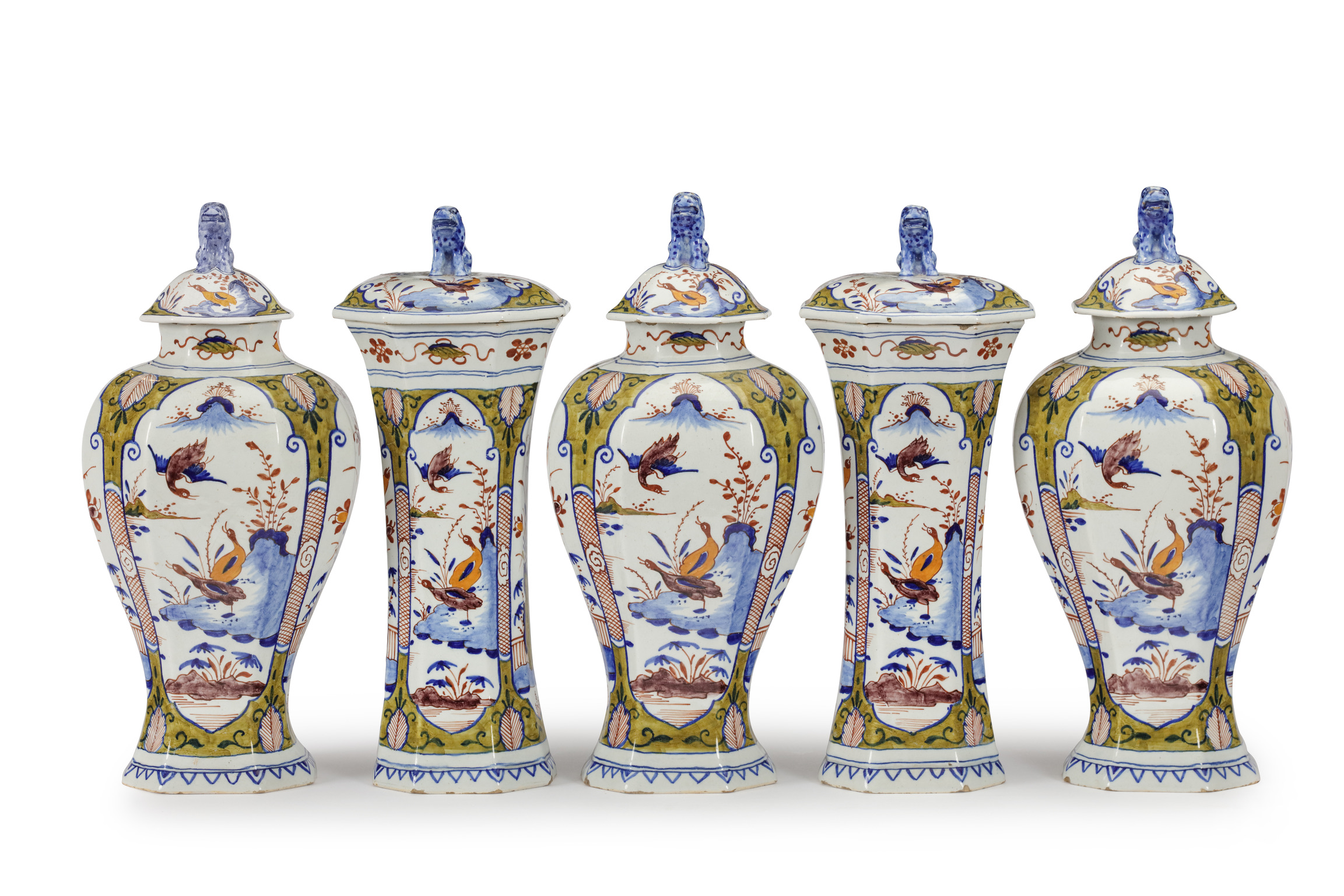 OBJECT
•D2360. Polychrome Garniture
Delft, circa 1760
Comprising three baluster-form vases and a pair of beaker vases and covers, each piece octagonal and painted on the front and reserve with a panel of a landscape scene of a bird in flight above two ducks near a stylized rock and amidst shrubbery alternated by a panel on the sides with a bird perched on floral sprigs behind a stylized rock, all reserved on a greenish ground with iron-red leaf motives, the greenish ground covers reserved with two panels of ducks in a landscape and surmounted with a blue seated kylin knop.
DIMENSIONS
Height: 36.5 cm. (14.4 in.)
PROVENANCE
Dutch Private Collection, Amsterdam and hence by family descent
PROVENANCE+
The provenance of this entry has been registered by notarial deed with independent and secure registration agency Provenance+ Amsterdam.
NOTE
The history of garnitures is closely linked to the overall development of ceramics as a central element within the decoration of interiors. Although the first garnitures were made in Chinese porcelain, the fashion for grouping vases on mantels is a European phenomenon. Delftware garnitures usually combine several forms of vases decorated with matching patterns. Just like the Chinese counterpart, they were frequently placed symmetrically on top of a porcelain cabinet, on a mantelpiece or on the panel of the door. Their design and display follows the evolution of interior design in Europe. Although some models were timeless, their design and decoration were often following the latest fashion. The beginning of their production corresponds to a general keen interest for Chinese motifs and designs. At the time, rooms designed in Chinese style and decorated with chinoiserie objects were extremely in fashion amongst the European elite.
SIMILAR EXAMPLES
A polychrome garniture set of similar octagonal shape with five covers with a kylin knop, but with different decoration is illustrated in Aronson 2005, p. 53, no. 51. Another polychrome one, also of similar model but with different decoration is in Aronson 2008, p. 120, no. 91 and a blue and white example is in Aronson 2006, p. 79, no. 58.