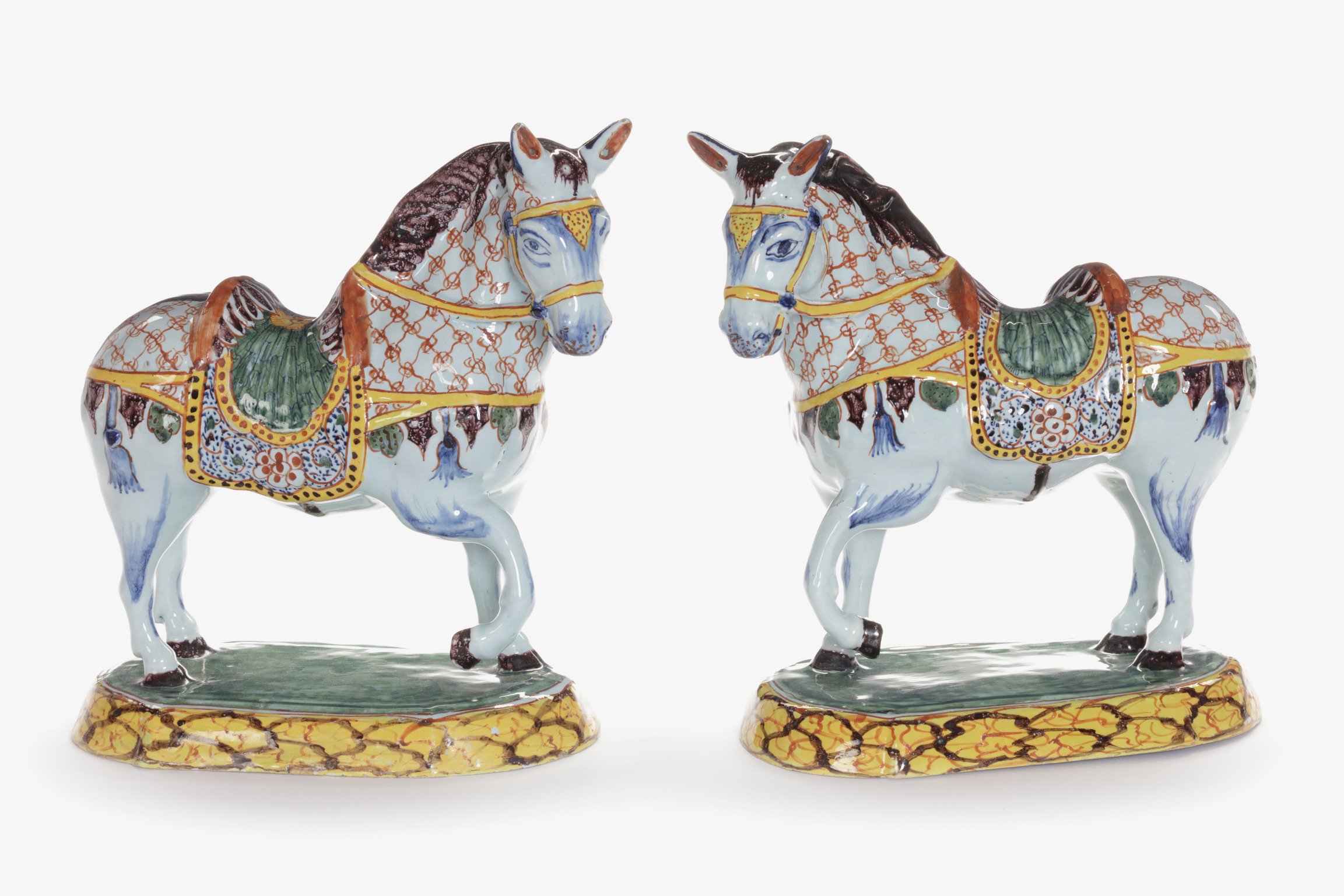 OBJECT
•D2354. Pair of Polychrome Models of Horses
Delft, circa 1760
Each with a blue delineated white hide and facial features, manganese manes, tail and hooves, colorfully trapped with a fringed and tasseled blanket, modeled affronté with one foreleg raised above the green top of the oval base, its yellow sides marbleized with manganese and iron-red.
DIMENSIONS
Lengths: 21.5 cm. (8.5 in.); Heights: 20.5 cm. (8.1 in.)
PROVENANCE
Mme Van Praet, Brussels, according to the original label
EXHIBITION
Exposition l'Art et l'Équitation, May 9 until June 1 1936 L'Étrier Belge société coopérative in Brussels, no. 81, according to the original label.
NOTE
In the eighteenth century, Holland was an agricultural region, a history that is often reflected in Delftware animals. The horses seen here are not merely farm animals, as evidenced by their colorful trappings. This pair was possibly inspired by an English novelty that reached Holland during the eighteenth century. In England, caparisoned horses and acrobats performed in circuses in the second half of the eighteenth century. The eventfirst began with Philip Astley, an English sergeant, who showcased his skills on a horse within a large arena. He eventually included singers, dancers, and clowns to his theatrical performance, receiving rave reviews. Astley brought his successful act to Paris in the 1770s, and its popularity swept through Europe. Delft potters enthusiastically adopted the imagery into their repertoire, creating these beautiful, colorful horses. Pairs of horses were probably intended as ornaments to be displayed in glass cabinets or etageres.