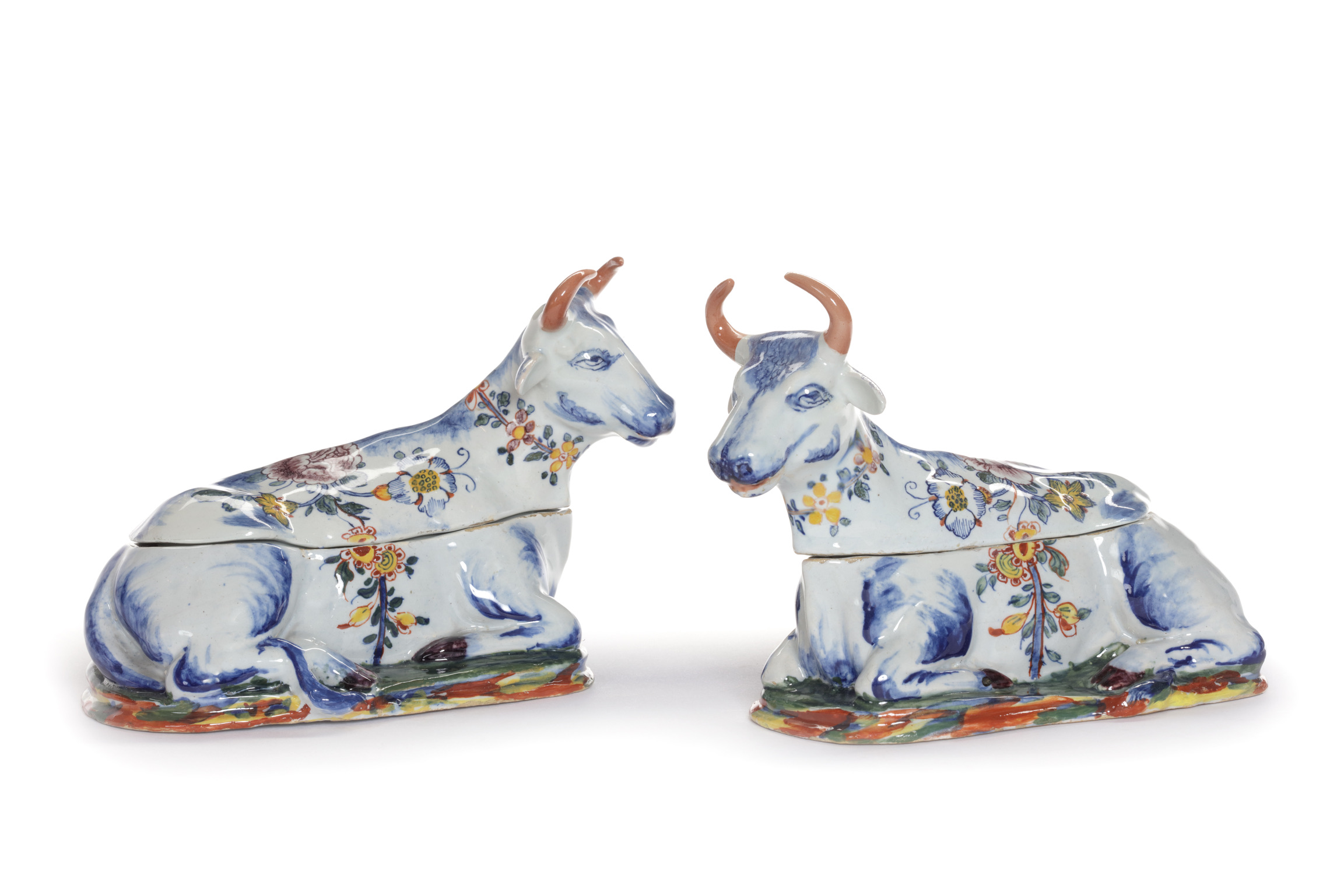 OBJECT
•D2351. Pair of Polychrome Recumbent Cow Tureens
Delft, circa 1765
Each tureen marked and numbered A/IH/16 103 in blue for Jacobus Adriaansz. Halder, the owner of De Grieksche A (The Greek A) factory from 1764 to 1768
Each tureen modeled as a recumbent cow with a blue delineated hide, muzzle, eyes, ears and tail, wearing a garland of blue, manganese, yellow and iron-red flowers and green leaves around its back and neck, and modeled affronté, lying on the green grassy top of the conformingly shaped base with yellow, green and iron-red marbleized sides.
DIMENSIONS
Lengths: 17.5 cm. ( 6.9 in.)
NOTE
In the middle of the eighteenth century, dining 'à la française' (in the French manner) was the fashion in Europe. Inspired by the French court of Louis XIV (1638-1715, reigned 1643-1715), the serving dishes were symmetrically arranged on the table in a very ordered way for each course. Each guest had their own set of plates and cutlery and would serve themselves from the platters, bowls or tureens within their reach. Each course provided an opportunity to display and use a variety of tablewares: plates, serving vessels and a panoply of decorative objects.
The fashion for trompe l'œil ceramics spread throughout Europe in the second half of the eighteenth century. The tables of the nobility and wealthy bourgeoise were adorned with brightly colored fruits and vegetables of various shapes, or with zoomorphic objects in the form of domestic and exotic animals and birds. Small tureens and butter tubs became a specialty of the Delftware factories in the Netherlands in the second half of the eighteenth century. Naturalistically modeled as birds, animals, fruit and vegetables, often with accompanying stands molded with foliage, these tureens and butter tubs were often the centerpiece on the table. Tureens, platters, and fruits were designed to complement the various courses: large tureens for soup, stew or ragout; butter tubs and smaller tureens for sauces and creams.
Farm and domestic animals, such as cows, horses and goats, were among the most prolific animal figures in both white and polychrome Delftware. Tureens like the present pair must have made imaginative centerpieces on a dinner table. It was a special pleasure to be the guest at a dinner party given by a prosperous family in the eighteenth century. With the invitation came the anticipation of a veritable feast for the senses: a gustatory treat to taste the beautifully prepared and perhaps exotic foods, and a visual treat in their presentation and in the table setting itself.