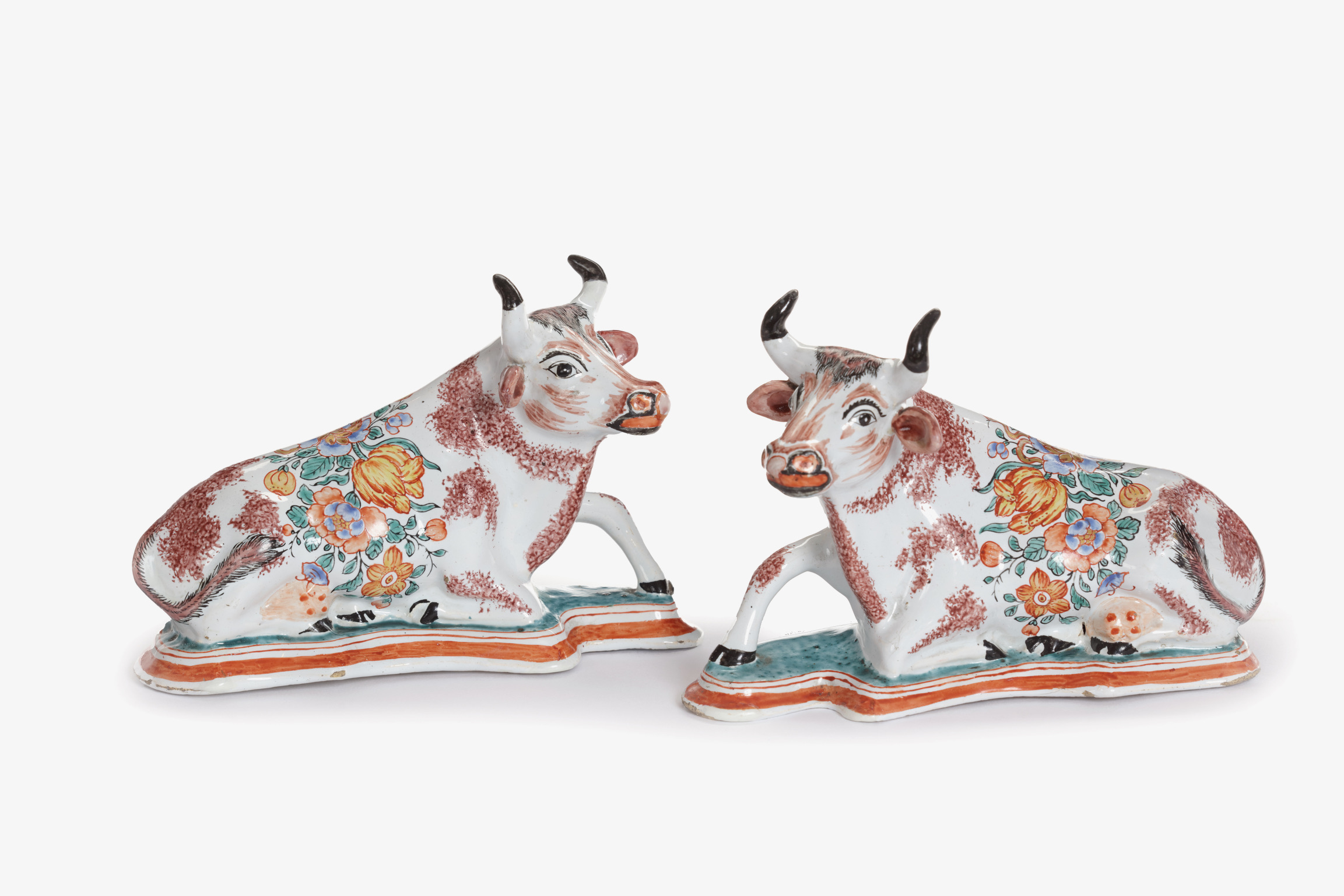 OBJECT
•D2350. Pair of Polychrome Petit Feu and Gilded Figures of Recumbent Cows
Delft, circa 1765
Each cow with a pinkish manganese spotted hide, forelock, ears and tail, black hooves, horns and eyes and an iron-red lapping tongue, wearing a colorful garland of delicately painted yellow, blue, salmon and gilded flowers and green leaves around its back, modeled affronté, lying with one foreleg extended on the green grassy top of a conformingly-shaped base edged in iron-red.
DIMENSIONS
Lengths: 15.5 cm. (6.1 in.)
PROVENANCE
Stichting Bonhomme Tielens, Maastricht
NOTE
This pair of cow figures is entirely decorated with enamel colors. In the petit feu firing, the enamel and gold colors were fired onto the glazed form at a low temperature in a moffeloven, a small kiln. With this new technique, the regular color palette was extended to include pastel pink, soft green, golden yellow, orange, light brown, gold, and silver.
SIMILAR EXAMPLES
A pair of petit feu polychrome and gilded cows of these models is illustrated in Lavino, pp. 64 (bottom, left and right) and p. 213 (bottom); a similarly decorated pair is illustrated in Aronson 2007, p. 62, no. 46; and a single petit feu cow is in the Evenepoël Collection at the Musées Royaux d'Art et d'Histoire, Brussels (inv. no. Ev. 200), illustrated in Helbig, Vol, II, p. 67, fig. 53.