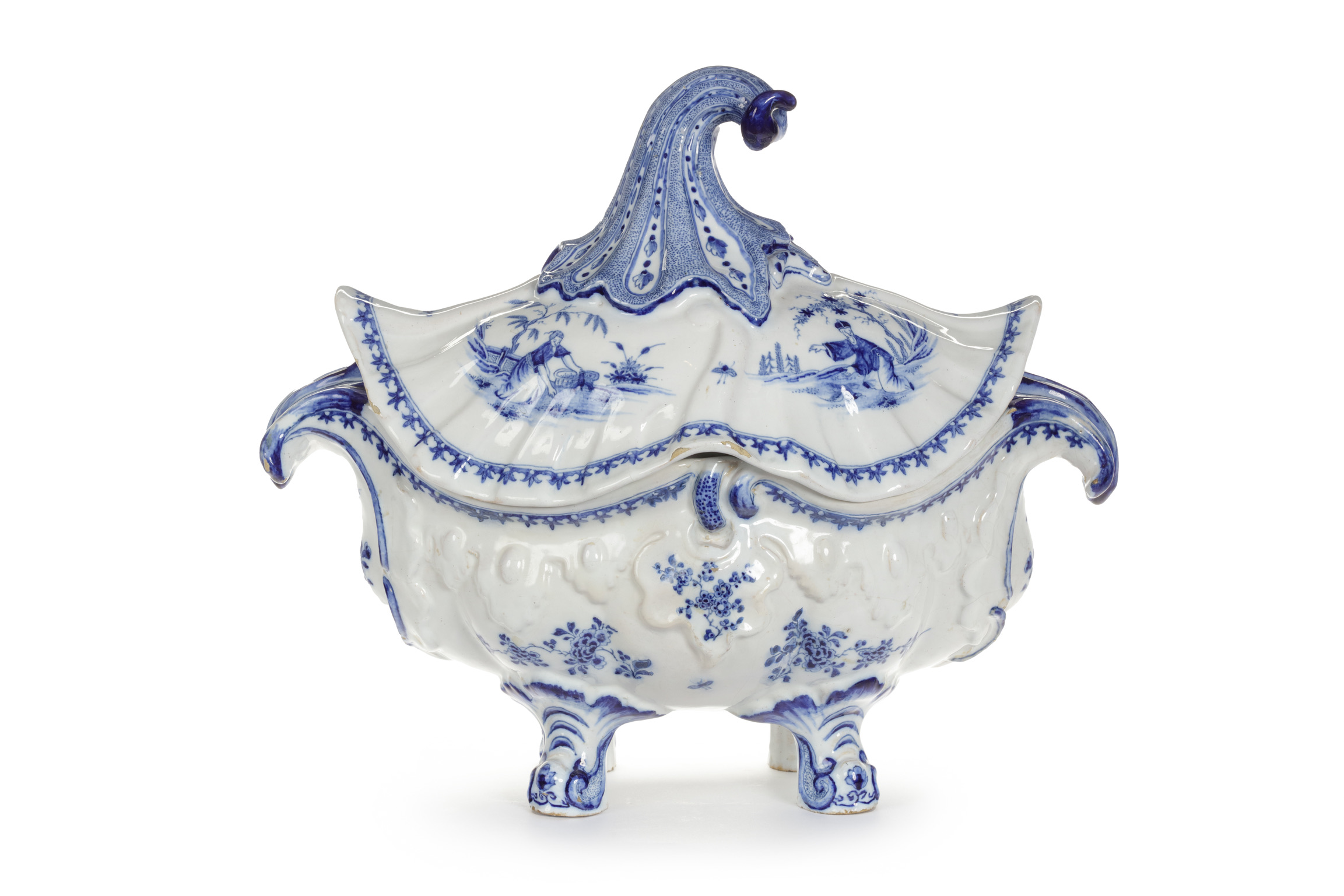 OBJECT
D2336. Blue and White Rococo Oval Tureen and Cover
Delft, circa 1755
Marked Z:DEX 16 in blue for Zacharias Dextra, the owner of De Drie Posteleyne Astonne (The Three Porcelain Ash-Barrels) factory from 1722 through 1759
The slightly lobed body molded on either side with a border of fringed lappets and bosses interrupted by a central leaf-shaped lappet painted with a flowering prunus branch above two flowering peony branches and a small insect below, the ends with a similar peony branch within a scroll-molded cartouche beneath blue-feathered rococo scroll handles, the lower body raised on four scroll-molded feet decorated with crescents and foliate devices, and the rim with a 'spearhead' border repeated around the rim of the lotus pad- shaped cover below four chinoiserie vignettes, each depicting a kneeling figure: one with a crayfish on a pole, the second scraping the ground, the third putting a crayfish in a basket, and the fourth with a dead duck, all below an elaborate fluted scrolling stem-form knop patterned with stippled dots and reserved with panels of leaves and dots.
DIMENSIONS
Height: 31.6 cm. (12.4 in.)
NOTE
The unusual shape of this tureen, sometimes referred to as 'à chapeau Chinois' ('the Chinese hat'), was taken most likely from the silver-inspired Höchst faience original of circa 1747, created perhaps by Georg Ignaz Hess or by Johann Gottfried Becker, who had worked previously as a modeler at the Meissen factory. A Höchst example is known with the painter's letter R of Johann Gottlieb Rothe, who transferred from Höchst to Strasbourg in 1748, and perhaps took the model with him, as it is also known in Strasbourg faience after 1748 and referred to as 'en baroque'. The model further migrated from Höchst to Kiel in Northern Germany and to Marieberg in Sweden, presumably via Johann Buchwald, who became the manager of those and other factories in Northern Germany and Sweden.
SIMILAR EXAMPLES
This exotic model, presumably based on a Dutch Delft example, also appeared around 1755-65 in Chinese export porcelain as an uncommon form, but most often found with armorial decoration. A Chinese export version for the Danish market in the McCann Collection at the Metropolitan Museum of Art, New York, is illustrated by J. G. Phillips, China Trade Porcelain (Cambridge, Massachusetts, 1956), p. 116, pl. 40, along with a Höchst example, fig. 41. The same Chinese export tureen is illustrated by M. Beurdeley, Porcelain of the East India Companies (London, 1962), p. 49, fig. 23, who also illustrates a Dutch Delft blue and white example with floral decoration in the collection of the Rijksmuseum, Amsterdam, p, 49, fig. 24, which is further illustrated by Lunsingh Scheurleer 1984, p. 194, no. 42; and by Van Dam 2004, p. 182, pl. 128, who indicates that it is marked HvH for Hendrik van Hoorn (1759-1804) during his ownership of the Drie Posteleyne Astonne, and ascribes it a date of 1760-70. An identical tureen, now in a private collection, is illustrated in Aronson 2012, no. 38. p. 69. Another tureen of this model with almost identical decoration to the present example, is in the Musée de l'Hôtel Sandelin, Saint-Omer, illustrated in Boyazoglu 1983, p. 70, pl. 147; and in Boyazoglu, de Neuville 1980, p. 38, pl. 29. A Delft polychrome example is illustrated in Stodel 2000, p. 72, no. 57.