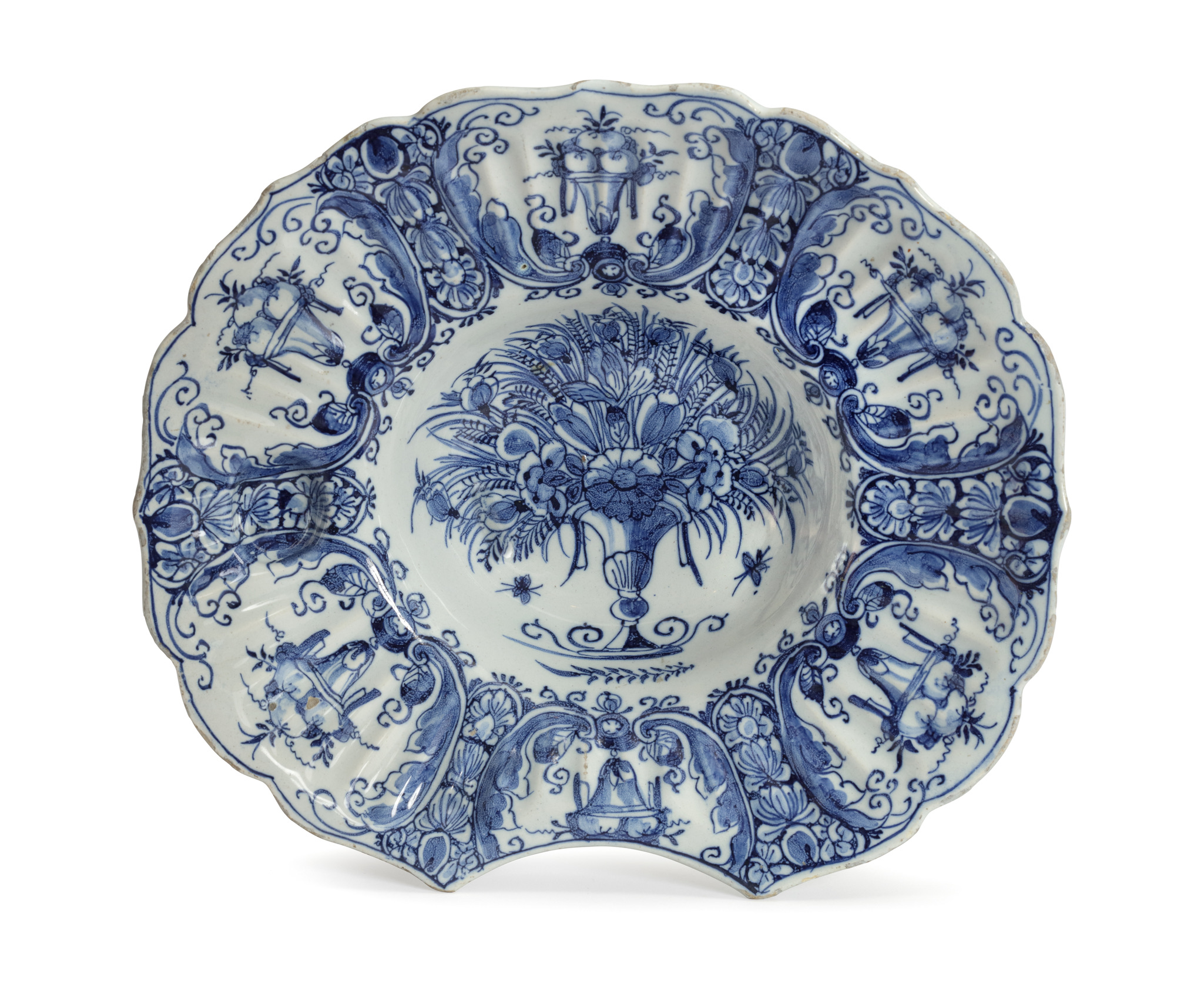 OBJECT
D2334. Blue and White Fluted Barber's Bowl
Delft, circa 1760
Marked with an axe in blue for De Porcelyene Byl (The Porcelain Axe) factory
Painted in the center with a vase filled with a lush bouquet of flowers, the fluted rim with six foliate scroll panels each with a vase filled with fruits alternated by blue ground panels reserved with fruits and foliage, the lower edge with a neck notch, and the left side with an oval depression for the shaving ball, the foot rim pierced with two holes for suspension.
DIMENSIONS
Length: 28.3 cm. (11.1 in.)
PROVENANCE
Peyre-Sieberth, Paris, according to the original label on the reverse;
Dutch Private Collection;
NOTE
From a simple oval or circular utilitarian metal form, barber's bowls in Delftware developed throughout the eighteenth century into elegant rococo shapes. The round or oval depression at the side of a barber's bowl was not intended to house a piece of soap but rather a shaving ball. The customer put this small wooden ball in his mouth between his cheek and gum while being shaved by the barber in order to get a closer shave. The oval neck notch on the bottom of the bowl fit against the throat of the customer, which caught the soap from falling on his clothes.
SIMILAR EXAMPLE
A blue and white barber's bowl marked for De Porceleyne Byl factory and painted in the center with a bouquet of flowers in a basket is in theKunstmuseum The Hague, inv. no. 400246.