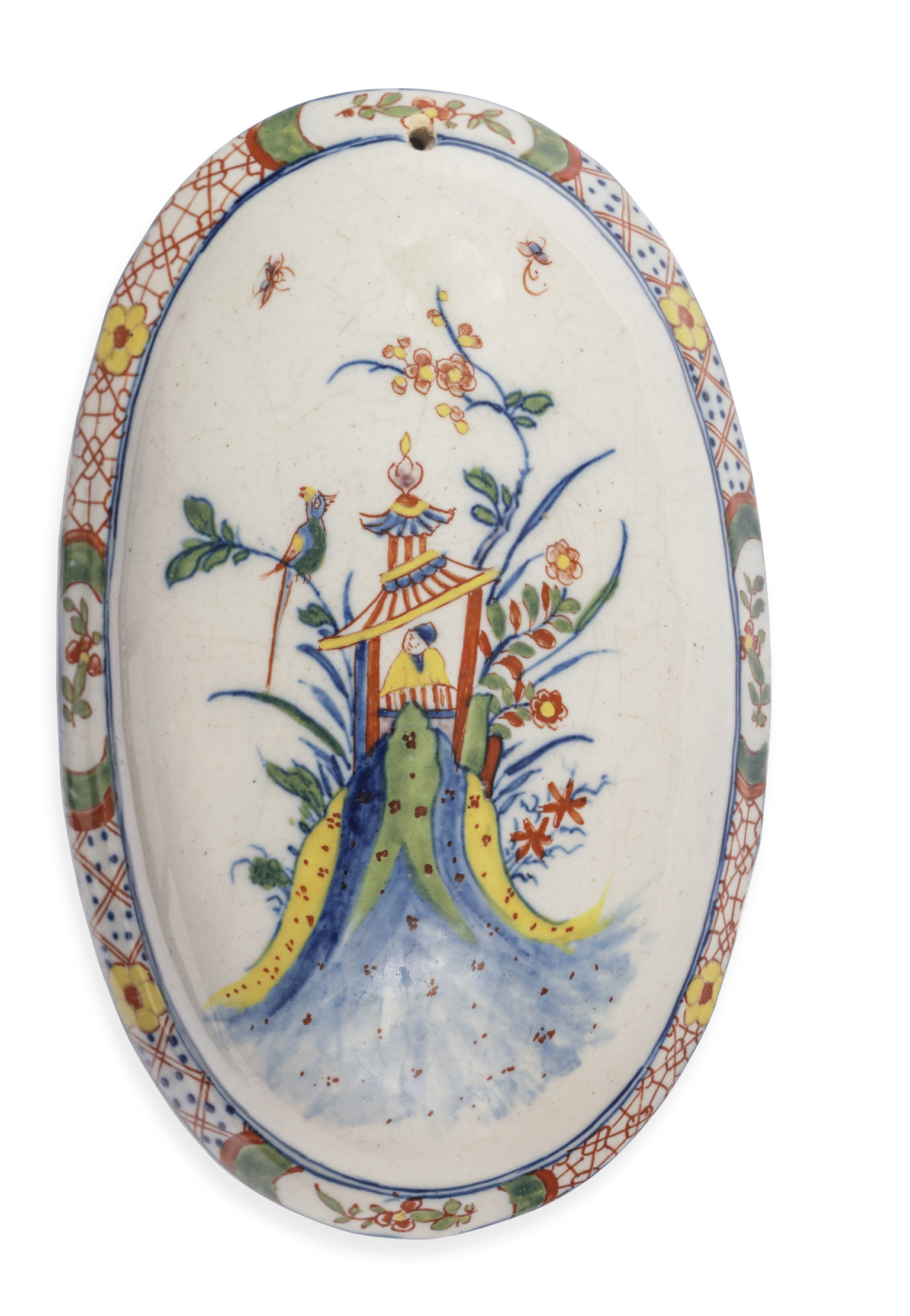 OBJECT
D2331. Polychrome Oval Brush Back
Delft, circa 1730
Painted with a chinoiserie figure seated in a gazebo amidst flowering shrubbery on a precipitous knoll, and watching a bird perched on one leafy stem beneath two flitting insects, the rim with a border of uniquely patterned diaperwork panels centering a quatrefoil blossom and alternating with smaller panels of flowering branches, pierced at the top of the rim with a suspension hole, and the unglazed underside pierced with holes for the bristles.
DIMENSIONS
Length: 14.6 cm. (5.8 in.)
PROVENANCE
Stodel Antiquites, Antiekbeurs Delft, August, 1958, lot 2825 (according to family archive);
Dutch Private Collection, Amsterdam and hence by family descent
PROVENANCE+
The complete provenance of this entry has been registered by notarial deed with independent and secure registration agency Provenance+ Amsterdam.
NOTE
Brush backs are utilitarian objects that were made by Delft potters in imitation of the more expensive silver prototypes. Intended as clothes brushes, these practical objects were "often given as bridal gifts [and] may bear a date or a monogram, but since they were not signed, the makers…remain anonymous". Various materials were used to make brushes, the most common being pigs' bristles and horsehair. Clusters of hair would be bound together and affixed with resin to the interior of the pierced holes on the underside of the brush back. The unglazed underside of this oval brushback, is pierced with rows of holes to be filled with plugs of horse hair. Ordinary clothes brushes would have had wooden backings, while more luxurious versions could have silver or ceramic variations. The 1758 inventory of De Grieksche A (The Greek A) factory describes '2 blaede van klereborstels' ('two backs for clothes brushes'). These objects endured frequent use and rarely survive.
SIMILAR EXAMPLES
Amongst others known, a rather identical brush back is illustrated in Aronson 2005, p. 32, no. 29.