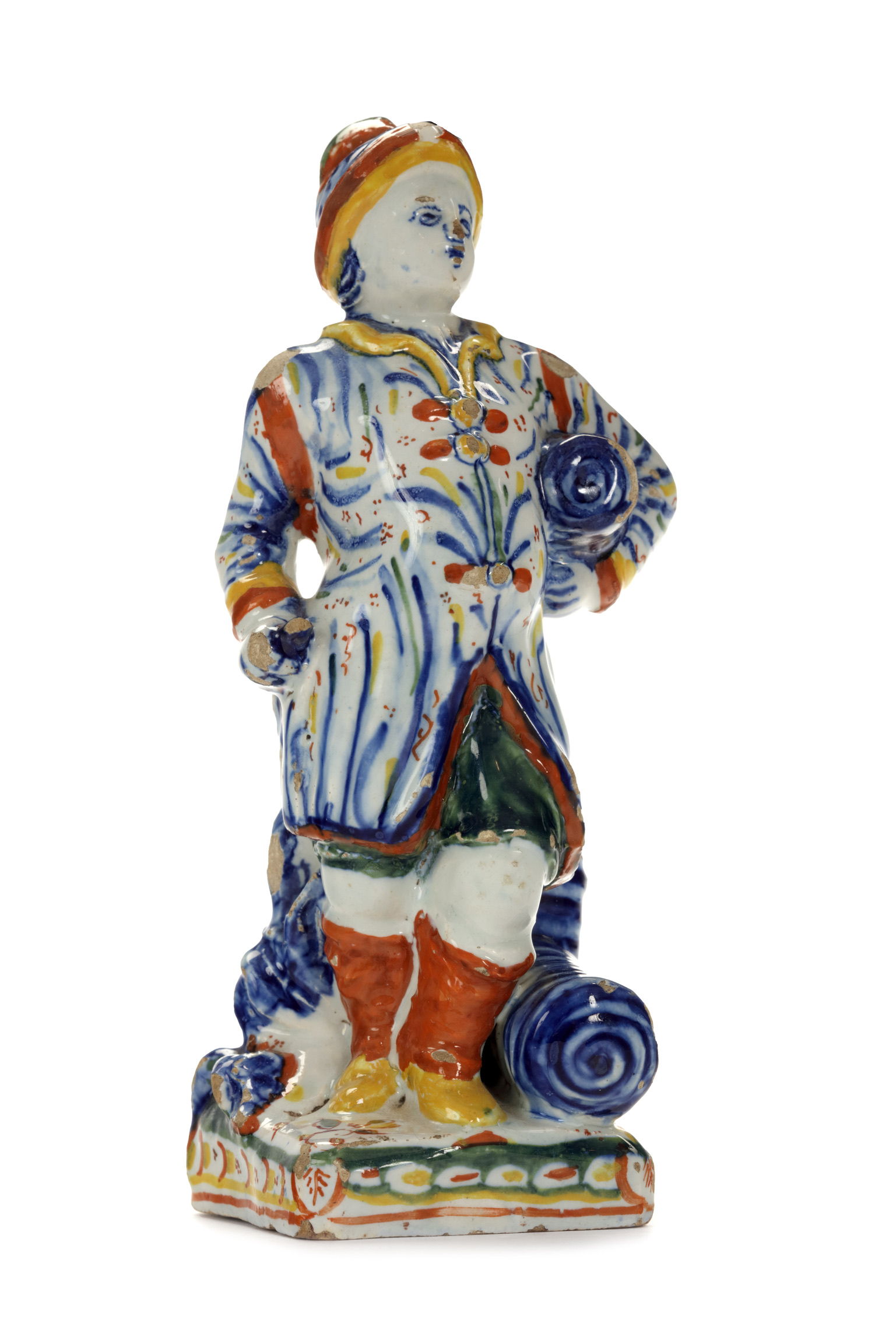 OBJECT
D2329. Polychrome Figure of a Street Vendor
Delft, circa 1725
The man wearing a blue, iron-red and green cap with an iron-red and yellow band, a blue-delineated jacket with yellow, green and iron-red buttons, cufflinks and motives and short green breeches, holding under his left arm a rolled up blue carpet and his right hand on his hip holding an object, leaning against a green tree trunk on the square base with two other rolled up blue carpets.
DIMENSIONS
Height: 16.9 cm. (6.7 in.)
PROVENANCE
Staal Antiquairs, June 1978 (according to family archive);
Dutch Private Collection, Amsterdam and hence by family descent
PROVENANCE+
The complete provenance of this entry has been registered by notarial deed with independent and secure registration agency Provenance+ Amsterdam.
NOTE
Although almost non-existent today, the profession of street vendor has a long and colorful history that began in antiquity. Especially in the flourishing market towns of medieval Europe, street vendors delivered goods from the markets or fairs directly to people. This convenience, however, often came with a high price. While some vendors worked independently, many operated out of inns and taverns, and alongside formal trade venues such as fairs and town markets.
This polychrome Delftware figure of a street vendor is possibly inspired by the European porcelain figural series from the mid-eighteenth century. The figural series fits within the tradition of the Cris de Paris (Callers of Paris), a series chronicling the street vendors of Paris that offers a realistic depiction of the people, costumes, gestures and expressions of the eighteenth-century French city. Vendors, tradesmen, performers, musicians, townspeople and courtesans were the subjects for drawings and porcelain figures.
SIMILAR EXAMPLES
A similiar figure of a street vendor, but painted with different colors and marked for Jan Gaal, De Twee Scheepjes (The Two Little Ships) factory is in the Musées royaux d'art et d'histoire, Brussels (inv. no. Ev. 125).