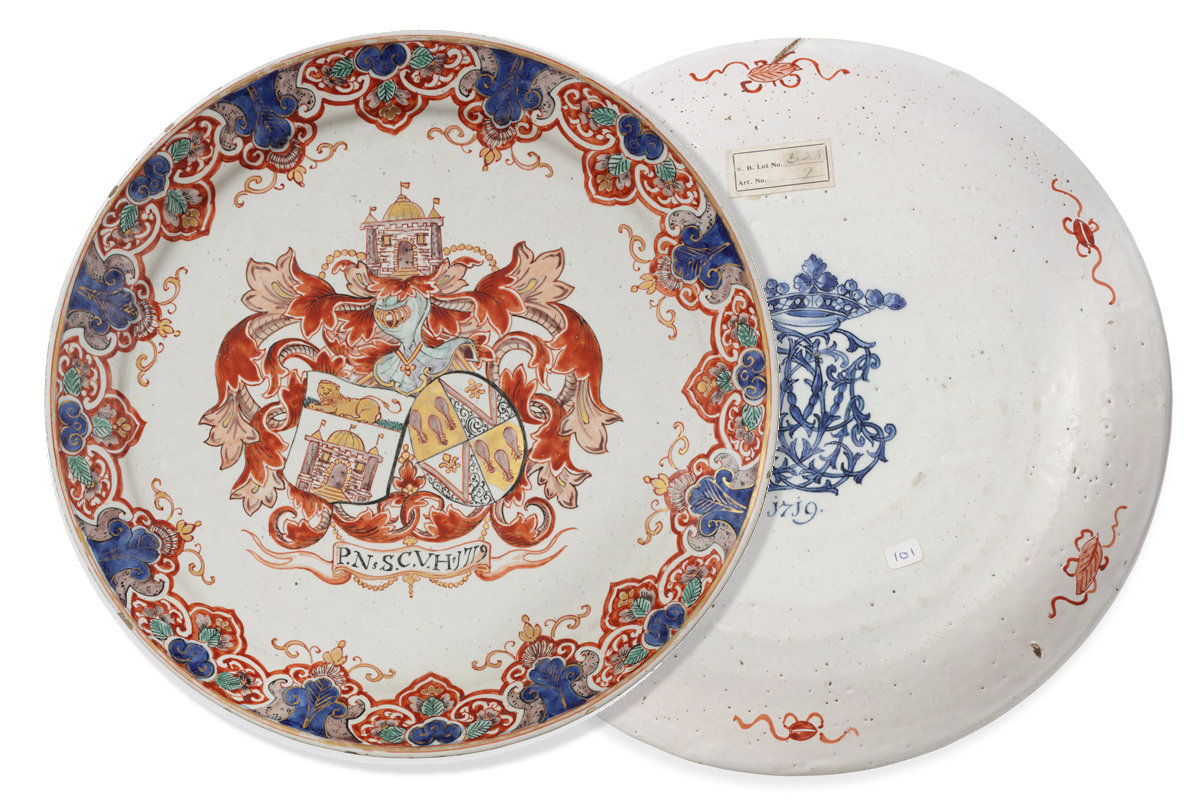 OBJECT
•D2322. Pair of Polychrome and Gilded Armorial Dishes
Delft, dated 1719
Each painted in the center in petit feu enamels and gilding with the elaborately mantled arms, helm and crest of Petrus Nahuys accollée with Sara Catharina van Hoecke above a swag of gilt beads interrupted by a banderole inscribed and dated in black P.N.S.C.V.H. 1719, the rim with a border of blue blossoms and green leaves within scroll-patterned iron-red-ground triple lappets issuing iron-red and gilt scrolls, the reverse with six iron-red beribboned Chinese symbols surrounding a central blue cipher GN beneath a ducal coronet and above the date 1719.
DIMENSIONS
Diameter: 25.5 cm (10 in.)
PROVENANCE
Christie's Laren, 31 October 1978, lot 1507,(according to family archive);
Dutch Private Collection, Amsterdam and hence by family descent
PROVENANCE+
The complete provenance of this entry has been registered by notarial deed with independent and secure registration agency Provenance+ Amsterdam.
LITERATURE
Described and illustrated in Aronson, Below the Glaze, Dated Delftware, 2022, p. 109
NOTE
The initials and the date on this plate indicate that it was made in honor of the marriage between Petrus Nahuys (1692-1766) and Sara Catharina van Hoeck (baptized on January 3, 1693). The couple were married on February 28, 1719 in the Kloosterkerk of The Hague. Unfortunately, marital bliss was short- lived, as Sara Catharina died less than a year later on January 12, 1720, at only 27 years of age. Over the course of his life, Petrus married three more times: Cornelia van Haring (1684-1726) became his second wife in 1721; Johanna Louisa Couch (1698-1728) his third in 1728; and finally Geertruida Blaaukamer (1701-1775) in 1729.
Petrus Nahuys, born on August 14, 1692 in Delfshaven, was minister in the village of Waarder from 1717 and in Monnikendam from 1722, where he died on July 23, 1766, aged 73. His sister, Maria Elisabeth Nahuys, married Bernardus Keppel, his fellow-minister in Monnikendam. The portrait of Nahuys as minister of Monnikendam, including his coat of arms, was engraved in 1752 by Jacob Houbraken (1698-1780) after a 1751 painting by Jan Maurits Quinkhard (1688-1772) [RKD, ib- no.14841].
Nahuys was the author of various religious works including the catechism, Kort Begrip der Christelijke Religie (Short Concept of the Christian Religion), the first volume of which was published in 1738 and the second in 1745, with many subsequent reprints throughout the nineteenth century. Another publication entitled Korte en zaakelyke uitbreiding over het gebedt des Heeren (Short and formal dissertation on the Lord's Prayer) appeared in 1752, followed in the same year by De gansch treurige en plegtige uitvaart van…. Willem den Vierden, Prince van Oranje en Nassauw… : geviert in eene lyk-rede over de woorden I Sam. XXV. I. (The sorrowful and solemn funeral of William the Fourth, Prince of Orange and Nassau….celebrated in a eulogy on the words of First Samuel, Chapter XXV, verse I.)
The GN monogram on the reverse of the plate stands for Gerardus Nahuys (1695-1776), the brother of Petrus, who probably ordered a set of these plates for the occasion of his brother's marriage. Various records from the Utrecht Archive indicate that Gerardus held the positions of member of the Polder Board (Heemraad) of Lekdijk Bovendams, Canon of the Chapter of Oudmunster in Utrecht, and Bailiff of the Orphan Home (Burgerweeshuis) of Utrecht.
Gerardus married Margaretha Pott (1713-1782) on April 3, 1736 in Utrecht, but an order of Delft plates to celebrate his own marriage is not known at present. The image of Gerardus Nahuys is known from a 1745 drawing (fig. 2), and from a later pastel portrait at age 77, which, along with a pendant portrait of his wife, were painted in 1772 by Pieter Frederik de la Croix (1709-1782) [RKD, IB-nos. 82171/2, see also 46658/59/60].
As elaborate as the accollée coats of arms are on this plate, they followed the prescribed elements of formal heraldry. The cipher or entwined, mirror-image monogram on the reverse, however, was a more imaginative creation for which there were various source books available to artists. One such design book was Daniel de La Feuille's Livre nouveau et utile pour toutes sortes d'artistes, et particulierement pour les orfevres, les orlogeurs, les peintres, les graveures, les brodeurs, ec. contenant 4 alphabets de chiffres fleuronnez… (A book new and useful to all kind of artists, in particular for goldsmiths, watchmakers, painters, engravers, embroiderers, etc, including four alphabets of flowering numeral letters…), Amsterdam, 1694, ofwhich a Dutch copy was published also by Petrus Schenk in the early eighteenth century.
In 1973, D.F. Lunsingh Scheurleer and W.G.F.C. Rissink devoted an article to a group of Delft dishes related to the Nahuys family, entitled "Delftse wapenborden uit het eerste kwart van de achttiende eeuw" ("Delft armorial dishes from the first quarter of the eighteenth century"), in: Antiek, 7 (1972-73) 8, pp. 563-569. The first is a 1713-dated blue and white dish (p. 564 ills. 1-2) with the marriage arms of Henricus Nahuys (1656-1722) and Huberta van Dompselaer (1659-1725) [see RKD, IB-nos. 46656/7 for their portraits], the parents of Petrus and Gerardus. Henricus was a minister in Delftshaven from 1687 to 1719, and in 1695 he published a eulogy on the death of Queen Mary II. The inscription"G.Nahuys" on the reverse of this dish indicates it was a gift from their son, although the occasion remains unclear, since their wedding took place on July 5, 1687 in Utrecht.
The second of the Nahuys dishes is a blue and white dish (p. 567, ill. 5) decorated with the Tablets of Moses (The Ten Commandments), dated 1717, inscribed on the front "G. Nahuijs", and marked on the reverse JDE. There is also a large blue and white dish (p. 565, ills. 3-4, 39 cm. diam.) in the collection of the Musées Royaux d'Art et d'Histoire, Brussels (inv. no. Ev. 240) with a Chinese kraak pattern, inscribed on the reverse with the same crowned monogram and the text "G:NAHUYS.ANNO.1718. DEN 11/12," an identical example of which is in the Rijksmuseum, Amsterdam, illustrated in Van Dam 2004, p. 142, ill. 89 and in Van Dam 1991, p. 63, no. 29.
The family not only had close residential ties to Delfshaven, the port of Delft, but Gerardus actually lived in the house of Anthonij van der Kloot, owner of De Drie Posteleyne Astonne (The Three Porcelain Barrels) factory from 1716 to 1722, who in his will of 1720 bequeathed 5000 guilders to Gerardus. This had led various authors (Hoekstra-Klein, 2004, vol. 10, p. 64, Loet Schledorn in Van Aken-Fehmers 2001, p. 34, and Van dam 1991, p. 62) to pose the question of whether Gerardus was a faience painter himself. But with the exception of the last-mentioned, all of these dishes seem to indicate that Gerardus Nahuys was simply the patron for their commission.
SIMILAR EXAMPLES
Several plates identical to the present pair with the Nahuys-Van Hoecke arms are known, confirming that they were originally part of a set. An identical plate is illustrated in Aronson 2009, p. 63, no. 39, which was exhibited at the Tentoonstelling van Oude Kunst, 1936, no. 802 in the Rijksmuseum Amsterdam. Other examples include a plate from the Klatte collection, illustrated in M. Vigelius, "Wapengoet" ("Armorial Wares") I, in: Elsevier's Geïllustreerd Maandschrift, XLII (1932) 84, p.182, pl. XXXIX, no. 9; one in the collection of the Stedelijk Museum Het Prinsenhof, Delft (inv. no. Im 2783); and another in the Fentener van Vlissingen collection, illustrated in De Jonge 1947, p. 298, ill. 264, and in Lunsingh Scheurleer, Rissink 1973, p. 568, ill. 6. A further example was sold at Christie's in Amsterdam on November 2, 2005, lot 341; and another was sold at Frederik Muller & Cie in Amsterdam on December 11, 1928, lot 190.
Besides the set to which the present plates belong, there is another set of 1719-dated armorial dishes on which the central shield is flanked by Mercury above a banderole inscribed "C.V. HOEKKE.1719," for Christoffel van Hoecke (1665-1720). Examples of these are in the collection of the Stedelijk Museum Het Prinsenhof, Delft, illustrated in Lunsingh Scheurleer, Rissink 1973, p. 568, ill. 7; the Rijksmuseum, Amsterdam, illustrated in Van Dam 1991, p. 65, no. 30; and in the Musées Royaux d'Art et d'Histoire, Brussels (inv. No. Ev. 161), illustrated in Helbig II, p. 51, fig. 35.