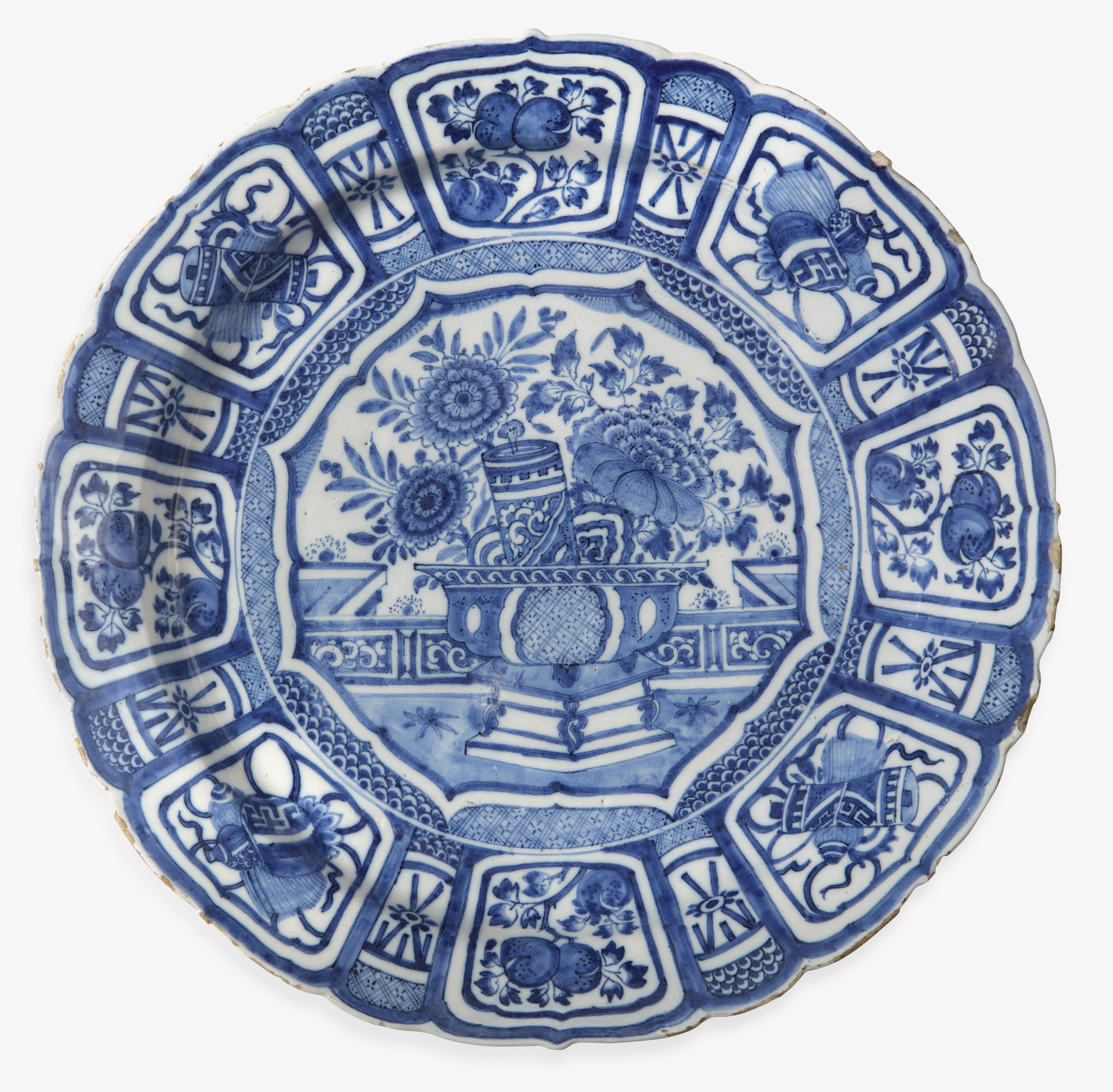 OBJECT
D2321. Blue and White Kraak-Style Charger
Delft, dated 1717
Unidentifiably marked and dated D W 17 October 1717 I V V in blue
Painted in the center with a garden urn filled with flowers such as peonies and a scroll, the urn placed on a table in a fenced garden within an octafoil medallion reserved with alternating panels of scale and diaper work ground and surrounded on the cavetto and rim with four fan-shaped panels depicting motifs of a scroll or lantern on a tassel and ribbon, alternating with four fan-shaped panels depicting fruit plants, all separated by narrow panels of stylized devices suspended between diaper work or scalework vignettes, the underside with circle devices within wide fan-shaped panels.
DIMENSIONS
Diameter: 39.1 cm. (15.4 in.)
LITERATURE
Described and illustrated in Aronson, Below the Glaze, Dated Delftware, 2022, p. 103
NOTE
From approximately 1605 to 1635, the VOC mostly imported Chinese porcelain known as 'Kraakporselein' (Kraak-porcelain) to Holland, a name that possibly derived from the Portuguese ships called 'caraccas'. One characteristic of the early imports are the foliated rims on the plates and dishes, which were typically made in molds. Further, the pieces were lightweight due to the thin walls of the vessels. This was advantageous because the Chinese export tax was based on the object's weight. The decoration, always in underglaze cobalt blue, is characteristically divided into alternating wide and narrow panels, which contain Tao symbols. The central panel often shows landscapes or riverscapes with deer, birds and large flowering plants. Throughout the seventeenth century, Delft potters created faithful imitations of the Chinese Kraak-porcelain from the Wanli period (1573-1620) for table use and for decorative purposes. The paneled border, which was characteristic for the Chinese Kraakwares is precisely imitated on Delft plates. The center is often decorated with urns of flowers, fruits and precious objects, animals such as peacocks, water birds or deer, or with a Chinese scene. While seventeenth-century Delft plates and dishes in the Kraak style are common, a delicately painted and molded charger of this size, which is moreover dated, is rare.
SIMILAR EXAMPLES
A slightly smaller Kraak-style charger with a similar depiction of a garden vase with flowers and a scroll, dated 12-11-1718 is in the Rijksmuseum, Amsterdam (inv. no. BK- 15575).