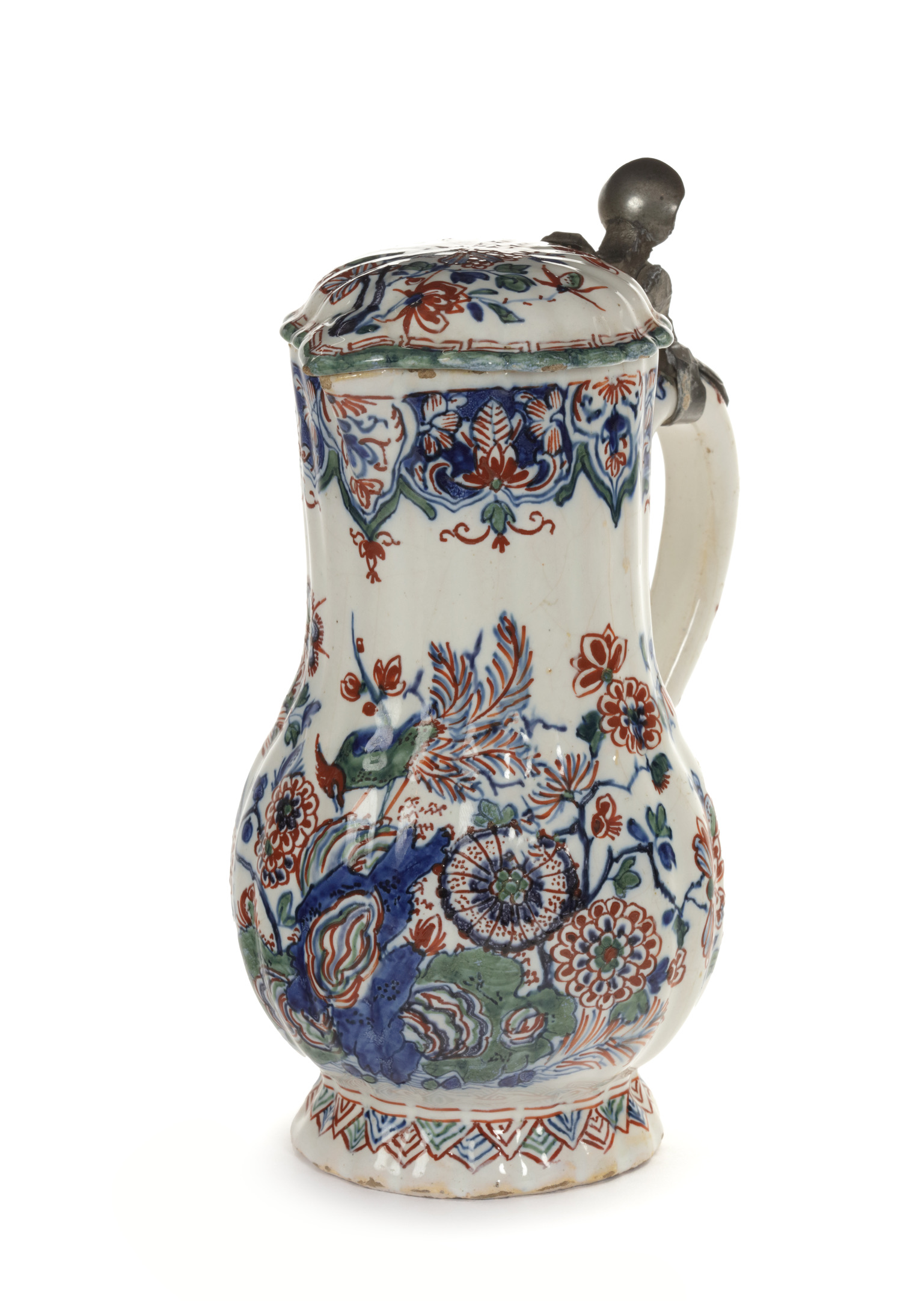 OBJECT
•D2316. Polychrome Cashmere Palette Reeded Pewter-Mounted Ewer and Cover
Delft, circa 1710
Marked and numbered LVE 1 1 1/2 HP in iron-red for Lambertus van Eenhoorn, the owner of De Metaale Pot (The Metal Pot) factory from 1691 until 1721, or his widow Margaretha Teckmann until 1724
Painted on the front of the reeded lower body with a phoenix perched on a pierced
rock amidst flowering plants and flitting insects, the cylindrical neck and spout with a wide floral and foliate lappet border, the loop handle decorated with floral scrollwork, and affixed with a pewter hinged foliate to the fluted cover with a profusion of floral plants within a meander border.
DIMENSIONS
Height: 17 cm. (6.7 in.)
PROVENANCE
Possibly Drouot Auctioneers, Paris;
Staal Antiquairs, July 1968, (according to family archive);
Dutch Private Collection, Amsterdam and hence by family descent
PROVENANCE+
The complete provenance of this entry has been registered by notarial deed with independent and secure registration agency Provenance+ Amsterdam.
SIMILAR EXAMPLES
A similar fluted ewer decorated in the cashmere palette, but lacking its hinged mount and marked for Pieter Adriaensz. Kocx, is illustrated in Aronson 2012, p. 53, no. 30. Another covered ewer is illustrated by Havard 1878, p. 300, fig. 112, who attributes it to Adriaen Pynacker, circa 1690, after an erroneous identification of the PAK mark. Another covered ewer of this form with cashmere decoration is illustrated in Lunsingh Scheurleer 1984, p. 306, pl. 337; and in Van Aken-Fehmers 1999, p. 132, no. 39, who also illustrates a similar blue and white example marked for De Grieksche A (The Greek A) factory from 1722-57, p. 140, no. 47. Another cashmere palette-decorated covered ewer of this form with silver mounts and marked for De Grieksche A factory is illustrated in Lavino, p. 145 (top, left). A further example marked for De Klaauw (The Claw) factory, circa 1713-40, is illustrated by Van Aken- Fehmers 2001, pp. 291 and 310, no. 100.