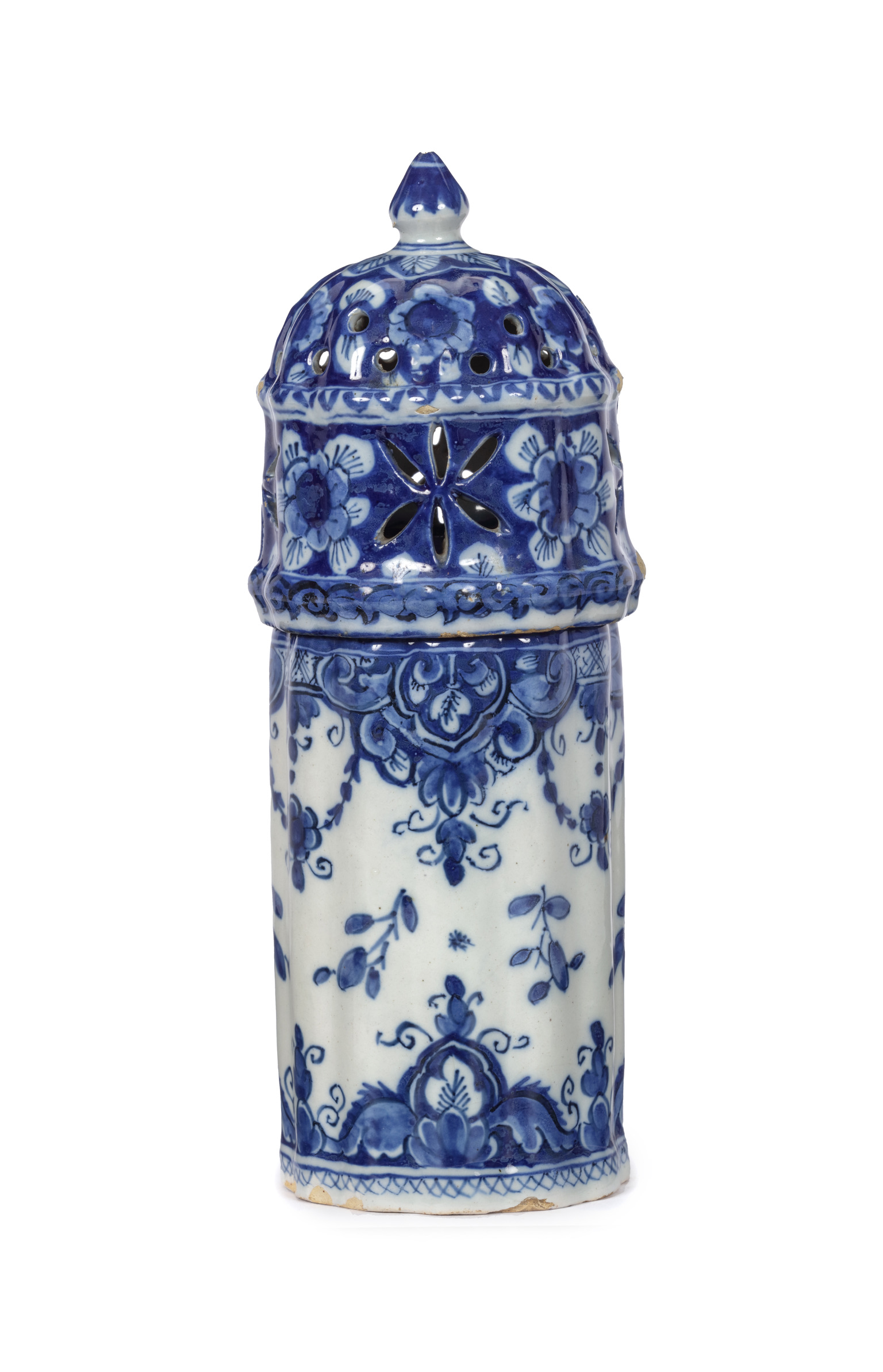 [popup_trigger id="13756″ tag="span"]

[/popup_trigger]
OBJECT
D2315. Blue and White Sugar Caster
Delft, circa 1710
Marked and numbered LVE 60 VH in blue for Lambertus van Eenhoorn, the owner of De Metaale Pot (The Metal Pot) factory from 1691 until 1721, or his widow Margaretha Teckmann until 1724
The cilindrical fluted body painted with floral sprigs between two elaborate floral scroll
bands with ruyi-head devices and garlands, the threaded circular neck enameled in blue, the blue ground domed cover with a threaded interior reserved with flowerheads alternated by pierced flowerheads below a dentil band and flowerheads, leaf motives and three pierced dot motives, the mushroom- shaped knop encircled by leaves
DIMENSIONS
Height: 19 cm. (7.5 in.)
NOTE
Sugar, also called White Gold is indigenous to the South Pacific. It was first introduced to South America in 1493 by Christopher Columbus during his second voyage to the New World, where the tropical weather was favorable to its development. Rapidly, sugar plantations, which were made profitable by African slave labor, arose, and the industry became a major part of the world economy. The sugar market triggered new habits in the lives of the European well-to-do.
During the first half of the seventeenth century, most of the sugar that was imported to the Low Countries came from Brazil. When the Dutch West India Company (WIC) lost control of northeast Brazil in 1654, the Dutch colony of Suriname became the leading supplier of sugar.
In the sixteenth century, the city of Antwerp was one of the most important sugar refinery centers in Europe. After the Spanish occupation of Antwerp, Amsterdam became the new economic center of the Dutch provinces. Fifty to sixty refineries were active in Amsterdam in 1660, and by 1662, the Republic provided more than half of the refined sugar consumed in Europe. The reason the refining process took place in Europe and not in the countries of production was that the transport of the commodities between the two continents posed great risk as refined sugar was easily damaged after sea travel.
The refineries converted crude crystal sugar into a superior grade product. First, the crude sugar was boiled, and then filtered to eliminate impurities. Once it was ready for granulation, the syrup was poured into conical earthenware molds. Within a few days, the sugar would crystallize into the traditional sugarloaf shape. Dark syrup and noncrystalline matter called molasses would drain through a hole in the top of the cone. Once dry, the loaf was removed from the mold, stored in a room, and eventually trimmed into a final shape for transport throughoutEurope.
Sugar was initially limited to a wealthy elite who used it as a symbol of power and wealth. In the sixteenth century, "sugar banquets" arrived to the Netherlands. The well-to-do outdid each other by displaying magnificent sugar sculptures on their table. Confectioners often mixed these sugar sculptures with other elements such as wax, plaster, textile and later even porcelain.
As the demand for sugar grew, an increasing number of cookbooks aimed for an eager middle class were published, which strongly impacted eating habits. As such, sugar was not only used as a precious delicacy, but also became a fundamental ingredient in European recipes.
The success of the sugar industry in the Netherlands triggered the inventiveness of the ceramics field and many other industries. Some precious Delftware objects can be seen as testimony of its development. The democratization of sugar in the seventeenth century caused important changes in eating habits, many of which that remain today.