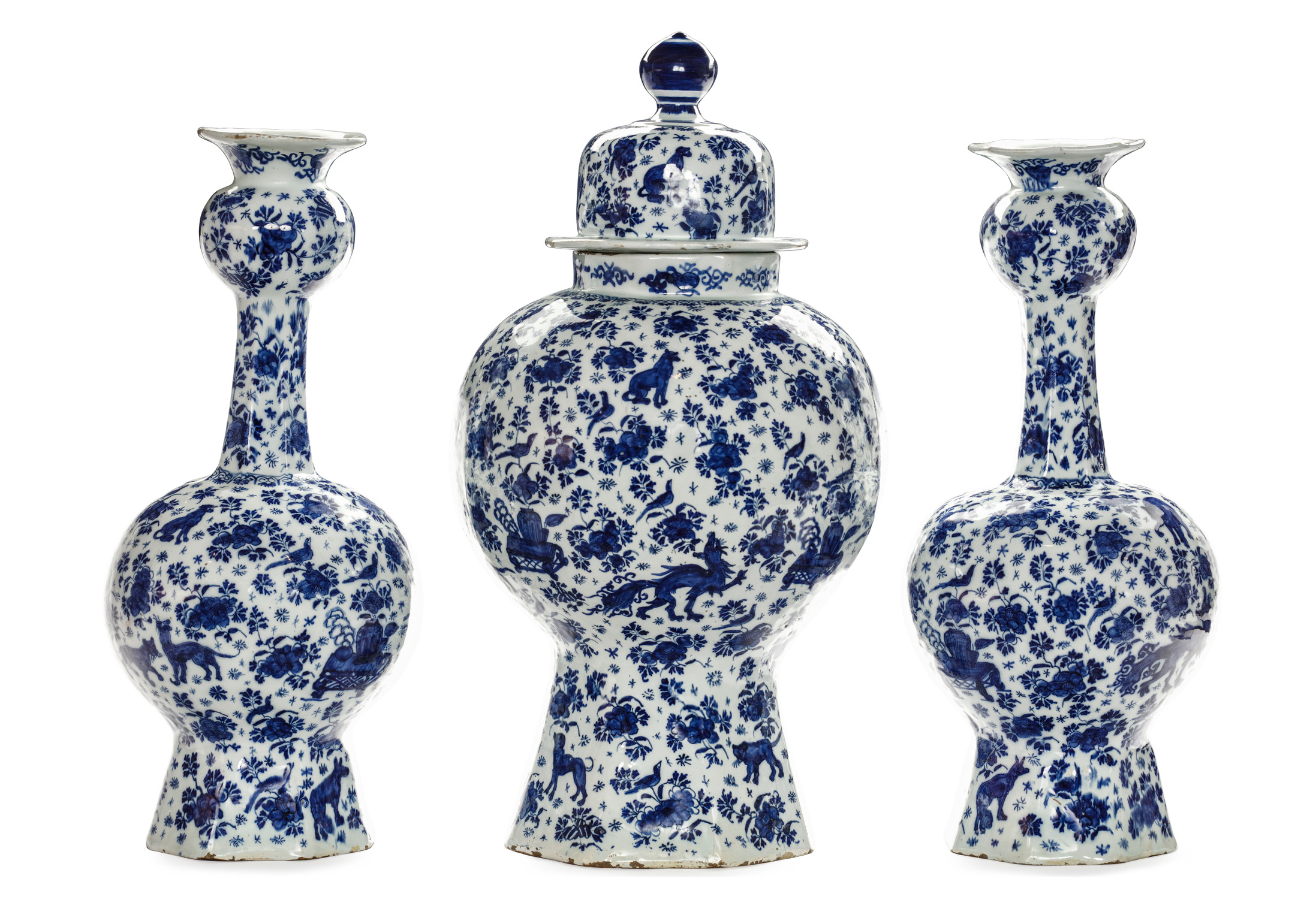 OBJECT
D2313. Blue and White Garniture
Delft, circa 1710
Attributed to Lambertus van Eenhoorn, the owner of De Metaale Pot (The Metal Pot) factory from 1691 to 1721
Comprising two octagonal baluster-form bottle vases and one octagonal baluster-form vase and cover, each painted all over with animals and mytholigical creatures, such as an elephant, horse, tiger, bird, dragon, phoenix, and kylin amidst floral and foliate sprigs and sprays interspersed with small clusters of dots, the upper rim of the bottle vases and the neck of
the baluster-form vase encircled with scroll motifs, the cover surmounted by a blue mushroom-shaped finial.
DIMENSIONS
Heights: 61.5 cm. (24.2 in.) and 53.6 cm. (21.1 in.)
PROVENANCE
The property of Aachen art and antiques dealer Wilhelm Krott (1903-1986)
NOTE
This rare garniture was possibly produced at De Metaale Pot (The Metal Pot) factory during the ownership of Lambertus van Eenhoorn, based on its decoration and model. Garnitures of this model are known to have been produced under Lambertus van Eenhoorn. For example a similarly shaped, but smaller, cashmere palette garniture, marked for Lambertus van Eenhoorn, illustrated in Aronson 2004, p. 51, no. 52, and another also in the cashmere palette in Aronson 2004, p. 48, no. 49.
Further to the shape of the vases, the floral decoration appears on a variety of wares produced by Lambertus van Eenhoorn. For example, a double-gourd shaped vase illustrated in Aronson 2006, no. 33, p. 48, a pair of baluster-form vases in Aronson 2013, no. 24, p. 42, a pilgrim bottle in the Kunstmuseum, The Hague (inv. no. 400455) and one in the Rijksmuseum (inv. no. BK-1956-15).
The high variety of animals on this garniture is highly uncommon. To this date, no other Delftware object with this elaborate animal decoration is known. However, there are objects produced around 1700 that are decorated with animals, and several of these objects are produced under Lambertus van Eenhoorn. For example, a tea canister painted with a dragon, illustrated in Aronson 2020, no. 97 and a pair in Aronson 2004, p. 46, no. 47, and a bottle vase also with a dragon in Aronson 2018, p. 42, no. 23 a cashmere charger with a phoenix in Aronson 2004, p. 49, no. 50.