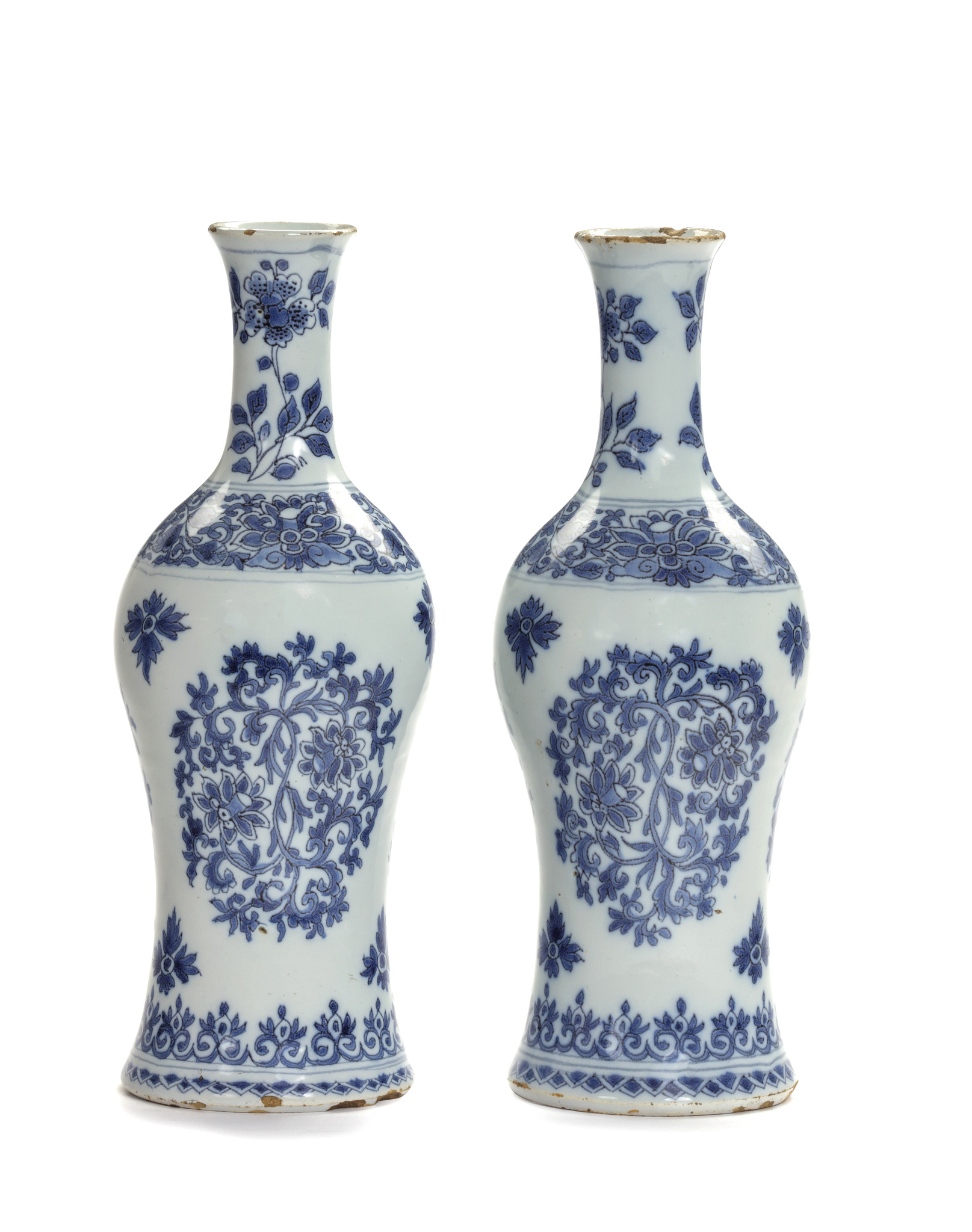 OBJECT
•D2310. Pair of Blue and White Bottle-Shaped Vases
Delft, circa 1695
Each marked No. 9 AK in blue for Adrianus Kocx, the owner of De Grieksche A (The Greek A) factory from 1686 until 1701
Each painted on the front and reverse with an oval medallion of stylized hibiscus blossoms and scrolling foliage, alternated by smaller leaf and dot motifs, above a border of 3-shaped scrolls and leaves and a band of petal devices around the base, its
shoulder with a wide band of stylized foliate scrollwork and large flowerheads, the slightly flaring neck with three floral sprays.
DIMENSIONS
Heights: 25.5 cm. (10 in.)
PROVENANCE
Northern-French Private Collection
NOTE
During the ownership of Adrianus Kocx, De Grieksche A (The Greek A) factory was taken to great heights. His production, in which the high degree of sophistication is absolutely remarkable, can be seen as the witness of a cultural and artistic syncretism that was inherent in this period. Many of the objects produced under his management result in a symbioses between Asian motifs borrowed from Chinese porcelain and European designs. His ownership also corresponds to the creation of a wide variety of new shapes.
Some of the designs have the particularity to have been borrowed from the French architect Daniel Marot. After the revocation of the Edict ofNantes in 1685, Daniel Marot, who fled from the threat of Protestant persecution, came to settle in the Netherlands. He became the official architect of William III, Prince of Orange, who entrusted him with the decoration of his residence, Het Loo Palace. In order to decorate the palace, Queen Mary, who developed an unequalled passion for Delftware, commissioned many objects from De Grieksche A. Short after the death of Samuel van Eenhoorn, the former owner of De Grieksche A, the royal couple moved to Hampton Court Palace in Britain. Nevertheless, they continued ordering many magnificent Delft objects from Samuel's successor, Adrianus Kocx.
SIMILAR EXAMPLES
A single, slightly smaller vase of the same model and marked for Adrianus Kocx from the Dr. Günther Grethe Collection in Hamburg, is illustrated in Aronson 2004, p. 70, no. 82. A blue and white guglet, marked for Adrianus Kocx, with similar floral medaillions is illustrated in Aronson 2008, p.34, no. 17.