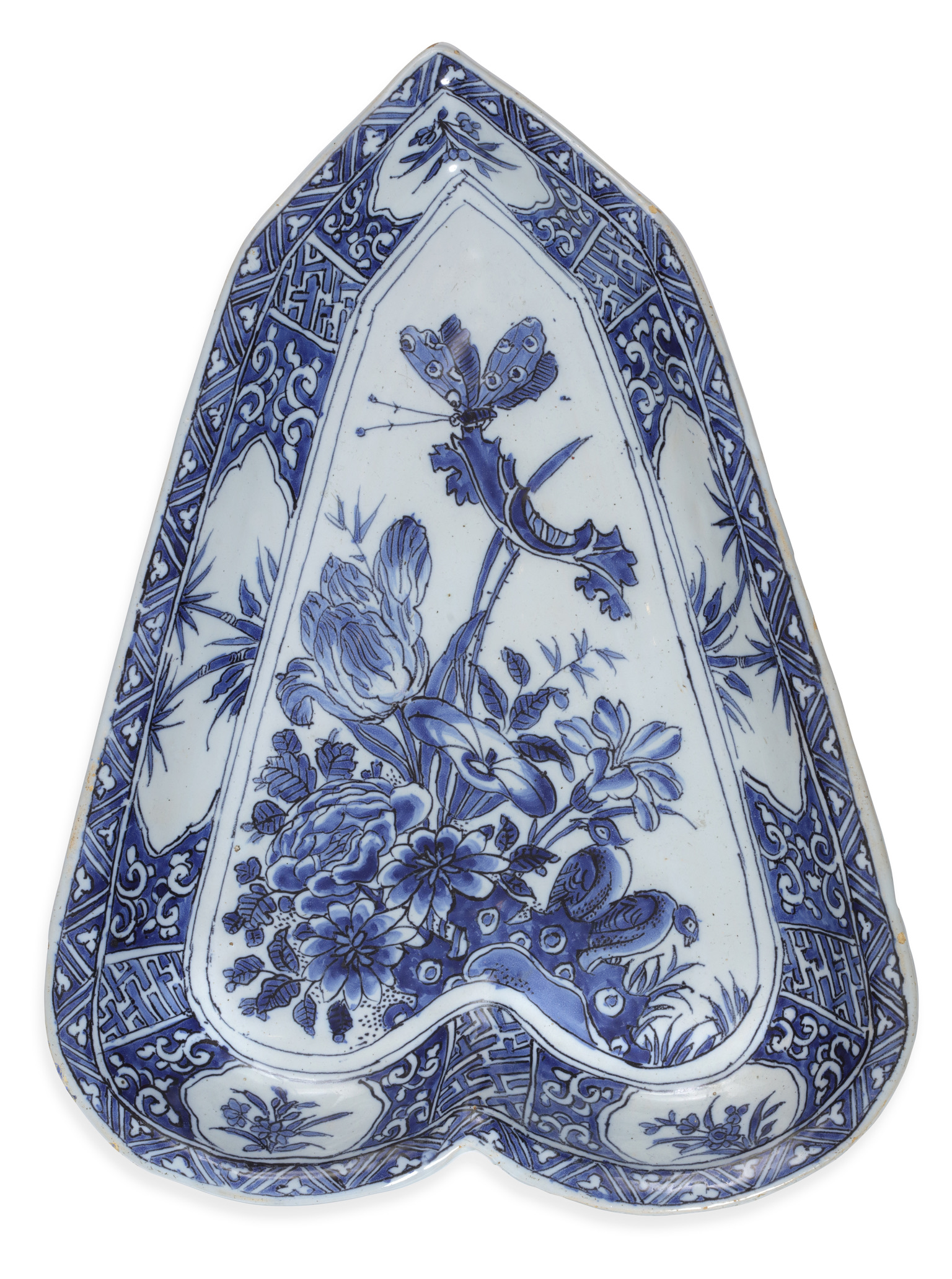 OBJECT
D2309. Large Blue and White Sweetmeat Dish
Delft, circa 1695
Marked and numbered 3 AK 5 in blue for Adrianus Kocx, the owner of De Grieksche A (The Greek A) factory from 1686 to 1701
Painted on the heart-shaped body with two birds perched on a stylized pierced rock beside a profusion of flowering plants on which a butterfly is seated, the upstanding blue ground rim reserved with scrolls and a large panel with bamboo on the sides
and a panel on the top and bottom with budding and flowering plants, alternated by swastika diaper- pattern borders.
DIMENSIONS
Length: 30 cm. (11.8 in.)
NOTE
Dishes of this shape, when assembled as a set of eight surrounding a central star-shaped dish, were traditionally thought to have been made as 'rijsttafel' sets. Rijsttafel (rice table) is an elaborate Indonesian meal adapted by the Dutch, which consists of many side dishes served in small portions, accompanied by rice. However, current scholarship suggests that they were used to serve sweetmeats and other delicacies such as dried fruit or summer fruit preserved in brandy because they are referred to as confituur-starren ('preserve sets') in inventories. By the seventeenth century, the cultivation of sugarcane in Brazil and the Caribbean made the importation of large quantities of sugar possible, and honey, initially used as the most prevalent sweetener, was replaced by refined cane sugar. As sugar sources increased and its price declined throughout the seventeenth and eighteenth centuries, the delicacy became more accessible to a larger audience. Popular sugared delights included sugared orange peels, sugar-coated nuts and seeds, sometimes even colored, pear marmalade and preserved ginger, chestnuts and fennel. All of these foods were presented in dishes such as the present example. The dishes likely enjoyed an important but somewhat short-lived vogue in Dutch Delftware based on the early dates of surviving sets and component dishes made by a number of major factories.