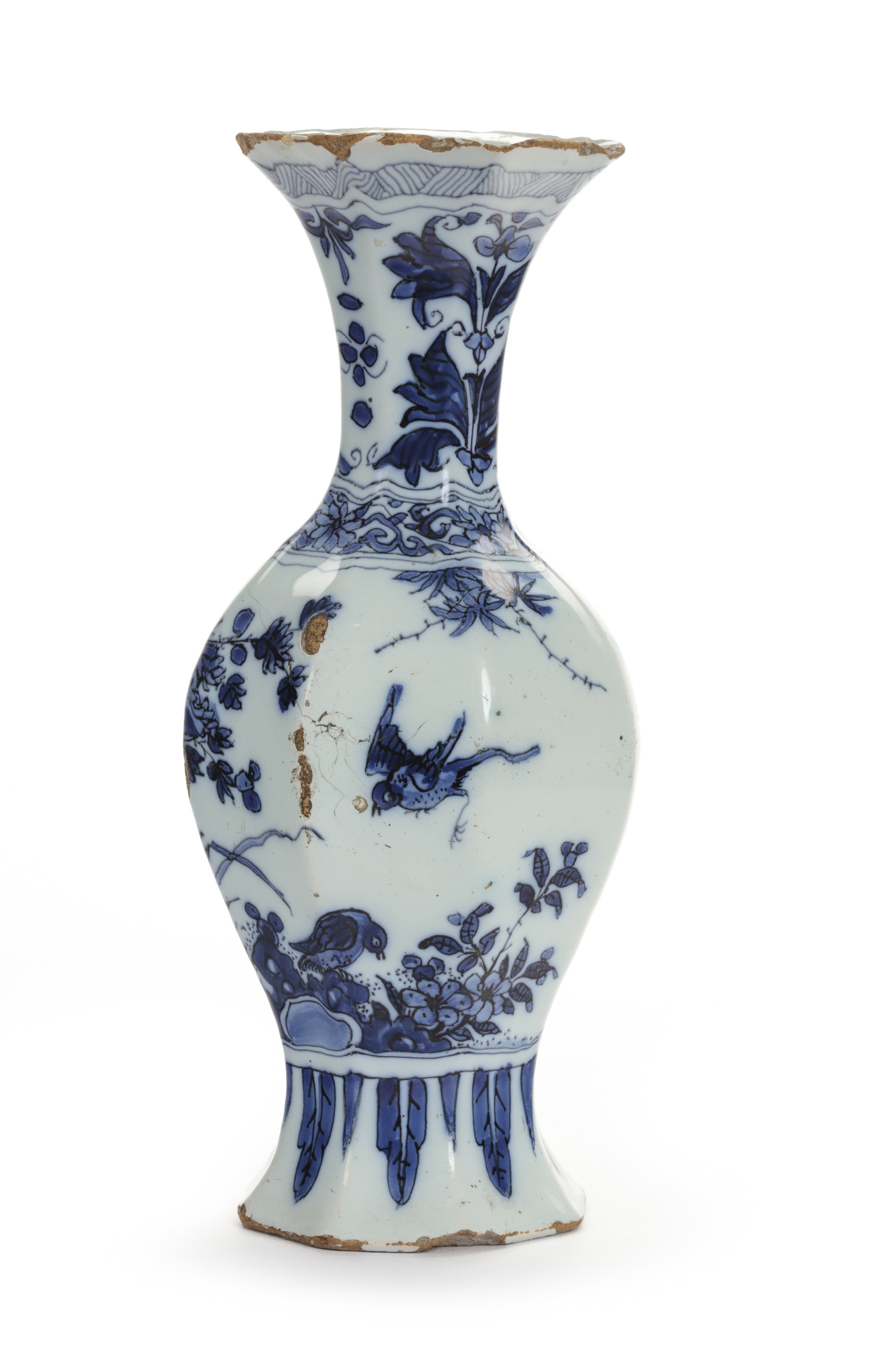 OBJECT
D2306. Blue and White Octagonal Vase
Delft, circa 1685
Marked and numbered SVE 3 in blue for Samuel van Eenhoorn, the owner of De Grieksche A (The Greek A) factory from 1678 to 1685
The octagonal body painted with a bird in flight above another bird perched on a stylized pierced rock amidst a profusion of flowering plants, with another bird perched on one of the branches, the reverse with another profusion of flowering plants, below
a flowering vine border around the shoulder, the flaring neck with stylized tulip devices below a border of dashed triangles, the flaring foot with a border of large stylized leaves.
DIMENSIONS
Height: 21 cm. (8.3 in.)
NOTE
In 1678 Samuel van Eenhoorn inherited from his father one of the most famous and prestigious Delftware factories that history records, De Grieksche A (The Greek A). The family adventure started in 1658 when Wouter van Eenhoorn – Samuel's father – bought what originally was a beer brewery. They specialized in creating delicate blue and white faience in the style of the porcelain made in China during the Kangxi period (1662-1722) and the transitional style (1620-1644). The chinoiserie decorations and the design of the objects were of such a fine quality that they were even referred to as "porcelain".
The work of Samuel van Eenhoorn indisputably reveals a particularly distinguishable aesthetics. Under his ownership, the factory created objects inspired from the Chinese motifs belonging to the Kangxi period combined with Asian decorative elements.