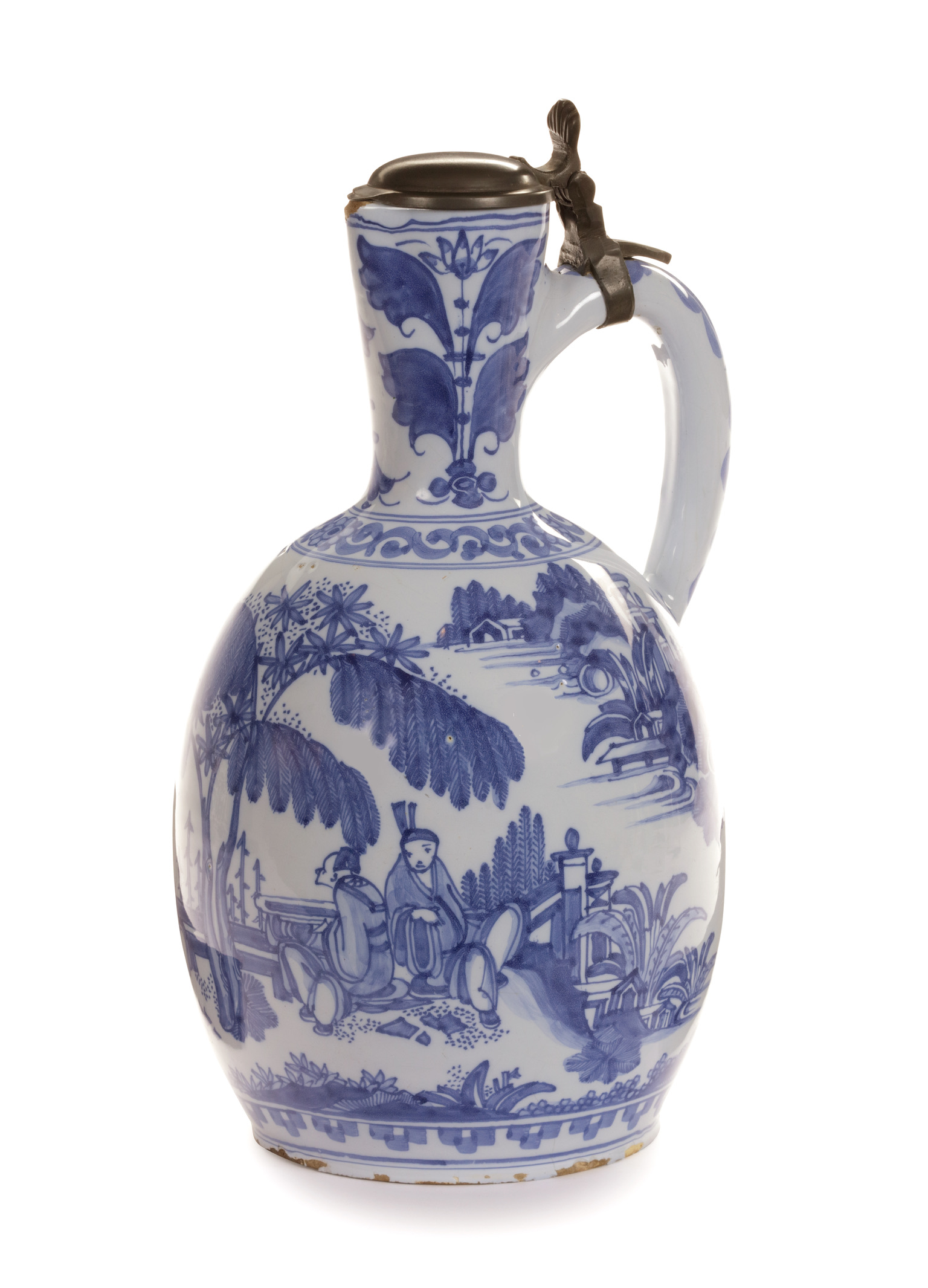 OBJECT
D2304. Large Blue and White Pewter-Mounted Jug
Delft, circa 1670
Painted on the ovoid body with a continuous scene depicting a standing figure holding a vase in his hands, another figure seated while holding a jar in his hands and two seated figures conversing, all in a landscape of shrubbery, pines, rocks and pagodas in the background, the shoulder with a band of scrolls and flowerheads, the neck with foliate devices, and the loop handle with a band of scrolls; the pewter cover with a shell-form thumb-piece and affixed to the handle with a hinged foliate, marked, probably Flemish, late seventeenth century.
DIMENSIONS
Height: 34.7 cm. (13.7 in.)
PROVENANCE
Belgian Private Collection
NOTE
Between 1630 and 1640, porcelain wares of a superior quality were imported in Holland. Known as 'transitional wares,' this type of porcelain was a new source of inspiration for the Delft potters. The term 'transitional' refers to the political changes in China that transpired after the death of emperor Wanli (1619), which ultimately led to the fall of the Ming and the establishment of the Qing Dynasty (1644). In comparison with the Kraak- wares, the transitional wares were not divided into panels. Instead, the entire area was covered with a continuous scene that often consisted of landscapes with animals or figures either conversing or in a moment of spirited action.
Early jugs like the present can be attributed to a group of faience that is decorated with chinoiserie scenes of figures seated in a landscape of rock work and trees and was manufactured between 1660 and 1680. During the period between about 1920 and 1990, objects of this type of decoration were attributed to the relatively small faience manufactory in Frankfurt-am-Main in Germany. However, on the basis of art, archaeology and other supporting evidence, we can re-attribute such pieces confidently to Delft.
We wish to acknowledge with thanks the help of our colleague and friend Jan Beekhuizen in determinating the age and production place of the cover.