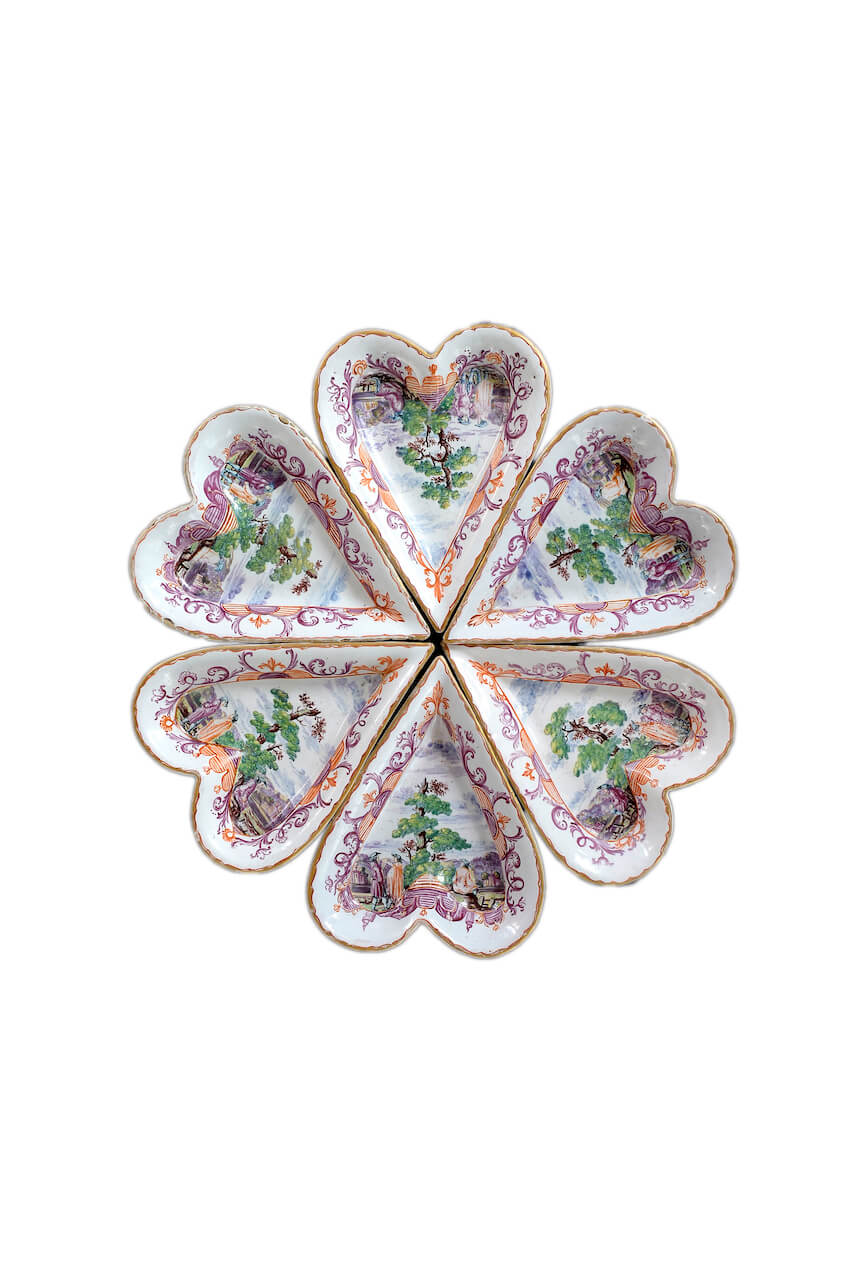 [popup_trigger id="13756″ tag="span"]

[/popup_trigger]
OBJECT
D2176. Set of Six Polychrome and Gilded Petit Feu Heart-Shaped Sweetmeat Dishes
Delft, circa 1740
Each heart-shaped dish in finely painted petit feu colors with a different landscape scene of two people conversing and a seated figure, which flank a large tree, buildings and mountains in the background. The inner border of the well painted with a purple and salmon scrollwork band and the outer border with two large floral sprigs and two flitting insects.
Diameter of the whole set: 23.5 cm. (9.2 in.)
Note:
Delft potters developed new colors and styles of decoration using the enamel technique. First used in the early eighteenth century, the so-called petit feu firing was one technique that allowed Delft potters to expand their color palette. The technique requires three firings, allowing the potter to use colors that could not withstand high temperatures in the kiln during the second firing (grand feu). The gold and enamel paints were applied after the biscuit firing, the tin glazing and the transparent glaze that added extra gloss (with or without grand feu decorations). With the petit feu colors on top of the glaze, the objects were fired again at a lower temperature (about 600 degrees Celsius) in a smaller kiln known as the moffeloven (muffle kiln). Although the initial source of inspiration for the petit feu enamel painting came from Asian Kakiemon porcelain, Delft potters were also influenced by the European-style decoration on Meissen porcelain. This Delftware set of sweetmeat dishes shows the influence of Meissen porcelain in the use of colors and the execution of the decoration. After 1720, the factory of Meissen set the trend in European ceramics. A particular influence seen on this Delftware set was Johan Gregor Herold, who was trained as a miniature painter and enameler on copper and was later appointed to take charge of the decorating atelier at the Meissen works. Herold not only improved the range of colored enamels for painting, but many ground colors as well. These technical achievements secured Herold a leading position in European ceramic history.
Similar example:
A single identical decorated heart-shaped dish is in the Victoria and Albert Museum in London (inv. no. C. 141-1951). A rather similar set of six heart-shaped dishes painted in petit feu colors is in the Rijksmuseum, Amsterdam (inv. no. BK-NM-12400-416/421) and illustrated in Van Dam 2004, p. 157, ill. 104.