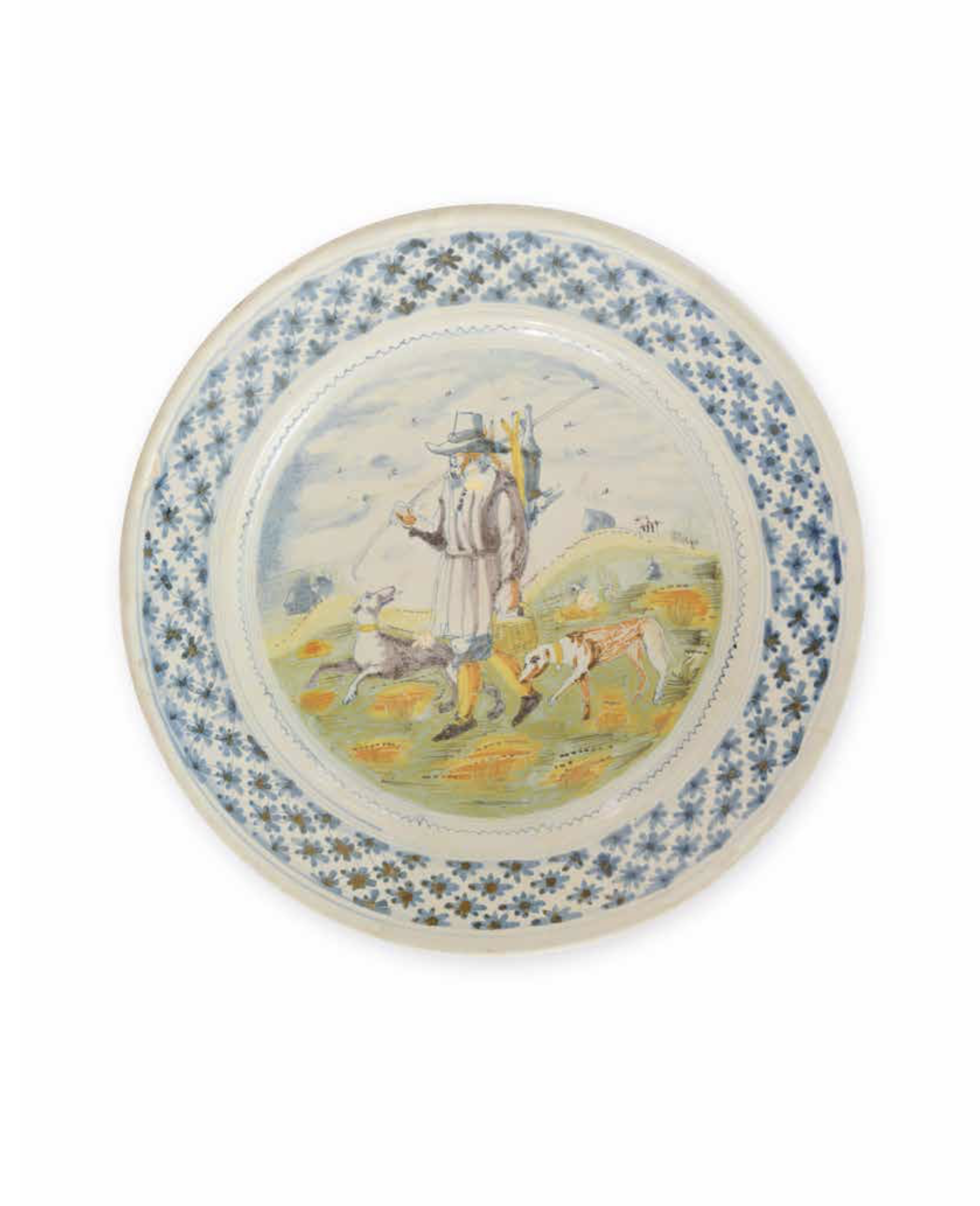 [popup_trigger id="13756″ tag="span"]

[/popup_trigger]
OBJECT
D2174. Polychrome Majolica Charger
Circa 1650
Painted in the center with a hunter wearing a manganese coat, hat, blue trousers and yellow socks, holding a basket in his left hand and over his shoulder holding with his right hand a stick with three captive hares or rabbits hanging, accompanied by two hunting dogs, in the background with two rabbits and a couple of houses in a landscape, the rim with a wide border of blue flowerhead devices.
DIMENSIONS
Diameter: 41 cm. (16 in.)
PROVENANCE
Dutch Private Collection;
The R.J. Bois Collection, North-Holland
LITERATURE
Described and illustrated in "Bodemvondst I; Bord van majolica; Jager, prooi en jachthonden" by Wil Snip in Vind Magazine, no. 40, 2020, pp. 40 – 41.
NOTE
This charger is decorated with the hunt, a theme that was very popular in the seventeenth century. The beloved subject was not only found on plates and chargers, but also on tiles and objects made from other materials, such as silver and pewter. In the late Middle Ages, hunting wild animals and fowl was a privilege of the nobility. Its exclusivity continued into the seventeenth century when it was enjoyed by the wealthy middle class as a pastime and entertaining activity. In the eyes of the ruling elite at the time, hunting was also a good preparation for warfare. Snip [op. cit.] suggests that this charger was possibly a wedding gift, referring to 'the inverted world' which was a popular theme. The hunter on this plate would then be the personification for the love hunt and the prey for the woman. The hunting dogs symbolize steadfastness and fidelity, in other words a good and long marriage.
SIMILAR EXAMPLES
More plates have been executed with the same or a similar decoration, based on known fragments. A fragment of the central decoration is in the collection of P.R. America, de Rijp. Another central fragment is in a private collection. The present charger seems to be the only complete example to date.