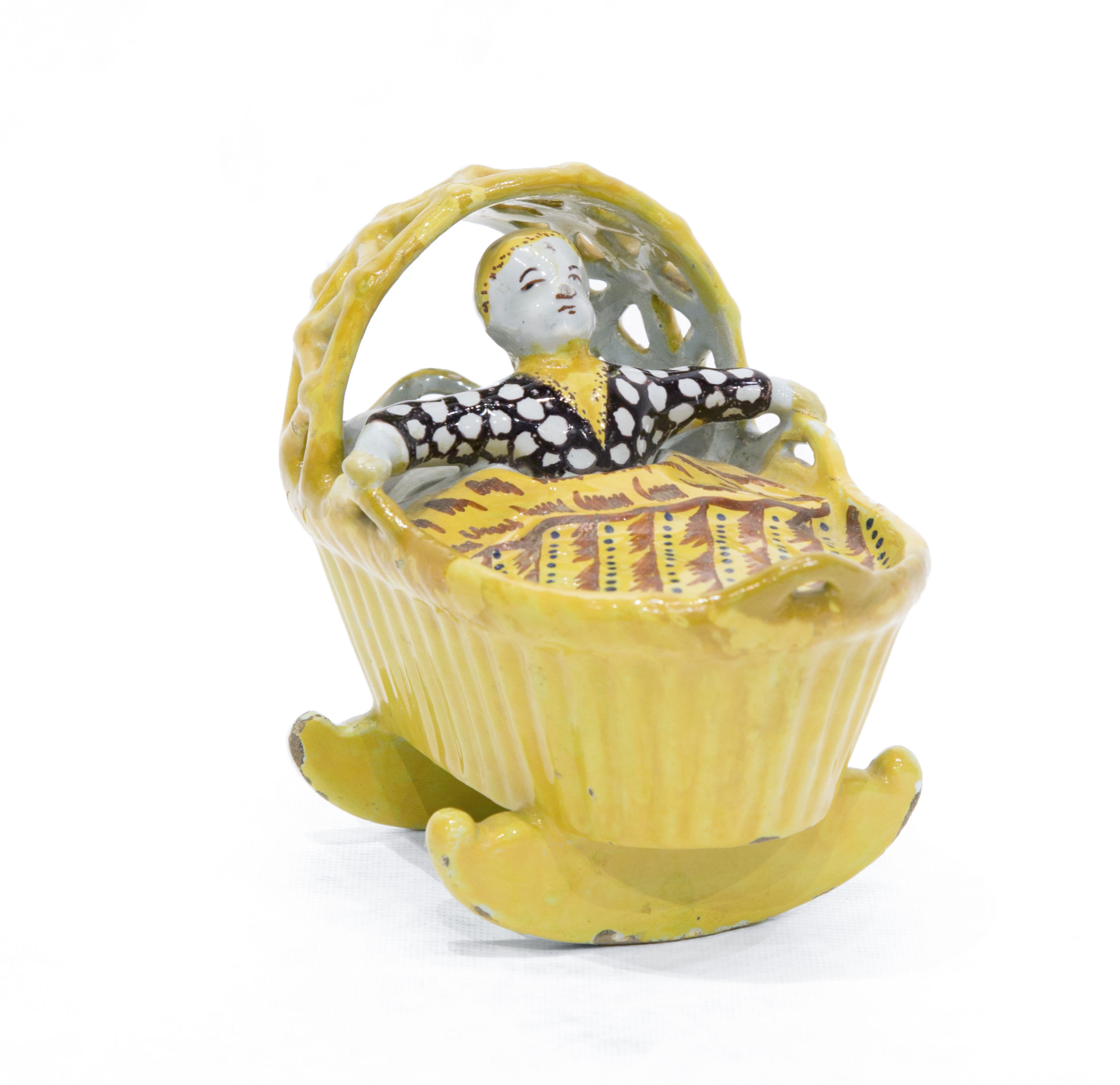 [popup_trigger id="13756″ tag="span"]

[/popup_trigger]
OBJECT
D2164. Polychrome Model of a Cradle
Delft, circa 1760
The yellow wicker cradle with an open trelliswork hood at the head, the baby seated inside, wearing a yellow cap and white dotted manganese robe with sleeves revealing her hands holding the cradle, the top of the yellow coverlet delineated in iron-red and blue dots.
Dimensions
Height: 11.4 cm. (4.5 in.)
Provenance
Aronson Antiquairs, Amsterdam;
American Private Collection
Note
Small models of cradles, fire baskets and highchairs were commonly gifted to celebrate an engagement or a wedding (symbolic of the function of marriage and the wish for progeny) or especially a birth. They were probably made by a number of Delft factories over a period of many years.
Similar examples
A cradle of this model, but with the baby turned to the left, is illustrated in Aronson 2018, p. 120, no. 74. Another example with a recumbent baby is illustrated in Aronson 2016, p. 78, no. 33. A similar cradle with the baby partly seated is illustrated in Lavino 2002, p. 80 (top right); and another of that model in the Musée de l'Hôtel de Sandelin, Saint-Omer (inv. no. 82.34), is illustrated in Boyazoglu 1983, p. 44, pl. 85. Other examples, one in white Delft and a polychrome one are respectively in the Kunstmuseum, The Hague (inv. no. 0452007), and in the Rijksmuseum Twenthe (inv. no. BR0001 (R240)). Two further examples with a recumbent baby clasping a ball are illustrated in Aronson 2009, p. 91 (left), no. 57, and in Van Geenen 2017, p. 153, no. 13.25.