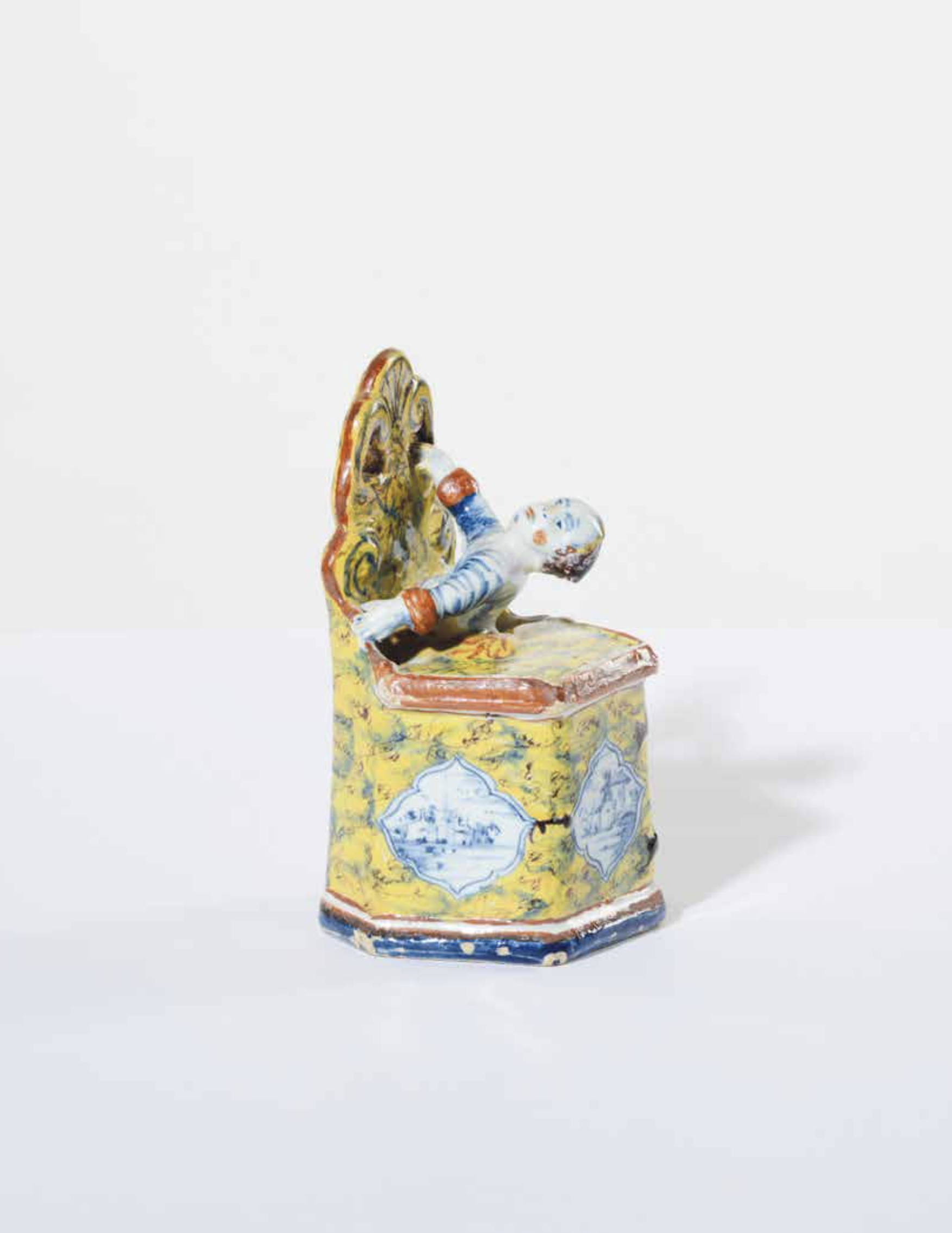 [popup_trigger id="13756″ tag="span"]

[/popup_trigger]
OBJECT
•D2163. Polychrome Model of a Child in a High Chair
Delft, circa 1770
The child wearing a manganese cap over its yellow hair, an iron-red-cuffed white jacket delineated in blue and an iron-red delineated skirt, seated backwards in a yellow ground hexagonal chair with high back, marbleized in manganese and blue and reserved on the front and sides with a panel painted with a landscape and buildings.
DIMENSIONS
Height: 12 cm. (4.7 in.)
NOTE
A kakstoel was a multifunctional wheeled high- chair for eating and using the toilet. This model of hexagonal shape incorporates a feeding and playing tray, a seat with a hole and a chamber pot beneath, and a footrest with a brazier below to keep the child warm. The high chair was often placed in the kitchen. A child who was not yet potty trained was put in the chair without pants on. The cushions were loose and washable, including one with a round hole in the center. The chairs were often incised with motifs and decoratively painted. Although the model was already in vogue in the seventeenth century, it remained in use in traditional Dutch communities such as Hindeloopen, Spakenburg and Marken until the twentieth century. The captivating large-scale painting, Boy Asleep in a High Chair, circa 1664, by Johannes Cornelisz.Verspronck (ca. 1597 – 1662), illustrated in M. Westermann, Art & Home, Dutch Interiors in the Age of Rembrandt, Zwolle, 2001, p. 180, no. 53, shows the chair in use with the addition of a foot-warming brazier.
SIMILAR EXAMPLES
High chairs were produced in many designs and color schemes, such as polychrome as well as white. High chairs in which the child is turned backwards instead of looking straight forward, are however uncommon.