[popup_trigger id="13756″ tag="span"]

[/popup_trigger]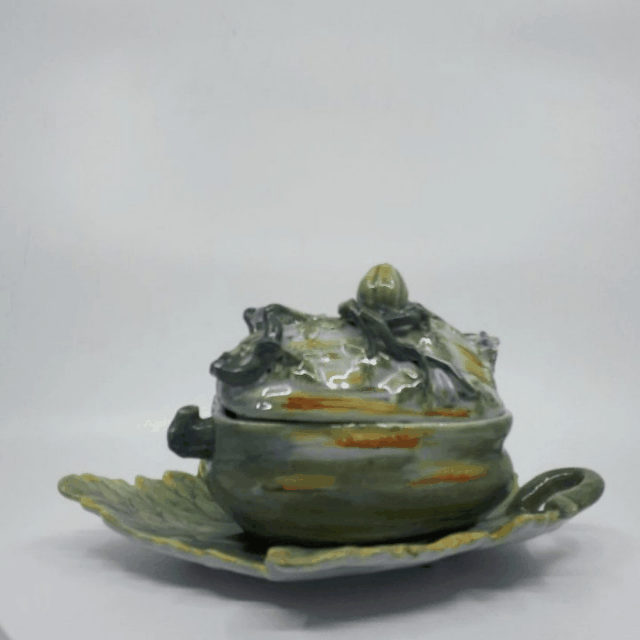 OBJECT
D2155. Pair of Polychrome Melon Tureens, Covers and Leaf-Shaped Stands
Delft, circa 1765
Each lobed fruit naturalistically modeled and streaked in green, yellow, manganese and iron-red, one end with a short stem handle, and the cover applied with a sinuous leafy stem bearing leaves, blue delineated white blossoms and a small melon forming the knop, the stands with a blue-delineated midrib issuing a network of blue veining toward the yellow serrated edge and extending from the S-form stem handle.
Dimensions
Stand lengths: 20 cm. (7.9 in.)
Tureen heights: 10.5 cm. (4.1 in.)
Note
Melons were a popular fruit during the Baroque period, frequently appearing in seventeenth-century Dutch still life paintings. They were also savored as edible  delicacies, appreciated not only for their intense aroma and supple flesh, but also for the medicinal properties attributed to them as a cure for fevers and an antidote for inflammations of the kidney, bladder and liver.
Served as a dessert, the fruit was chopped into pieces and seasoned with sugar or salt and pepper. A special delicacy was a tart of melon-pieces covered in a pastry-crust and baked in butter. When presented in a matching faience tureen, such as these melon tureens, they were mainly intended for the dessert course at the end of a dinner, when fruits, creams and various pastries were served. Presented in this manner, the culinary pleasure could only have been enhanced by the visual delight of the 'trompe l'oeil' ceramic pun (see G.-D. Helke, Deckelterrinen des 18. Jahrhunderts, Munich 2007, p. 105).
Similar examples
A pair of similarly shaped melon tureens is illustrated in Aronson 2009, p. 86, no. 54. Another pair in the Museum Boijmans van Beuningen, Rotterdam, marked for Hendrik van Hoorn, owner of de Drie Porceleyne Astonne (The Three Porcelain Ash-Barrels) factory from 1759 to 1804, is illustrated in Lunsingh Scheurleer 1984, p. 196, no. 47; and in Mees 1997, p. 168 (top).