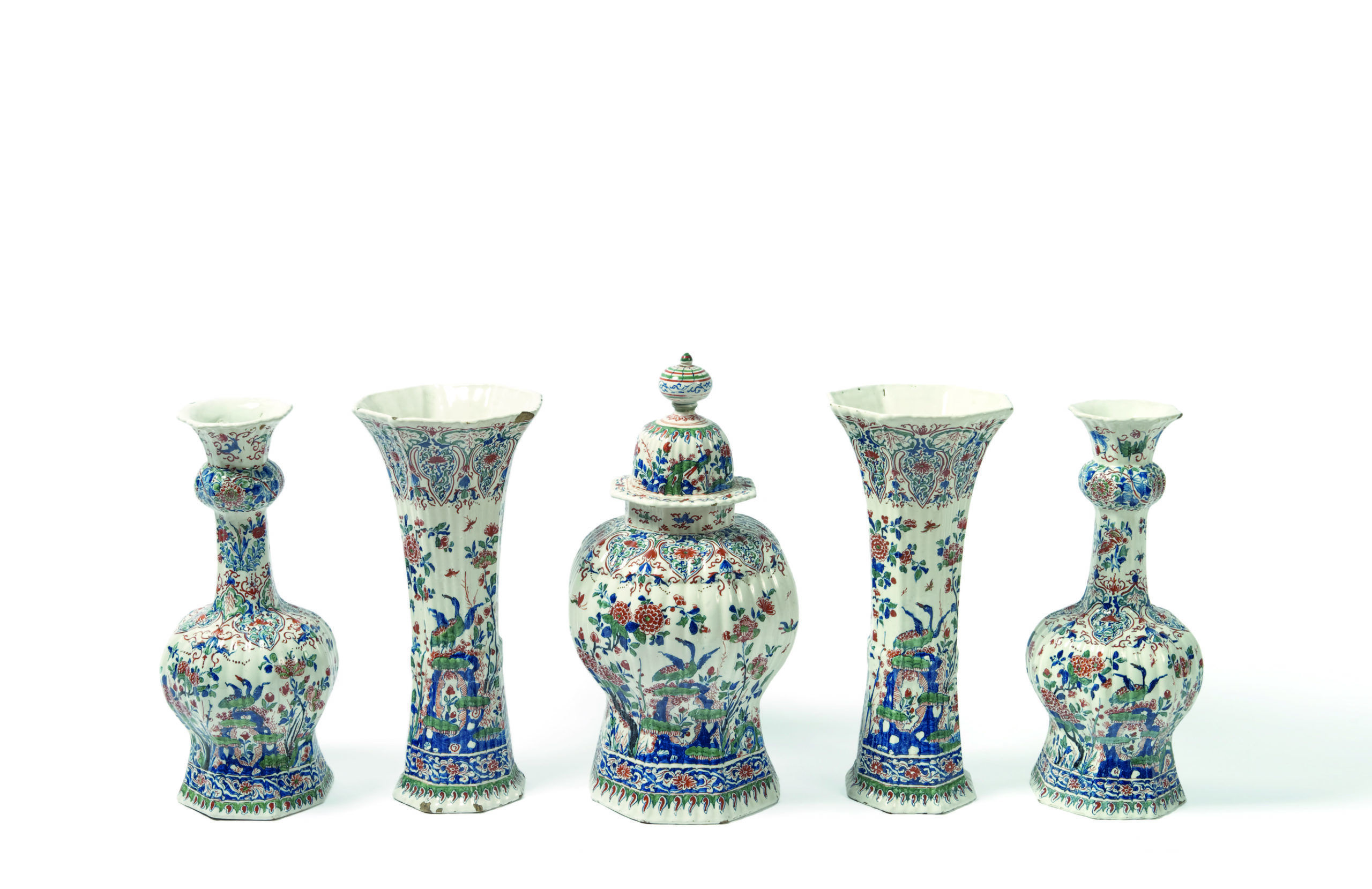 [popup_trigger id="13756″ tag="span"]

[/popup_trigger]
OBJECT
D2146. Cashmere Palette Garniture Set
Delft, circa 1710
Marked LVE 10 0 iP [a dotted P] in red for Lambertus van Eenhoorn, the owner of De Metaale Pot (The Metal Pot) factory from 1691 to 1721
Comprising a central baluster-form vase and cover, a pair of beaker vases, and a pair of baluster vases with tall necks and reverse-baluster flaring rims; each piece painted with a bird perched on a rock and with further exotic and other birds and insects in flight amidst a blossoming prunus tree and flowering plants between a floral-patterned lappet border around the shoulder or rim and a blue-ground floral border edged with a band of 'flame' devices around the base.
DIMENSIONS
Heights: 40.8, 37 and 36.3 cm. (16.1, 14.6 and 14.3 in.)
PROVENANCE
Private collection, Oslo, Norway
NOTE
The delicate grand feu decoration on this garniture was given the descriptive title 'cashmere' for its likeness in color, and exotic, dense motifs to the fine woolen shawls that were imported from India and worn by high-class European ladies. As can be seen on the present vases, the earthenware of this category has a reeded surface with a color scheme of blue, red and green. Although the Delft pieces were named after the fashionable textiles, the Delft potters were in fact inspired by the Chinese famille verte porcelain wares of the Kangxi period (1662-1722), which arrived in Europe at the end of the seventeenth century. Delftware painters also looked beyond China for further inspiration in designing cashmere pieces.
One such design source was the French baroque style that reigned during the age of King Louis XIV. Characteristic for this is the delicate use of arabesques and whimsical grotesques that originally derived from the Renaissance, and the combination of foliage with human and animal forms that prefigured the Rococo movement. Moreover, multiple garlands of flowers, draperies, scrolls, and pendants were added in order to form magnificent embroidered motifs. Since the production of these elaborate reeded pieces was probably very expensive, the cashmere palette enjoyed a brief, yet widespread success during the first half of the eighteenth century.