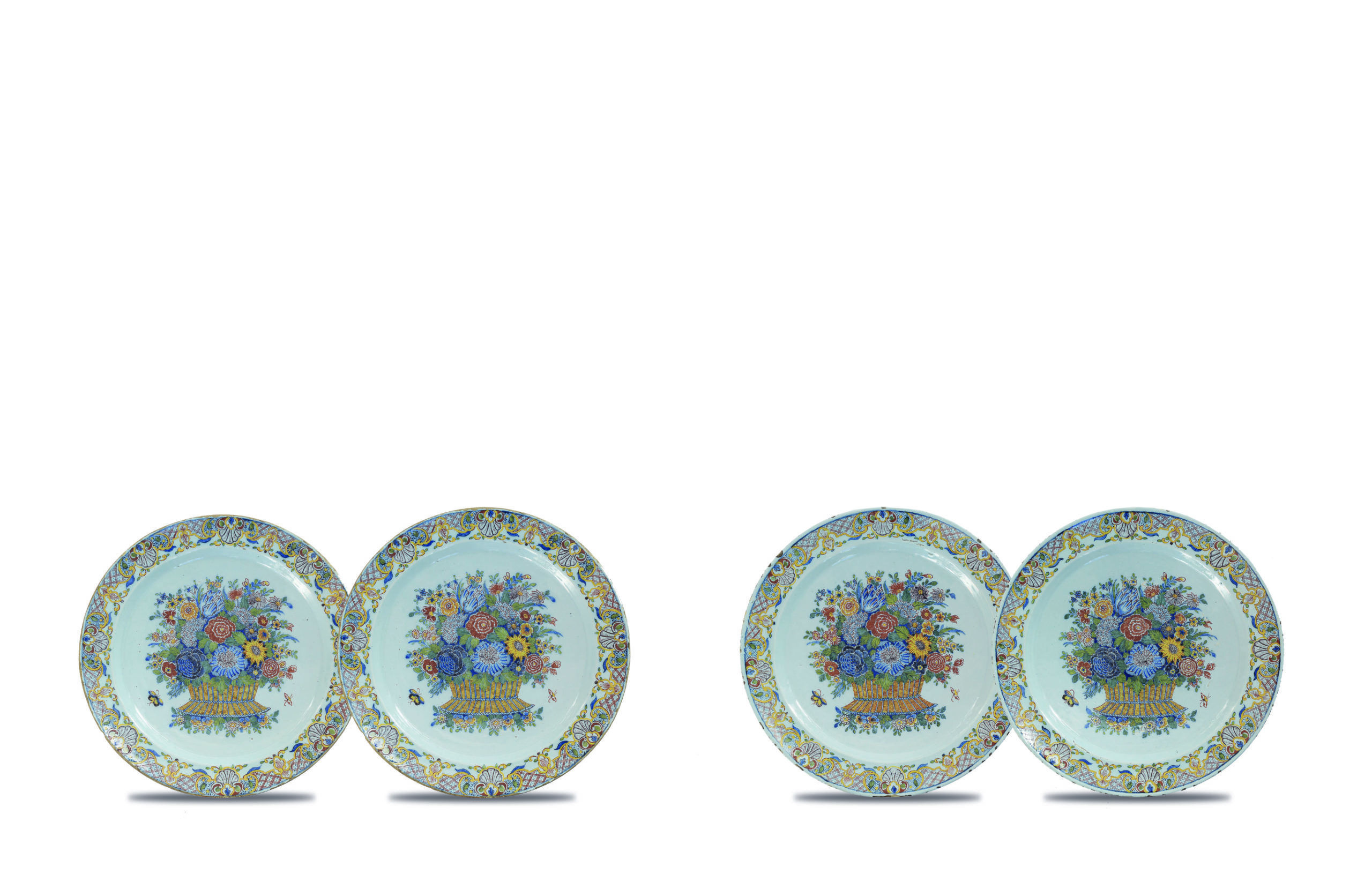 [popup_trigger id="13756″ tag="span"]

[/popup_trigger]
OBJECT
D2144. Set of Four Polychrome Chargers
Delft, circa 1750
Each finely painted in yellow, iron-red, manganese, blue and green with a luxuriant arrangement of a variety of flowers and foliage in a wicker basket set on further blossoms and flanked by two small flitting insects, the rim with a border of shell motifs flanked by stippled and diaperwork lappets, and foliate scrolls.
DIMENSIONS
Diameter: 34.4 cm. (13.5 in.)
PROVENANCE
Descendants of Anton F. Philips (1874-1951), Eindhoven, and thence by family descent
NOTE
Flower baskets are frequently depicted on seventeenth-century Dutch floral still life paintings. Ambrosius Bosschaert the Elder (1573-1621) isconsidered the first Dutch artist to have made a flower basket oil painting in 1607. This work is illustrated in the exhibition catalogue, Bouquets from the Golden Age: the Mauritshuis in bloom, The Hague (Mauritshuis)/ Zwolle 1992, no. 7. Balthasar van Ast (1593/94-1657), who was Bosschaert's brother- in-law and pupil, is known to have made paintings of a flower basket with a fruit basket as its pendant (Ibid, no. 3).
Delftware painters were also equally influenced by the French floral still life painter, Jean-Baptiste Monnoyer (1636-1699). Born in Lille, Monnoyer began his artistic career in Antwerp. By 1655 he was in Paris, where he became a renowned painter of floral still lifes under Charles Lebrun (1619-1690), the French artist who arguably created the Louis XIV style. Monnoyer was commissioned as a decorative painter in the various palaces of Louis XIV, including Versailles. He also designed cartoons of floral borders for the tapestries of the Gobelins and Beauvais manufactories. Invited by the English ambassador to France, Lord Montagu, he departed for England around 1685 to decorate the Montagu House in London, where he lived and worked for the remainder of his life.
The Delft plaque painters did not have access to Monnoyer's paintings and would have used prints as their source of imagery. However, the print source for the design of the present chargers remains untraced. Nevertheless, the beautifully hand-colored engraving by Monnoyer, published by Nicolas de Poilly in Paris before 1696, shows how appealing and influential these colorful prints must have been to the imaginative artisans at that time. Peter Fuhring in his publication, Ornament prints in the Rijksmuseum II: the seventeenth century (Amsterdam [Rijksmuseum]/ Rotterdam 2004), p. 293 (no. 12360), states that this print is part of the series,'Liures de Plusieurs Paniers de Fleurs' ('Books of Multiple Flower Baskets'), which is known to have been copied in the Netherlands. On p. 280 (no. 12215), the author illustrates a basket from a copy of the series edited by Gerard van Keulen, published in Amsterdam circa 1690-1700, and also mentions another series of five Dutch prints copied after Monnoyer from this period, engraved and published by Johannes Teyler (possibly Nijmegen), which contains two plates with flower baskets (p. 280, nos. 12216-17).
SIMILAR EXAMPLES
Large plates with the identical central decoration are illustrated by Morley-Fletcher and McIlroy, p. 210, no. 5; and in Vrienden van de Nederlandse Ceramiek 54, p. 47, no. 88. Another similar single charger but with a different border decoration is illustrated in Aronson 2004, p. 134 no. 154. Another charger with a flower basket, but painted in petit feu colors, is illustrated in Lavino, p. 212. This popular pattern also frequently appears on plaques. A single plaque and a pair of octagonal plaques painted with a similar flower basket are respectively illustrated in Aronson 2005, p. 42, no. 39 and 2018, pp. 76-77, no. 44. Another plaque with a flower basket within a scrolled, shaped border surmounted by a mask is in the Musée Ariana, Geneva (inv. no. AR 2007-151); and a pair of square plaques also similarly decorated was in the Van Bogaert Collection. Another similar pair of plaques is illustrated in Lavino, p. 54.