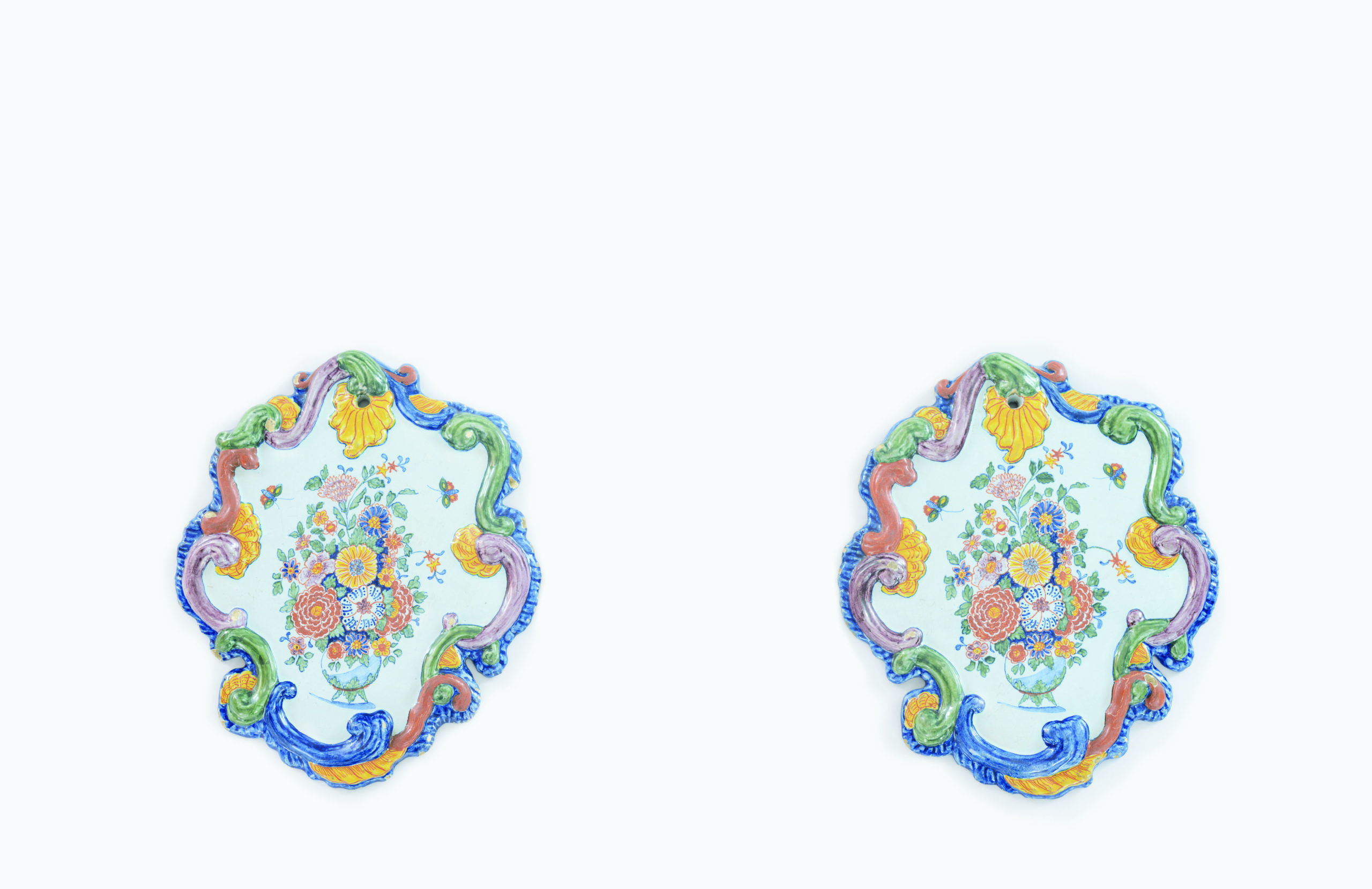 OBJECT
D2143. Pair of Polychrome Cartouche-Shaped Floral Plaques
Delft, circa 1770
Each painted in the center with a vase filled with a lush bouquet of flowers and flanked by two small flitting insects, the self-frame molded with rocaillerie pierced at the top with a hole for suspension, the reverse glazed.
DIMENSIONS
Heights: 31 cm. (12.2 in.)
NOTE
Since the study of botany and natural sciences was a growing interest in the Netherlands during the seventeenth and eighteenth centuries, it is no surprise that Delft painters often chose this beloved decoration for their objects. The Delftware floral plates reflect this national passion for flowers and nature. Flower vases, or so-called flower pots, have a long pictorial tradition in the Netherlands. During Holland's Golden Age, still life paintings of flowers and fruit 'blossomed.' The most famous Dutch floral still life painters include Jan Brueghel the Elder (1568-1625), Roelant Savery (1576-1639), Ambrosius Bosschaert the Elder (1573-1621) and his sons, Bartholomeus Assesteyn (1607-ca.1667), Balthasar van der Ast (1593/94-1657), Willem van Aelst (1627-ca. 1683), Jan Davidsz. de Heem (1606-1683/84), Simon Pietersz Verelst (1644- 1721) and Rachel Ruysch (1664-1750). Engravers turned the lush bouquets of these renowned artists into prints, which were then available to other artists and artisans to be reproduced in other mediums. The Delft painters often worked from prints of both unknown and well-known artists, often portraying their subjects with precision and imagination.
SIMILAR EXAMPLES
Plaques with this kind of rocaille self-frame are not uncommon in Delftware and must have been popular in the rococo era. A pair with a similarframe, but decorated with a flower basket is illustrated in Lavino, p. 175.